Unbelievable Stay in Jodhpur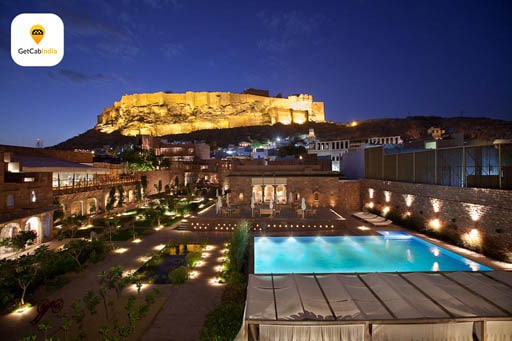 Jodhpur city, being one of the most royal cities of Rajasthan, is well known for its architecture and elegant hotels. Here is a list where you can experience the best of the culture and nobility. Get Cab India can help you with your unbelievable stay in Jodhpur.
1. Raas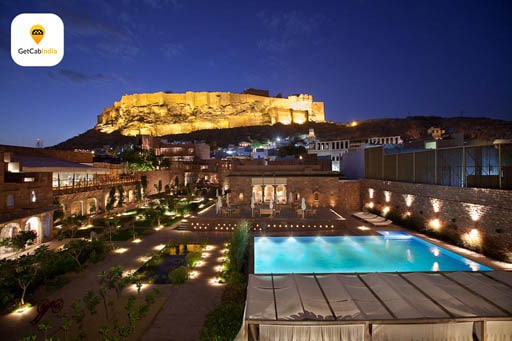 The hotel serves as a haven away from the hustle and bustle of the city. Its structures are adorned with intricate architectural carvings in the iconic Haveli style. It also gives a beautiful view of the Mehrangarh Fort. In the evening the lit-up fort provides a breathtaking view of the amazing fortress. Within the walls, a heated swimming pool, spa and 'Gem Palace' shop, are available. Beautifully cultivated gardens filling the open space and picturesque courtyard makes it look even more elegant.
Address: RAAS JODHPUR, Tunwar Ji ka Jhalra,
Makrana Mohalla, Gulab Sagar,
Jodhpur,
Rajasthan 342001
2. Ranbanka Palace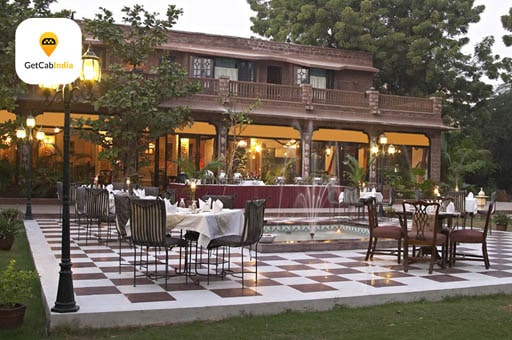 Ranbanka Hotel, built for Maharajadhiraj Sir Ajit Singh Ji, is one of the most elegant palace hotels in Jodhpur. The hotel is a blend of all the modern amenities with regal and old-world charm. Since 1927 it has been serving with the best accommodation and experiences across a wide range of budgets. Being in the heart of the city, this place also gives a view of the Umaid Bhawan Palace. The rooms are spacious with ethnic wooden furniture.
Address: Ranbanka Palace,
Circuit House Road,
Jodhpur,
Rajasthan 342001, India
3. Raddison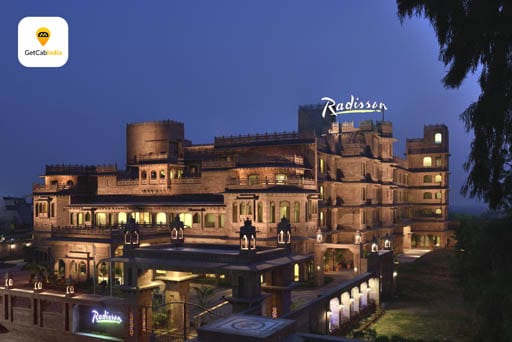 This hotel provides you with the ancient style architecture with all the royal richness. You can experience all sorts of vegetarian food with modern charm. They provide the best customer experiences, and the rooms are all beautiful, and the lush green colors add to its beauty. They have meeting facilities and two restaurants, a rooftop and an all-day dining restaurant. You can find a gymnasium here for your health and care. There is an outdoor pool and Spa and bars are also provided.
Address: 8 Residency Road, Gaurav Path | Residency Road,
Jodhpur,
Rajasthan 342001, India
4. Welcome Hotel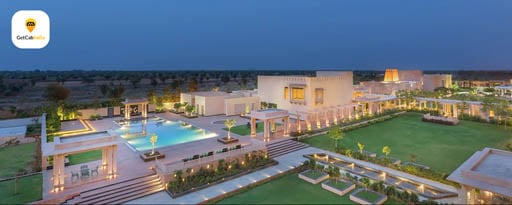 This is a family-friendly hotel, set in the city with all the modern amenities and comfort. You can observe an outdoor pool, a health club, a bar/lounge, and free wifi in public areas, complimentary valet parking, and a coffee shop/cafe. To relax, during your visit here, you are also provided with massage/ treatment rooms and a business center to work at times of requirement. You can relax in the well-furnished rooms or enjoy a deep-soaking bathtub to remove the physical and mental stress. The dramatic landscape would surely win away your heart.
Khasra No. 53 Village Uchiyarda,
Jodhpur,
Rajasthan
5. Zone By The Park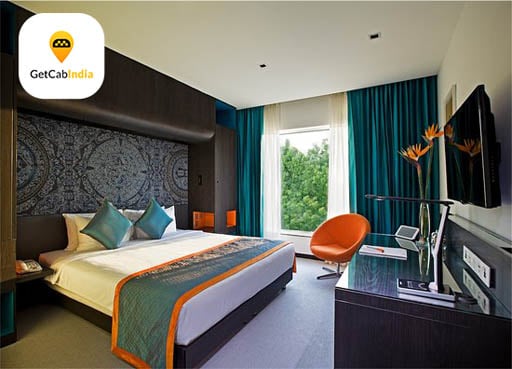 Located amidst the city and having the least distance from most of the heritage sites this place is very comfortable and offers beautiful rooms to stay at.
The location is a little out of the way and does not have much noise at night time. The food is delicious, and they serve a variety of vegetarian and non-vegetarian dishes. There is also a gym with adequate cardio machines of excellent quality. The room is beautifully laid and offers sufficient privacy. You can also find courteous staff and a terrace with a great view.
Address: Zone by The Park Hotels,
Jawahar Tower' 29 (2-A) Light Industrial Area,
Shakun Motor Tiraha,
Jodhpur,
Rajasthan 342003, India
Book a room and enjoy staying like a king in one of these magnificent places. Make your journey worthwhile with Get Cab India, the best car hire services to guide you the way.
Confused about what to do on your weekends? Have a look at the 7 best places near Jodhpur.