7 BEST PLACES NEAR JODHPUR, WEEKEND GATEWAYS NEAR JODHPUR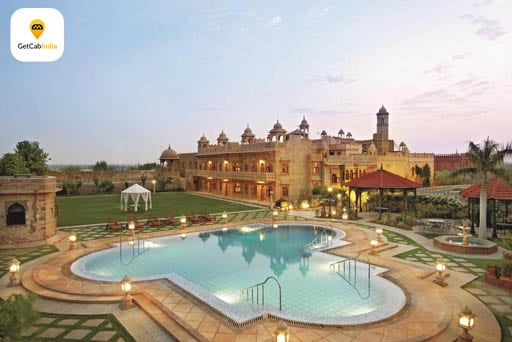 If you are staying in Jodhpur and you do not know what to do for the weekends, or you have a day off to travel, this is a must read for you. If you haven't thought about it yet, but you want to go out at such short notice, here are some tips for planning it the best way. And to help you out with your sudden plans Get cab India provides car rental in Jodhpur so that you can visit the best places near Jodhpur with an hassle-free experience.
1.KHIMSAR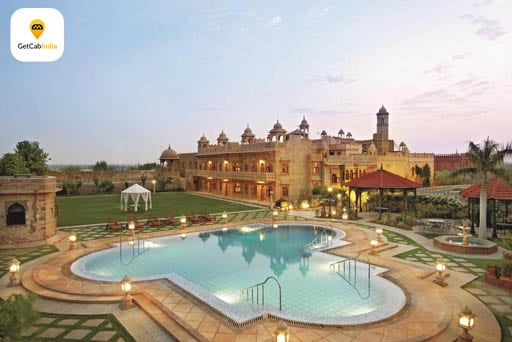 At the edge of The Great Thar Desert, Khimsar is a suburb. Tourists can see the evidence of the war which the fort has witnessed. Away from the hustle bustle of the town, you can enjoy your time here in bliss.
It was an independent kingdom ruled by the Thakurs of the region. A part of the fort serves as a heritage hotel of the region, presently. If you are still left with some time, you can tell your Get Cab driver to head towards the hotel Sand Dunes Village and enjoy the camel safaris.
Distance from Jodhpur: 98 Kms.
Duration: 1h 45 mins.
Best Time to Travel: Oct-Mar
2.PHALODI
Also known as a salt city, Phalodi is a tourism hub located in Jodhpur district. It is an old caravan center which is still engaged in trading salts on camels.
This place is famous for forts, royal havelis, bazaars, ancient temples, which make this place a tourist hotspot. The Phalodi Fort and Lal Niwas can be seen while visiting there.
Inform your Get Cab driver before, to pick you early in the morning for a beautiful and comfortable journey.
Distance from Jodhpur: 130 Kms.
Duration: 2 Hrs.
Best Time to Travel: Oct-Feb.
3.NAGAUR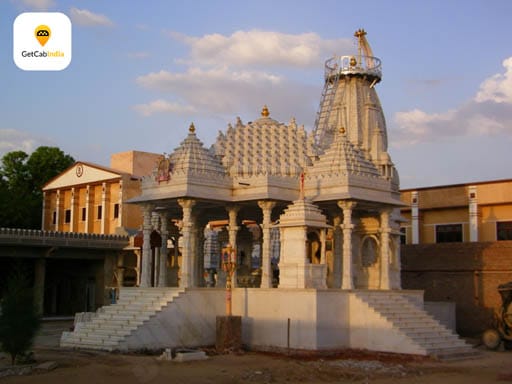 The historical city was found by Naga Kshatriyas, is famous for its sandy fortress. This fort houses beautiful temples, palaces, fountains, gardens.
It is also popular for Tarkeen Dargah, Dadhimati Mata Temple and Deepak Mahal which you can visit if there is still time for the sun to set.
Distance from Jodhpur: 138 Kms.
Duration: 2h 25mins.
Best Time to Travel: Oct-Mar
4.KHEECHAN
A small desert village, located at a distance of 4.5 Kms from Phalodi, is the nearest town. The place is famous for wildlife and is widely popular among the bird watchers.
A large number of Demoiselle cranes, locally known as Kurjas, pays a visit to this place every winter and about 5000 kg of seeds are consumed by them. Get Cab India provide early services as well so you can start the journey early to visit the bird sanctuary and can also experience the best places near Jodhpur.
Distance from Jodhpur: 143 Kms.
Duration: 2h 15mins.
Best Time to Travel: During winters.
5. RANAKPUR
A small village in Pali district rests between Udaipur and Jodhpur. It holds immense religious significance. The place is known for the beauty of mesmerizing temples.
Temples like the Sun Temple, Muchhal Mahavir Temple, Ranakpur Jain Temple, can be visited here. It is also famous for pilgrimage. You can visit these places if the time permits with just a call to the Get Cabs services.
Distance from Jodhpur: 170 Kms.
Duration: 2h 50mins.
Best Time to Travel: Dec-Feb.
6.KUMBHALGARH
This well-known tourist place, also known as Kumbhalmer, is located to the southern part of the state. Built by Rana Kumbha, this fort gives a panoramic view of the nearby places from the top.
This fort is now open to the public and is spectacularly lit once every evening. The dunes of the Thar Desert can also be seen from the fort walls. It is also known for its heritage and long winding walls constructed to guard the attacks of enemies.
Get Cabs will provide the safest journey to you along the way.
Distance from Jodhpur: 171 Kms.
Duration: 2h 50mins.
Best Time to Travel: Oct-Mar.
7.RAMDEVRA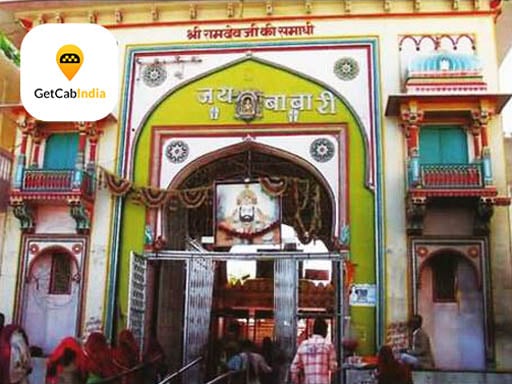 The village is named after Baba Ramdevji, a saint who took Samadhi (meaning a conscious exit from the mortal body) in 1384 CE, at the age of 33 years. A temple was constructed around the Samadhi in 1931 AD.
A large fair is held here (Aug-Sept) which is attended by a large number of devotees from far away places. People of different creed, cast organize long night singing (Bhajans) to pay homage to the Baba. You can visit the place during the day along with Get Cabs.
Distance from Jodhpur: 184 Kms.
Duration: 3 h 6 mins.
Best Time to Travel: During the Fair.
For Planning any tour for places near Jodhpur you must be needing a Cab Services from Jodhpur then Get Cab India is at your service . Providing weekend getaways packages at a reasonable prices.
Contact At :- 97833-55550 for any further details in regards to visiting any Weekend Getaways.