What Should You Get From Jaisalmer?

There are many things which will reflect the culture of the Golden City, and you are sure to cherish them throughout your life. Here is a short list where you can do shopping in Jaisalmer for some fantastic products that you can take back with you.
1. Silk Route Art Gallery
Jaisalmer City was well established on the Silk Route as tradespeople favored a southern route and so the city prospered. Handicrafts and fabric shopping at the Silk Route Art Gallery are few things not to miss. Silk Route offers a particularly good selection of patchwork quilts, wall hangings and cushion covers put together from the village and tribal textiles. You could come to have a quality shopping with some unique and excellent handmade products and take-home a beautiful collection that will remind you of the tour and represent the culture as well.
Location: Kalakar colony, Patwa haveli road, Malka Pol, Jaisalmer
2. Sadar Bazaar

If you are searching for a place where you can find excellent leather, then your search is over. This place offers Jaisalmer's best leather and fulfills all your requirements. You can get your hands on anything from paintings, carpets, and handicrafts to jewelry, shoes, and sarees and find them all fantastic. But before buying, make sure you keep a check on the prices. You may require some excellent bargaining skills here. It is your one-stop-shop to buy items for yourself and also gifts for family and friends. The store even has items from the government-owned Khadi Gramudyog Bhavan.
You may also find most of the shopkeepers dressed up in the traditional clothes, which also reflects the flavor of the city. You will come across such a wide variety of elements as you walk down the lane here that it would be a unique experience for you in the streets of this bazaar.
Location: Sadar Bazaar, Jaisalmer
3. Manak Chowk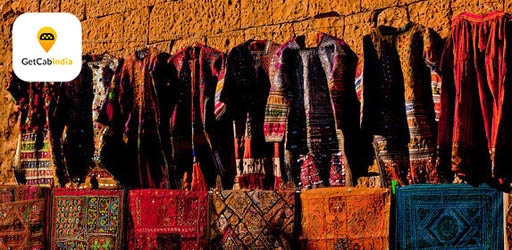 Manak Chowk is a well-known avenue to shop. You can find tiny shops along with the people living right beside the place in their houses. These small shops have become a part of their lives. They offer all the shapes, colors, and variety of things that you can find in the whole city. It draws many tourists from far and wide who are thrilled at the wide range of traditional ethnic goods.
There is a lot to buy in this street, and it would be a never-ending experience for its customers. You will find the best hand-crafted items from here. Get your hands on some souvenirs to take back with you from here.
Location: Amar Sagar Pol, Jaisalmer
4. Pansari Bazaar
If you know the ethnic and popular selling items, you already know this place a lot well. It is a shoppers paradise and has to offer all that you can take, be it the handicrafts, colorful home decor items, or the traditional dresses or even the famous puppets. It is also known as the villager's market and is the oldest market of all. You can buy whatever you find here. The most popular being the puppets, should be the first ones on your list while strolling here. If planning for shopping in Jaisalmer then book a car rental in Jaisalmer from Get cab India, the best car rental service company.
5. Bhatia Bazaar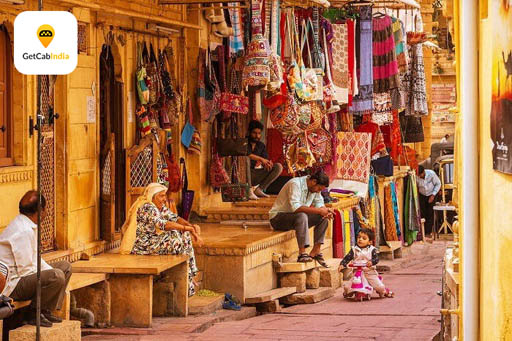 You can find almost anything from traditional to western, significant to a small array of shops, stalls, and bazaars. There are embroidered cotton and silk fabrics, antique souvenirs to the best of silk fabrics which you can buy here. Do not forget to but the sarees here, which is one of the best things found here.
Location: Bhatia Bazaar, Jaisalmer
6. Sonaro Ka Baas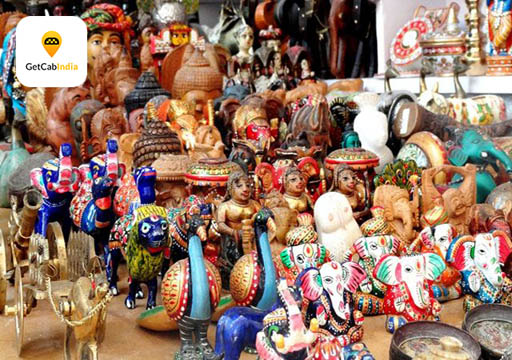 Sonar is the people who sell traditional jewelry so that you can find all kinds of ornaments here. Silver, gold or jewelry studded with precious stones are readily available at this one-stop. Find yourself a perfect match for every outfit at this market. From the traditional, authentic silver ornaments to the fascinating beads and accessories, everything can be found here. So, if you are a shopaholic and want to know more about shopping in Jaisalmer then contact Get Cab India.
Location: Sonaron Ka Baas, Jaisalmer
From all of these things, you not only take back memories, but you also take back a part of Jaisalmer. You can take a whole lot of experience, along with this journey with the best car hire services. Get Cab India would be your companion throughout the entire way.