Best desert safari in Jaisalmer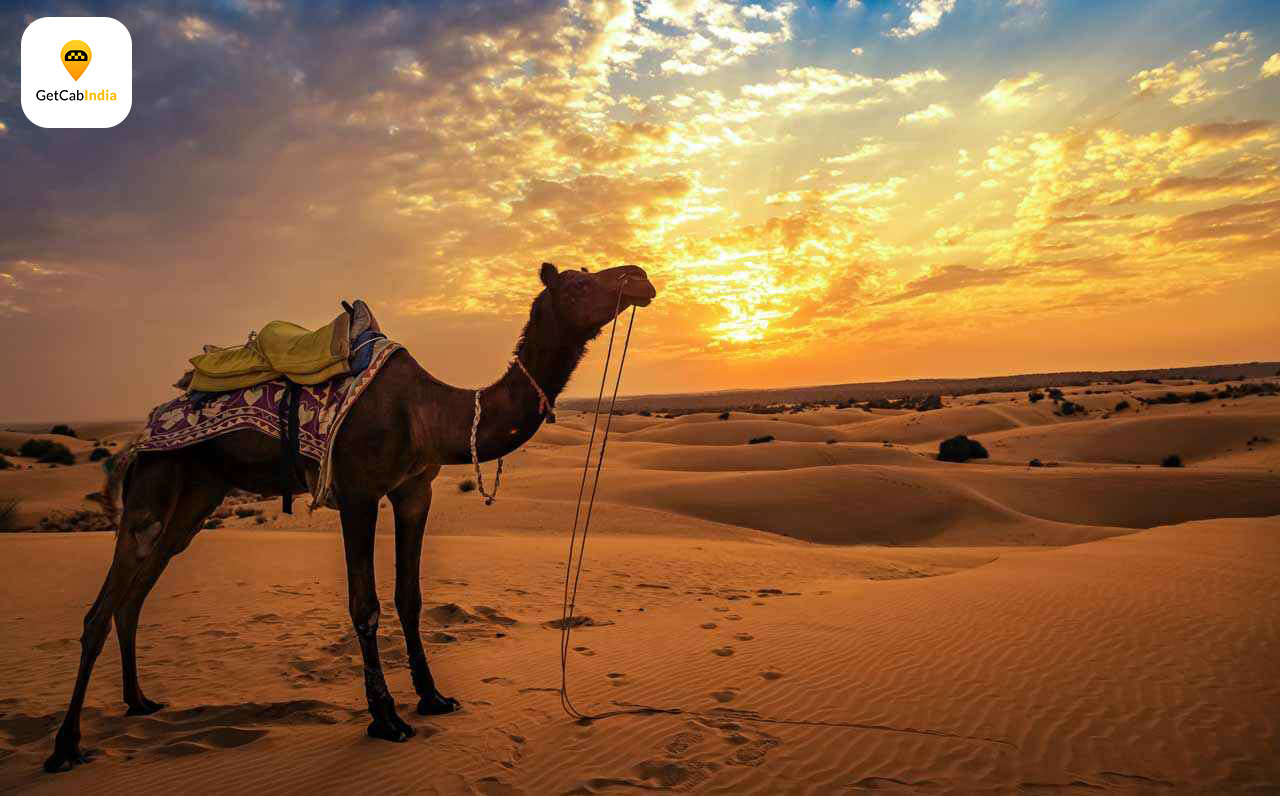 Desert safari in Jaisalmer is the amazing experience which you can't miss when you are going to Jaisalmer. You can also spend a whole day or night in the Jaisalmer desert safari. You can also enjoy Camel safari, Jeep safari and Rajasthani folk musical team. 
There are the best desert safaris in Jaisalmer which includes the following:
Thar desert:
no doubt, Thar desert is one of the major attractions in Jaisalmer. There are many options for staying out in the desert in a tent or desert camp ranging from basic to ultra-luxurious. The majority of desert camps are located on the main road close to the Sam sand dunes village. It is about 45 minutes away from the Jaisalmer city. You can go there through taxi service in Jaisalmer. There are some other options is the sam sand dunes around barna and khuri village to explore. It also provides an authentic experience. There are also evening cultural programs with folk music.
The Serai: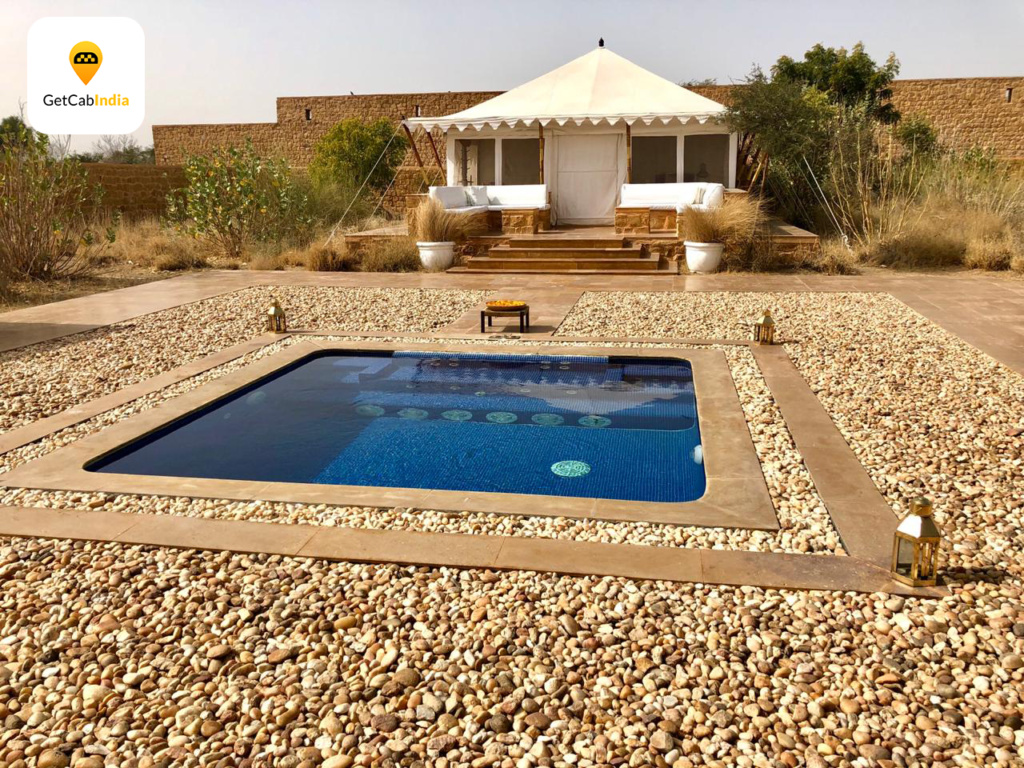 when it comes to luxury desert safari in Jaisalmer then Serais is the topmost option to consider. It consists of 21 large canvas tents built on the base of Jaisalmer stone. The Serai is placed on thirty acres of desert scrub in the thar desert. Every tent covers a thousand square feet in size. The tent includes exterior relaxing area, sitting room, spacious bedroom and suite bathroom. The Serai has pool, spa, dining tent and lounge bar for guests. The most exiciting thing about Serai is that guests may drink or dine outdoors. It is the perfect place for sunset and dining under the stars. It is open from September to March every year.
Damodra desert camp: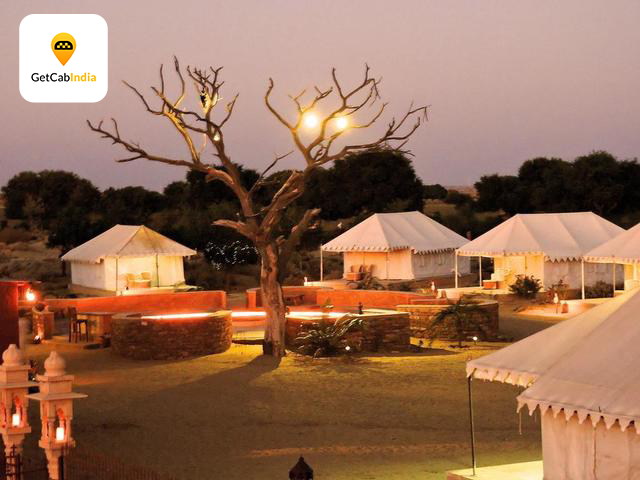 Damodra is the new and small luxury desert safari which offers you thrilling experience. It is the peaceful place where you feel relaxed. This camp is decorated with tradition artifacts. There are no loud music and DJs at this camp. Camel safaris are done at sam sand dunes. The tents are come with air-conditioners and heaters. The expected price is Rs.10000 per night which includes all meals and camel rides.
Prince desert camp: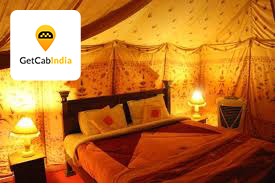 it is one of the most luxurious camps of Jaisalmer desert safari. There are 30 tents with attractive interiors and bathrooms in the suite tents. It is set far away from the group of camps on the main road so that there is no noise. It feels more real because there are sand dunes in the right back. It is the properly managed with brilliant staff and hospitality. There are also hot showers in the tent. The food is also very delicious and tasty. The expected price is Rs.7000 per night for a double tent which includes breakfast and dinner.
Desert springs resort:
if you are confused about which desert camp to choose then desert spring resort stands out really best. It is famous for evening culture show in which Queen Harish of Jaisalmer performed rajasthani folk and Bollywood dances all over the world. It has 26 deluxe tents with air conditioned. There is luxury spa on the resort. It is situated about five to ten minutes before sam sand dunes. The expected price is Rs.7500 per night which includes jeep safari, camel ride, dinner and breakfast.
Oasis camp: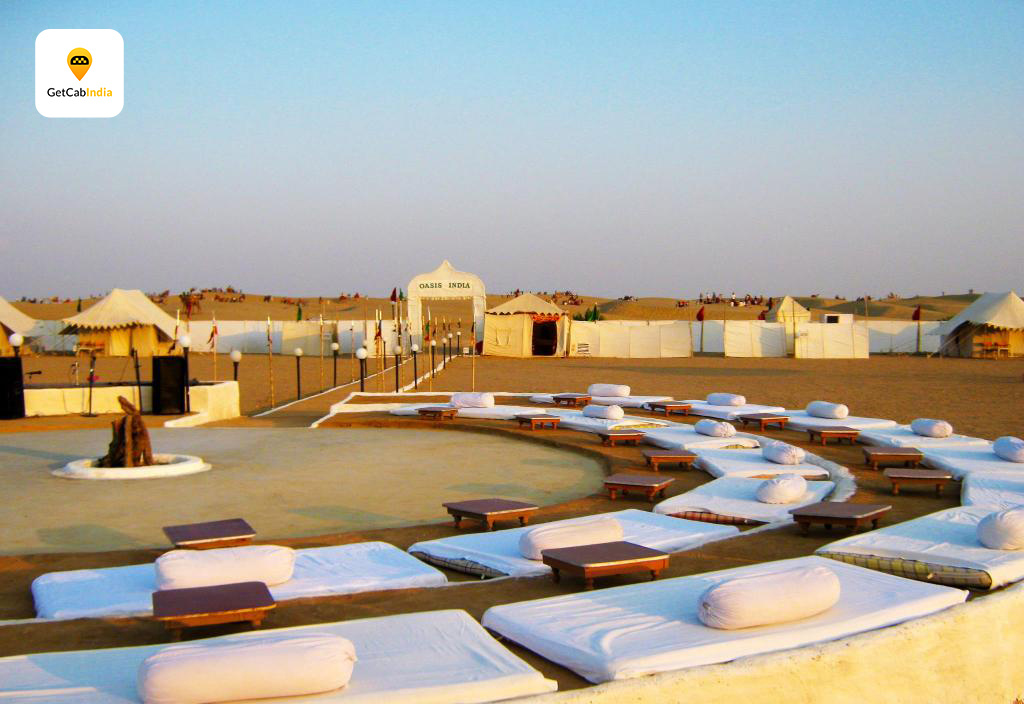 oasis camp is the budget-friendly desert safari in Jaisalmer which provides you brilliant experience. It has the central location on the main road right opposite the sam sand dunes. It is best for those who want to be in the heart of the action. The main thing of this camp is that it is open all around the year. The tents are decent with attached western –style bathrooms. Hot water is available for a limited period in morning. Only vegetarian food is served. The expected price is Rs.3500 per night which includes breakfast and dinner.
Pal Rajah resort: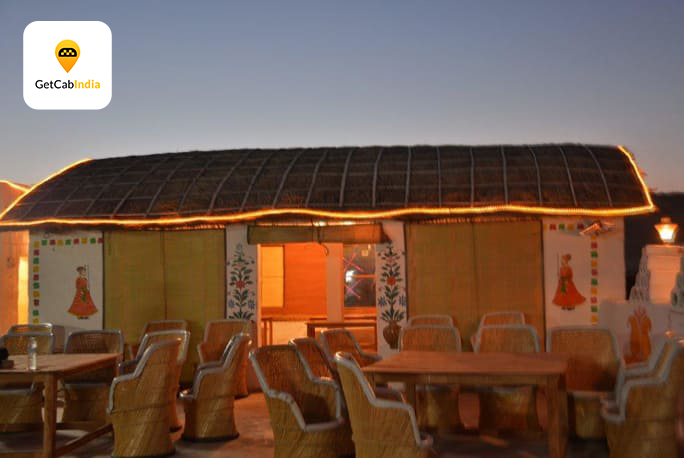 it is the small desert camp with bordering agricultural land and a sand dune with a sunset point. It has eight luxury tents and three mud huts. The camp is best for a local experience. It is situated away from the main road and there are no other tents in the proximity. There are welcoming and friendly staff provides courteous and attentive service. Apart from camel safaris, tourists can go on jeep safaris to remote villages and sleep out in the dunes under the stars. The expected price is Rs.5500 per person that includes breakfast, dinner and camel safari.
These are the best desert safari in Jaisalmer where you can go through cab service in Jaisalmer. The cab service is very convenient mode which is available at fair prices. Desert safari in Jaisalmer is the best experience where you can enjoy camel rides and pleasant weather.