Enjoy jaisalmer desert safari on camel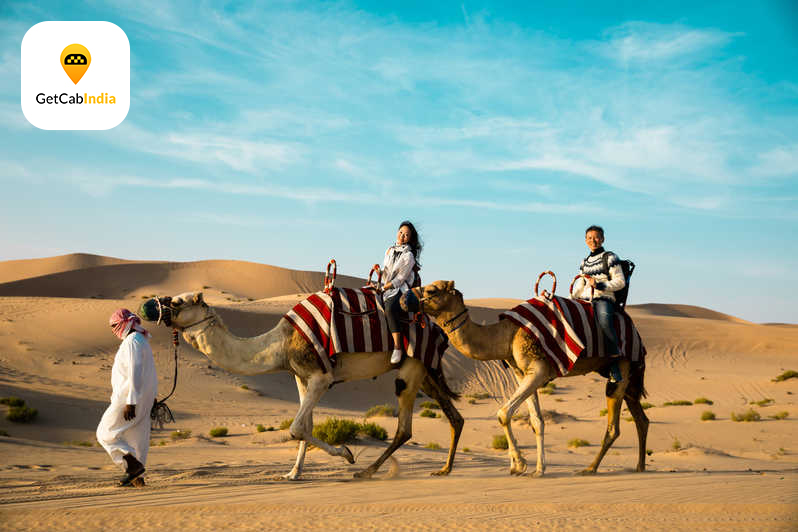 Are you planning your vacation in jaisalmer? You are at the right place to get an idea of Jaisalmer desert tour.
Jaisalmer is a very fascinating destination which is different from other places of India. There are various hospitable and welcome tourists into their home who wore colourful turbans, dresses and big smiles on their faces. Your vacation in jaisalmer will give you a lifetime experience where you will love to spend an adventurous Jaisalmer night safari. There are also luxury Swiss tents which are fully equipped with all the modern amenities to accommodate the guests. There is availability of cultural programs around the campfire which has organised by all the camps in jaisalmer desert.
Jaisalmer is a profusion of colours which is splendid region in the maharaja state of India that is Rajasthan. Sandy terrains of Thar desert is increasing the beauty of this charming place. Desert safari jaisalmer is much revered activity in the Thar desert that takes you much closer with the rustic life of villagers living around this desert. The marvellous scenarios are widespread in the desert.  First time visitors can get a thrilling experience of desert safari in Jaisalmer. You can take a full advantage of traveling services offered by various travel agents. You just need to find a great package that is according to your budget.
Jaisalmer sand dunes safari is very famous in Rajasthan. You must love to visit the desert on the camel. You will feel mesmerizing to inhabited fort with massive imposing walls that are surrounding mazes of alleyways. It is very wonderful place to explore and for daydreaming. The view of the fort is like a real life sandcastle that will make you feel you are in a magical place. Some people have hobby of riding camels around the desert. This experience will help you to fulfil your dreams and make your hobby a great experience.

There are various reasons to choose Jaisalmer as tourist spot
It is an incredible and makes your heart pump with the awesome scene of the sun dune. The scene of sunrise and sun set is awesome that make your life wonderful in the earth and attracts you to visit here again.
It is an ancient place to visit in India. October is the wonderful month to visit here because the weather in this month is better than other months of the year.
You can wander around the streets of the jaisalmer all the day. You will not see any other western face here that gaps at the intricate carved details on the haveli.
The haveli are the main hotels and houses in villages and towns are the camping spot. You can experience various varieties of food, desert and customs.
Tourists from other states and other countries are allowed to stay in the fort at very decent prices. They can also be considered as an unethical way to stay in the fort.
Jaisalmer is commonly known for its camel leather. According to the people of jaisalmer, camel leather has made from the camel's skin. They said they wait until the camel is dead so that there should be no harm to them. Different varieties of gift items has made with camel skin.
Services offered by various camps of jaisalmer:
There are plenty of activities that are arranging for an expensive and hassle free tours which involve visiting mesmerizing art and craft monuments. While planning a trip to jaisalmer to enjoy some exotic locations, you should seek help from some well acclaimed professional travel group. You must need to go to your travel agent and book your travel.
If you want taxi in jaisalmer then you can choose us as the best taxi service in jaisalmer. The main purpose of our company is to provide you the best service to the visitors under one roof. We offer many services like taxi, camping and safari in jaisalmer. Various travellers came here to enjoy the sand sun dunes of Thar desert. Our travelling services include the picking up or dropping you from and to the hotel. They make a proper schedule to make your trip complete in jaisalmer.
We also provide car rental in jaisalmer. Our drivers pay proper attention on selecting the drivers according to your trip. Our car services in jaisalmer have driving experience of traveling in the desert. They have proper diving license and knowledge about the roads of India. We have well maintained workshop that is assisted by us and keeping the cars and other vehicles in great condition. We serve our customers with great efficiency.
We also offer cab service in jaisalmer to our customers. Customer can call for the cab for roaming around the Thar desert. We have direct contact with the camps so that you can easily get cab in jaisalmer. Our cab service includes various facilities in jaisalmer that is taxi and cab service, city cab, outside tour, airport taxi, desert safari and camping. Most of the people came here to camp. Camping near the rusty village homes is more exciting and the memorable moment. We have various tour packages and bus services for our customers so that can easily roaming around the jaisalmer without any problem.
Your vacation and desert safari in jaisalmer will give you a memorable experience to explore the beautiful palaces, temples and fort. You will also get a thrilling experience by walking down the spectacle of prosperity from the olden days. We are providing the best camel safari, jeep safari and taxi service where you will get best experience.
You will found touring in jaisalmer local sightseeing enough fun. Come on! Plan your trip to jaisalmer now.