Unleash the Adventure Seeker in You with Jaisalmer's Best Desert Safari Camp Package 
 

Experience the beauty and adventure of Jaisalmer with GCI Safari Package (Offers: Camel Safari, Desert Safari, Desert Jeep Safari & Desert Camp). From camel rides in the desert to exploring the majestic forts, there is something for everyone! Book your package today and discover the magic of Jaisalmer!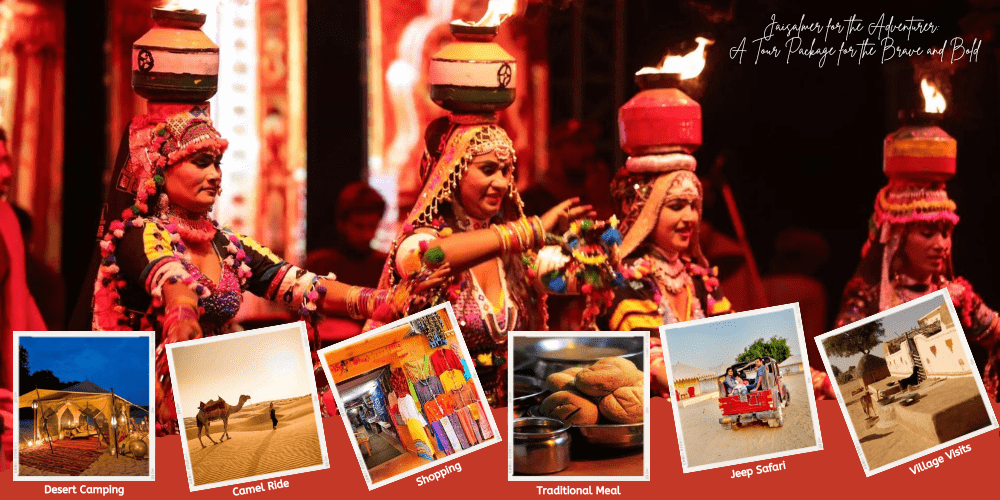 Contact our team for Jaisalmer Tour: +91-9783355550
Explore the golden city of Jaisalmer with our diverse tour packages! From thrilling desert safaris to comfortable family packages and romantic couple getaways, we offer it all. Our sightseeing tour package allows you to witness the stunning architectural beauty of Jaisalmer and immerse yourself in its rich culture. Our desert safari camp package promises a unique adventure in the midst of the Thar Desert, complete with camel rides and traditional Rajasthani performances. Don't miss out on experiencing the magic of Jaisalmer with our exclusive tour packages.
Jaisalmer is a city located in the Thar Desert of Rajasthan, India. It has become increasingly popular among tourists for its stunning desert landscape and rich cultural heritage. The city is also home to some of the most beautiful attractions and activities that make it an ideal destination for couples and families alike. A Jaisalmer tour package from GCI offers a great way to explore this magical city with its breathtaking views, fascinating culture, and delicious food. From desert safari camps to sightseeing tours, there are plenty of exciting activities that can be enjoyed during your stay in Jaisalmer. With our tailored packages, you can be sure to get the best value for your money while enjoying all the best experiences this city has to offer.
Included in the Jaisalmer Safari Package
The inclusions in a Jaisalmer Safari package may vary depending on the specific package and tour operator. However, here are some common inclusions you can expect in a typical Jaisalmer Safari package:
Camel Ride: The package usually includes a camel ride, which is a highlight of the safari experience. You'll get to ride a camel and explore the desert landscape.
Desert Camping: Many packages include overnight desert camping. This typically involves staying in traditional desert campsites, where you'll have the opportunity to sleep under the starry sky and experience the serenity of the desert at night.
Meals: Most packages include meals during the safari, including dinner, breakfast, and sometimes lunch. These meals are usually prepared in traditional Rajasthani style and may include local delicacies.
Cultural Performances: Some packages may include cultural performances in the desert camp, such as traditional Rajasthani folk music and dance shows. This adds to the overall experience and offers a glimpse into the local culture.
Jeep Safari: Along with camel rides, some packages may also include a jeep safari, where you'll be driven through the desert dunes in a 4×4 vehicle. This provides a different perspective and allows you to explore further.
Village Visits: Immerse yourself in the rural charm of Jaisalmer by visiting nearby villages. Interact with the locals, learn about their way of life, witness traditional crafts, and get a glimpse of the rural Rajasthani culture.
Sightseeing: A Jaisalmer tour package often includes guided visits to major attractions such as Jaisalmer Fort, Patwon Ki Haveli, Jain Temples, and other historical and architectural wonders. Explore the rich history, intricate carvings, and learn about the fascinating stories behind these landmarks.
Shopping: Jaisalmer is known for its vibrant markets and handicrafts. Your tour package may include visits to local markets, such as the bustling Sadar Bazaar, where you can shop for textiles, jewelry, handicrafts, and traditional Rajasthani souvenirs.
Cultural Experiences: Engage in cultural experiences like turban tying, henna painting, and trying traditional Rajasthani attire. These activities allow you to embrace the local culture and create memorable moments.
English-Speaking Guide: A professional English-speaking guide is often provided during the safari. They can provide insights into the local culture, history, and the unique desert ecosystem.
Pick-up and Drop-off: Depending on the package, transportation to and from your accommodation in Jaisalmer may be included, ensuring a convenient and hassle-free experience.
It's important to note that these are general inclusions, and the specifics may vary among different tour operators. It's always recommended to check the details with the tour operator or read the package description to know exactly what is included before making a booking.
Main Attractions of a Jaisalmer Tour Package
A typical Jaisalmer tour includes several key attractions and activities that showcase the city's rich cultural heritage and natural beauty. Here are some popular inclusions in a Jaisalmer tour:
Jaisalmer Fort (Sonar Quila): Explore the majestic Jaisalmer Fort, a UNESCO World Heritage Site known for its intricate architecture, narrow lanes, and stunning views of the city. Visit the palaces, Jain temples, and havelis (mansions) located within the fort.
Patwon Ki Haveli: Visit the renowned cluster of five havelis, collectively known as Patwon Ki Haveli, adorned with intricate carvings, frescoes, and mirror work. It offers a glimpse into the opulent lifestyle of wealthy merchants in the past.
Gadisar Lake: Enjoy a tranquil boat ride on Gadisar Lake, surrounded by temples, ghats, and cenotaphs. The lake is particularly captivating during sunrise or sunset.
Sam Sand Dunes: Venture out to the Sam Sand Dunes, located about 45 kilometers from Jaisalmer, and experience the mesmerizing beauty of the Thar Desert. Enjoy a thrilling camel safari through the sand dunes, witness a captivating sunset, and indulge in cultural performances by local musicians and dancers.
Desert Camping: Spend a night in a luxury desert camp in the Sam Sand Dunes, where you can enjoy traditional Rajasthani cuisine, folk music, dance performances, and stargazing under the clear desert sky.
Jain Temples: Visit the exquisite Jain Temples of Jaisalmer, known for their intricate marble carvings and architectural brilliance. The temples, such as the Chandraprabhu Temple and the Parsvanath Temple, are significant pilgrimage sites for followers of Jainism.
Havelis Exploration: Explore other notable havelis in Jaisalmer, such as Salim Singh Ki Haveli and Nathmal Ki Haveli, which boast unique architectural styles and intricate carvings.
Local Markets: Take some time to explore the bustling markets of Jaisalmer, including Sadar Bazaar and Manak Chowk, where you can shop for handicrafts, textiles, jewelry, leather goods, and traditional Rajasthani items.
Cultural Performances: Immerse yourself in the vibrant Rajasthani culture by witnessing traditional music and dance performances, such as the Kalbeliya dance and the folk music of the Manganiyar community.
Kuldhara Village: An abandoned village, Kuldhara is known for its mysterious and haunted history. It is an intriguing place to explore and learn about the legends associated with the village's sudden abandonment.
Bada Bagh: Located a few kilometers from Jaisalmer, Bada Bagh is a serene oasis with a collection of cenotaphs (chhatris) dedicated to the rulers of Jaisalmer. The beautifully carved structures and the peaceful surroundings make it a popular spot for photography.
Salim Singh Ki Haveli: Another impressive haveli in Jaisalmer, Salim Singh Ki Haveli is known for its distinct architecture, including the peacock-shaped rooftop and intricate stone carvings.
These are just some of the highlights of a Jaisalmer tour. Depending on the duration of your trip, you can also consider visiting other nearby attractions, such as Kuldhara Village, Bada Bagh, and Desert National Park.
Kind of transport is provided for the tour package
The type of transport provided for a Jaisalmer tour package can vary depending on the package itself and the tour operator. Here are some common types of transportation options that may be included:
Private Car or Tempo Traveler: Many tour packages offer private car or tempo traveler services for transportation throughout the tour. This allows for flexibility and convenience, as you have a dedicated vehicle and driver at your disposal. It is suitable for small groups or individual travelers.
Shared/Group Transportation: In some tour packages, shared or group transportation may be provided. This means you will be traveling with other tourists who are part of the same package. It is a cost-effective option and suitable for those who prefer traveling in a group.
Camel Rides: If your tour package includes desert activities like camel safaris, camel rides will be provided as a means of transportation during the desert exploration. This is a unique and traditional mode of transport in the desert regions.
Jeep or 4×4 Vehicle: For activities like jeep safaris or off-road adventures in the desert, a jeep or 4×4 vehicle may be provided. These vehicles are specially equipped to navigate through the desert terrain and provide an exhilarating experience.
It's important to carefully review the details of your tour package or inquire with the tour operator to confirm the type of transportation that will be provided. Additionally, if you have specific transportation preferences or requirements, such as requesting a specific type of vehicle or opting for private transportation, it's recommended to discuss these with the tour operator when booking your package.
Safety measures are taken during the Tour
Tour operators in Jaisalmer prioritize the safety and well-being of their clients. While safety measures may vary among different operators, here are some common safety measures that are often taken during tours in Jaisalmer:
Professional Guides and Drivers: Tour packages typically include the services of professional guides and drivers who are knowledgeable about the local area, road conditions, and safety protocols. They ensure a safe and smooth travel experience.
Reliable Transportation: Tour operators provide well-maintained vehicles for transportation, ensuring they are in good working condition and meet safety standards. This includes regular maintenance checks, seat belts, and adherence to traffic regulations.
Accommodation Safety: Tour packages include accommodations that meet safety standards and regulations. This includes fire safety measures, secure premises, and basic safety amenities.
Desert Activity Precautions: For activities like camel safaris or jeep safaris in the desert, tour operators provide trained guides who prioritize safety. They provide instructions on how to ride camels safely, precautions to take during the safari, and ensure that the vehicles used are in good condition.
Health and Hygiene: In light of the ongoing COVID-19 pandemic or other health concerns, tour operators may implement additional health and hygiene measures. This can include regular sanitization of vehicles and accommodations, provision of hand sanitizers, and adherence to social distancing guidelines.
Emergency Support: Tour operators typically have emergency support systems in place to address any unforeseen circumstances. This can include a dedicated helpline, contact information for local authorities, and access to medical assistance if needed.
It's important to note that the specific safety measures may vary among tour operators. When planning your trip to Jaisalmer, it is advisable to inquire with the tour operator or travel agency about the safety protocols and measures they have in place. They can provide you with detailed information regarding the safety precautions taken during the tour and address any specific concerns you may have.
English-speaking guides are available during the Jaisalmer Tours
Yes, Get Cab India provides English-speaking guides during Jaisalmer sightseeing tours. Many tour operators understand the importance of providing guides who can communicate effectively in English to cater to the needs of international travelers. These guides are knowledgeable about the history, culture, and significance of the attractions in Jaisalmer. Having an English-speaking guide during your sightseeing tours can greatly enhance your experience.
They can provide detailed information about the landmarks, answer your questions, and offer insights into the local culture and traditions. They can also assist in facilitating communication with locals and ensure a smooth and enjoyable tour. When booking a Jaisalmer tour package, you can inquire with the tour operator or travel agency about the availability of English-speaking guides. They can confirm the inclusion of an English-speaking guide during the sightseeing tours and provide you with any additional details you may require.
Cost of Jaisalmer Tour Package
Kindly contact our team before booking the "Jaisalmer Safari Package" to get the best price: +91-9783355550
The cost of a Jaisalmer tour package can vary depending on various factors, such as the duration of the tour, the level of accommodation, the inclusions and activities, the mode of transportation, and the tour operator you choose. Here are some general guidelines regarding the cost of Jaisalmer tour packages:
Budget Range: For a budget-friendly tour package, which may include basic accommodation, shared transportation, and essential sightseeing, the cost can range from ₹2000/- to ₹4000/- per person for a 2-3 day package. Prices may vary depending on the season and availability.
Mid-Range Range: For a mid-range tour package, which may include comfortable accommodation, private transportation, guided sightseeing, and additional activities like camel safaris, the cost can range from ₹4000/- to ₹8000/- per person for a 3-4 day package.
Luxury Range: If you opt for a luxury tour package with premium accommodation, private transfers, personalized services, and exclusive experiences, the cost can start from ₹8000/- per person and go upwards, depending on the duration and inclusions.
It's important to note that the above ranges are approximate and can vary significantly based on the factors mentioned earlier. It's recommended to contact various tour operators, compare package details and prices, and choose the one that best suits your preferences and budget. Additionally, keep in mind that the cost may also depend on the number of people traveling, as group discounts or rates for solo travelers can apply. It's always advisable to inquire directly with tour operators or travel agencies to get accurate and up-to-date pricing information for the specific Jaisalmer tour package you are interested in. They can provide you with detailed itineraries, inclusions, and pricing based on your requirements.
Ready for an adventure? Then join us on our Jaisalmer Tour Package! With GTT, you'll get to explore the wild beauty of Jaisalmer and experience the culture of this incredible city. Don't miss out on this unique opportunity and book your GTT Safari Package today!
Explore Jaisalmer – Book Your Jaisalmer Tour Now!

 
Ready to embark on an exciting desert adventure in Jaisalmer? Our Jaisalmer Tour Package offers a thrilling experience of the Thar Desert, complete with camel rides, cultural performances, and camping under the stars. Our customized Jaisalmer tour packages are designed to offer you a unique and unforgettable experience. To book your Jaisalmer tour package, simply give us a call at 97833-55550 or visit our website. Our experienced travel experts will be happy to assist you in choosing the perfect package that suits your preferences and budget. Don't miss out on the opportunity to explore the majestic forts, enchanting sand dunes, and vibrant culture of Jaisalmer. Book your Jaisalmer tour package today!