SAM SAND DUNES DESERT SAFARI JAISALMER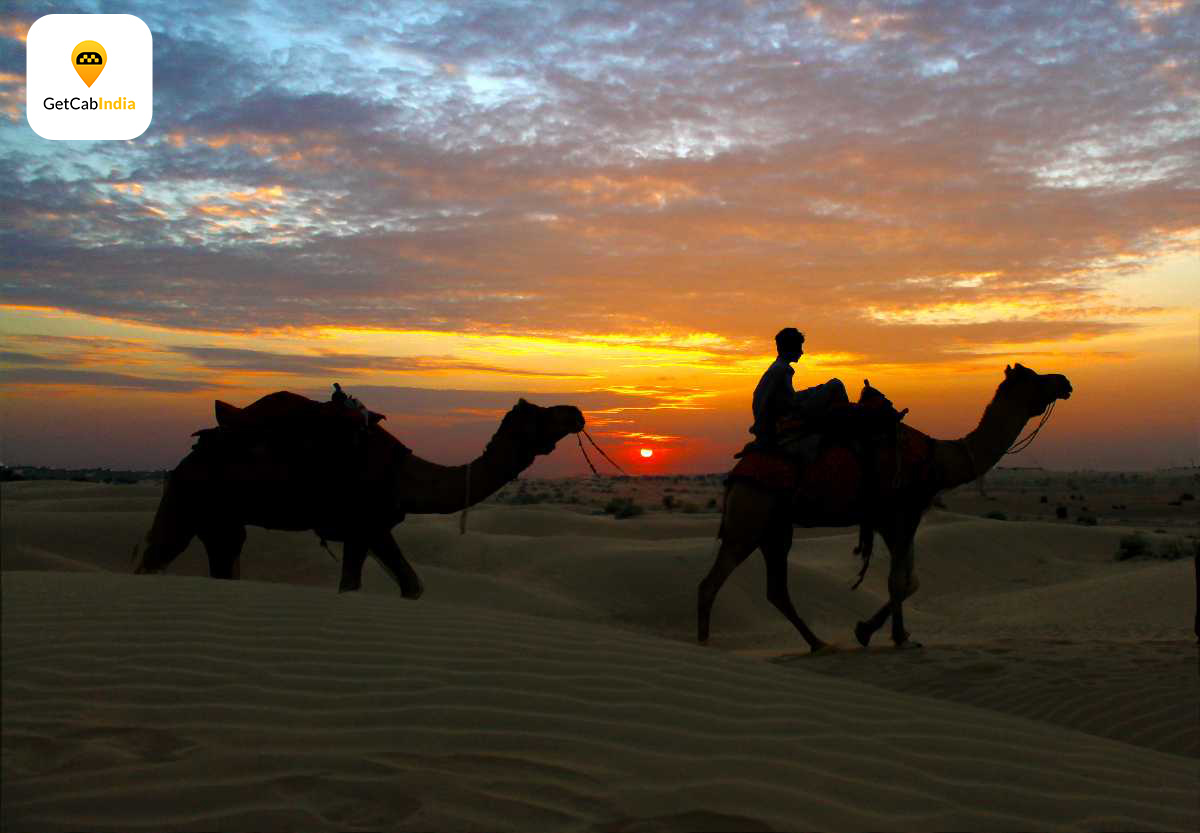 Every destination has a unique attraction. If we talk about Rajasthan so there are various places to visit but the most amazing place is luxury desert safari it gives the feeling of the royal culture. Jaisalmer is the royal city that is replenished with forts, gardens, and dunes. If you are searching for a unique place to enjoy a vacation at desert safari then Jaisalmer is the best tourist place. There are many locations to enjoy the desert safari in Jaisalmer but sam dunes are the best location. 
Desert safari Jaisalmer is situated near the Toll barrier at sam dunes desert village, Jaisalmer. Jaisalmer city is 40 kilometers away from sam dunes desert safari where you can reach by cab service in Jaisalmer. Sam dunes is the actual desert dune site in the country. Here you can find 30 to 60-meter tall dunes and many visitors enjoying desert safari on camels and jeeps. 
The best time to visit the desert safari is from 4 pm to 7 pm in the evening or early morning during sunrise. sunrise is the best part of desert safari. From October to March is the best time to visit there because, in the remaining months, all camps are closed. If you are going in the evening then you can enjoy folk dance, moonlight dinner, camping overnight, and barbeque and many more. Various tourists like to attend the musical program at sam dunes. You wouldn't attend them in the summer and monsoon months.
Below is the list of amazing desert safari camp in sam dunes desert safari Jaisalmer:-
Rajputana desert camp: it is one of the best desert tents in sam dunes. You will find 40 tents and 10 AC cottages with modern bathrooms. You can also see a stage in the middle of the camp where an amazing gypsy dance and musical program is held every day. There is a rate of Rs. 3000 for camp/tent and Rs. 5500 for AC cottage. 
Dangri desert safari camp: this campsite is started in 2002. It provides the best accommodation in their 37 swiss camps. It will also provide Indian Traditional cultural programs, dinner & breakfast and camel & jeep safari tours. The camp rates are Rs. 3500-4500. 
Royal desert camp: it is the oldest desert camp in sam dunes. Its location is very near to the main sam dunes parking. You will find 50 desert camps, 5 cottages, 1 restaurant with the best Indian food, and camel & jeep safari tours. The cost of the royal desert camp is Rs. 6000-10,000 per camp & cottage. The fare includes snacks, dinner, musical show and safari tours. 
Serai camp: serai desert camp is the luxury camp resort near Jaisalmer. It has everything that luxury travelers want to like the pool, stylish galleries, and many more. The Serai camp is at Bherwa that is 132 km from Sam dune. It is 45 km from Jaisalmer city. The Serai camp tariff is Rs. 20,000 per camp. The camp fares include fine dining and excellent arrangements for safari tours & private dance shows with awesome music.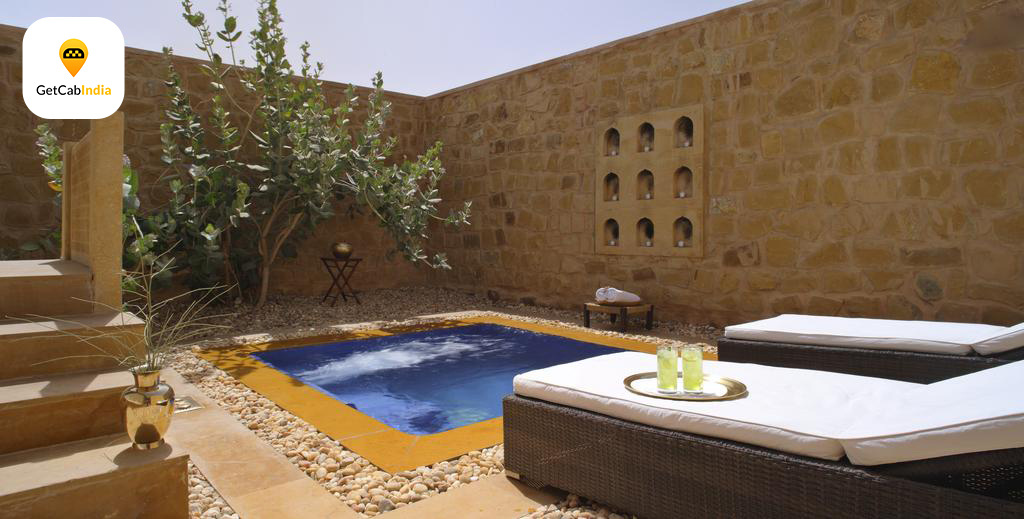 Winds desert camp: it is one of the best camps in Jaisalmer. It is 23 km away from sam dunes. At camp, you will get 20 comfortable swiss. It includes restaurants, musical dance nights and arrangements for a desert safari tour. The camp tariff is Rs. 8000 to 15000 per person. They also provide jeep cars on rent. 
Damodra desert camp: it is the beautiful swiss camp hotel with modern stylish attached bathrooms. There is a stage of Indian cultural program and a nice kitchen which provides great Indian Rajvadi food. Camp location is 15 km away from sam and 30 km from Jaisalmer. The camp fare is Rs. 10,000 per person. The camp fare includes complimentary dinner & breakfast with a musical show. 
Rawla desert camp: Rawla desert camp is a bit away from sam dunes. It is a perfect place for tourists who want to get close to nature in the desert area. The camp provides amazing swiss tents, exotic mud cottages with kitchen offers limited but tasty food. The camp tariff is Rs. 4250- 6250 per person. The fare includes dinner and breakfast with the traditional musical dance program.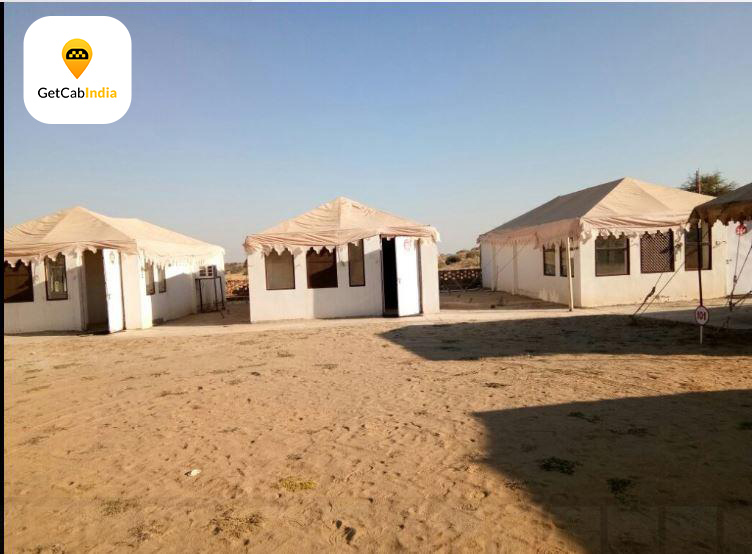 Mama desert camp is a very exclusive enjoyment tented settlement at the fascinating dunes. The camp is just 45 km apart from the golden city of Jaisalmer. The camp appears like a golden fantasy, which gives you the beautiful romance of the Thar desert. the camp rebuilt the charm and experience of the Silk Route. the camp has the modern departments and services with the affection and special attention like the Indian traditional hospitality culture. The camp fare is 5000- 10000. 
Camp e Khas – Camp e Khas provides the most reliable 4-star air-conditioned Lavish desert in Sam Sand Dunes, Jaisalmer, with the exotic fresh breeze camps. their tariff is 7000- 13000. They have 25 AC richness tents and 20 excellent gratification AC shelters and benefit of heaters in winters. All tents with added modern tiled bathroom and stylish galleries, running hot and cold shower. they have Lounge, elegant dining hall, convention hall, unique open-air amphitheater for folk music and dance. and they have an activity room full of indoor games like chess, badminton, carrom and many more.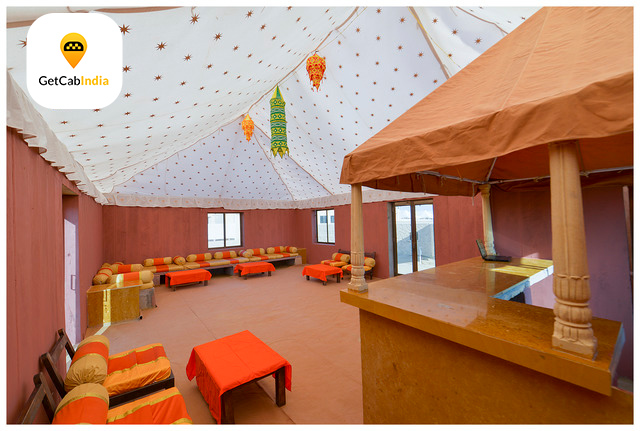 you can go to the desert safari through taxi service in Jaisalmer at fair prices. If you are looking for sam dunes desert safari Jaisalmer then you are at the right place. We hope that this article will provide you all the information regarding desert safari. Taxi in Jaisalmer is a very convenient way to go to nearby places of Jaisalmer. you can easily visit the whole Jaisalmer through car rental in Jaisalmer. All these places are in desert safari, you can also enjoy the all places of Jaisalmer with your family and friends. They will get to know about the Indian tradition and their hospitality over here and they also explore the royal culture and their activities.