Taste the Delicacies of Jodhpur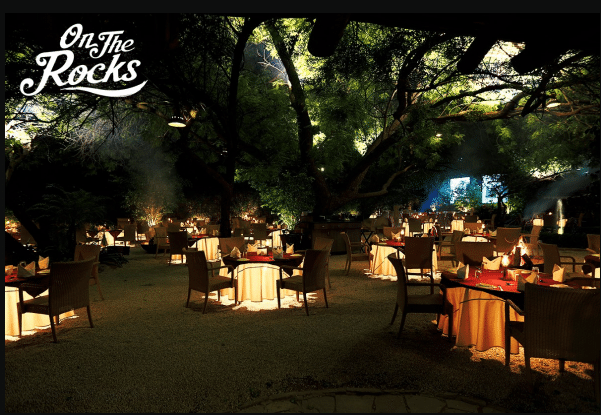 Being in a royal city, it is a must to relish the taste of its culture and acknowledge the mouth-watering dishes of the place. Get along on this tour with Get Cab India for the Delicacies of Jodhpur and enjoy the spices of this town.
1. Makhania Lassi at Mishrilal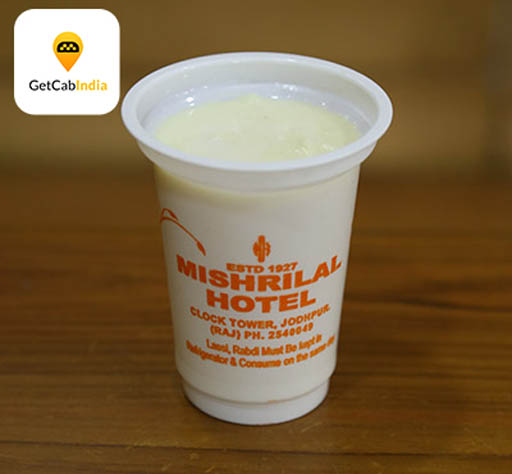 The best buttermilk that you can taste around the city. It is primarily known for its floating butter, and the richness of the drink keeps you re-energized throughout the day. Its sweet taste and dense liquid make it recognizable.
You can also shop at the market which is situated in the Sardar Market, the Clock Tower.
Price: 60 for two.
Address: Old City, Clock Tower, Jodhpur 342001, India
Open hours:
8:30 AM – 10:00 PM
To visit this place you must be thinking of booking a cab, Get Cab India can provide you with Car Rental in Jodhpur to satisfy your taste buds with the Delicacies of Jodhpur.
2. Gulab Jamun at Shandaar
If you are in Jodhpur and you are interested in some local taste Shandaar is best for you. It offers the best quality desi ghee products available at reasonable prices.
Gulaab Jamun being a sweet dish is dipped into a tomato and cashew curry instead of the sugar syrup. This delicious dish, when tasted here, gives you the authentic Rajasthani taste.
Though the place is not so huge, you can travel early and have this tasty dish. For trying the Delicacies of Jodhpur you can book a cab from Get Cab India.
Price: INR 400 for two
Address: MG Hospital Road, Jodhpur 342003, India
Open hours:
12–10:30 pm
3. Lal Maas at Darikhana, Raas Haveli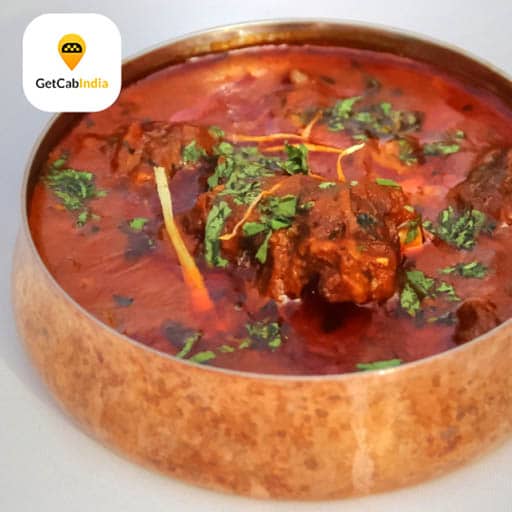 It is a royal feast that will give your taste buds an exquisite taste. You can eat it along with tandoori rotis filled with butter and ghee.
You can enjoy the sunset and the view of lit-up Fort from any of the areas. The menu is a refreshing change with a strong Mediterranean and Thai influence.
There are two main areas where you can enjoy the beautiful view of Mehrangarh Fort. The Baradari is located right beside the pool and serves with a romantic location. You can also enjoy the Fort lit up from the rooftop bar in the evening.
Risala, with its open-air terrace, is a yet more private and romantic place. To experience the beautiful view with mouth-watering Delicacies of Jodhpur you can book a Car Rental in Jodhpur with Get Cab India for your wonderful experience.
Address: Tunwar Ji ka Jhalra, Makrana Mohalla, Jodhpur
Never closed
Price Range: ₹ 2,766 – ₹ 3,457
4. .Mawa Kachori at Janta Sweet Home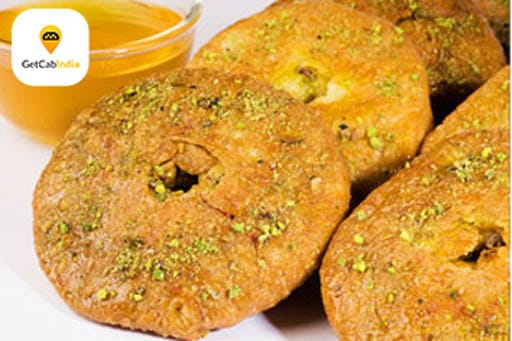 The place is favorite for its sweets and offers a variety of range of desserts. You can try out the kachoris, both the sweet and the spicy onion-filled. They are best known for their Rajasthani taste and make it a must-try.
You can even go out to explore the area around as the place is around the Railway Station and is in the middle of the market area.
Price: INR 400 for two
Address: 3, NaiSarak, NaiSarakChauraha, Opposite Priya Hotel, Jodhpur
5. On the Rocks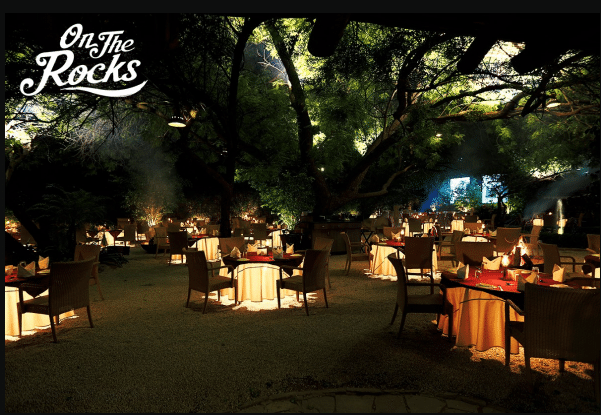 This place serves with the best view as it gives a good look at the Umaid Bhawan. It is one of the best dining options in Jodhpur. It is famous for its rich, creamy curries and barbeque options.
It also serves with a cozy bar and has a decent whiskey and wine list and offers good cocktails.
Address: NH 65, Ajit Bhawan Palace, Ajit Colony, Jodhpur, Rajasthan, India
Open Hours:
Every day: 12.30-3.30pm & 7.30-11pm
Price range: ₹ 278 – ₹ 763
6. Gypsy

The place is amidst the well-known area also serves as a perfect place for shopping. If you are confused to choose among the Rajasthani dishes to taste, then this place will do justice for you. The most popular of all the Rajasthani Thali offers a brilliant taste and serves with 21 different recipes in just one to satiate your hunger.
Address: 689, First Floor, 9th C Road, Sardarpura, Jodhpur
Price: INR 500 for two
Travel to Jodhpur and enjoy the tastiest dishes around the place. With Get Cab India, Car rental services enjoy your travel with a new taste. Be hungry to explore more.
Also Read: Top 5 Best Adventure Activities in Jodhpur