How to Make Your Weekends Incredible
Having a tiring week in the city always makes you feel to move out and do something interesting and exciting. Here is your turn to set out the quickest plans and go out without wasting much time. All you need is to check out the list and pack the bag for an amazing exhilaration.
1. KHIMSAR
Away from the hustle-bustle of the town, Khimsar is appreciated for its rich cultural heritage. It is surrounded by the Thar Desert. It seems as if the city is buried under the golden layer of the sand.
The village, surrounded by dunes, is the best spot to sit and ease yourself. The Fort makes it look beautiful, and the village is nestled around a small lake, which lays 15 Kms away from the main city. It is an example of Rajasthan rural life.
Situated at a distance of not more than 100 km from Jodhpur, it can be traveled in a day. To visit this amazing exhilaration you can book a cab from Get Cab India who provides with car rental in Jodhpur for your comfortable trip.
Attractions: Khimsar Fort, Khimsar Sand Dunes Village, The Village.
Duration: A day or two
2. OSIAN
The town is a Panchayat village, an oasis, in the Thar Desert. It was a major religious center of the kingdom of Marwar. It was an important construction and major stopover due to its fake lake made by its wealthy merchants. The much-needed stopover became a center for many Shrines.
It is situated not more than 65 km away from Jodhpur city.
Attractions: Kali Temple, Mahavira Temple, Architecture, Surya Temple.
Duration: A day.
3. KUMBHALGARH
Built during 15 century by Rana Kumbha, Kumbhalgarh is a Mewar fortress near Udaipur of Rajasthan state in western India. Built on a hilltop, it has seven fortified gateways. There are over 360 temples within the fort. From the top of the palace, it is possible to see kilometers into the Aravalli Ranges. The dunes of the Thar Desert can also be seen from the Fort walls. The Rajasthan Tourism organizes a three-day annual festival in remembrance of the passion of Maharana Kumbha towards art and architecture.
With an astonishing wall that measures up to a length of 38 kilometers, the structure is 188 km away from Jodhpur which takes approximately 4 hours travel from Jodhpur. If you are planning to visit this beautiful place then Get Cab India can help you with an amazing exhilaration with a hassle-free ride.
Attractions: Jain Temple, Hindu Temple, Architecture, Gupt Mahal, Badal Mahal, Baoli.
Duration: 1-2 days.
4. KHEECHAN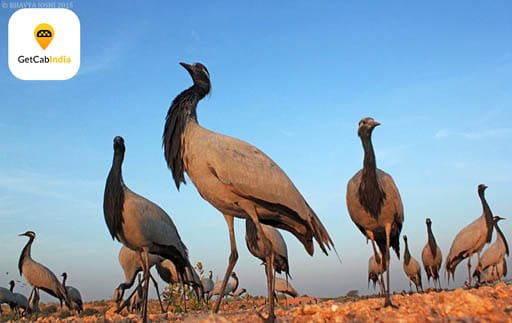 A small desert village, located at a distance of 4.5 Kms from Phalodi, is the nearest town. The place is famous for wildlife and is widely popular among the bird watchers.
A large number of Demoiselle cranes, locally known as Kurjas, pays a visit to this place every winter and about 5000 kg of seeds are consumed by them. Experience an amazing exhilaration of this beautiful place by Get cab India.
Distance from Jodhpur: 143 Kms.
Duration: 2h 15mins.
Best Time to Travel: During winters.
Duration: A day.
5. RAMDEVRA
The village is named after Baba Ramdevji, a saint who took Samadhi (meaning a conscious exit from the mortal body) in 1384 CE, at the age of 33 years. A temple was constructed around the Samadhi in 1931 AD.
A large fair is held here (Aug-Sept) which is attended by a large number of devotees from far away places. People of different creed, cast organize long night singing (Bhajans) to pay homage to the Baba. To experience this amazing exhilaration of this place then book a car from Get cab India who provides a fleet of cars at an affordable price.
Distance from Jodhpur: 184 Kms.
Duration: 3h 6mins.
Best Time to Travel: During the Fair.
Duration: A day.
6. PHALODI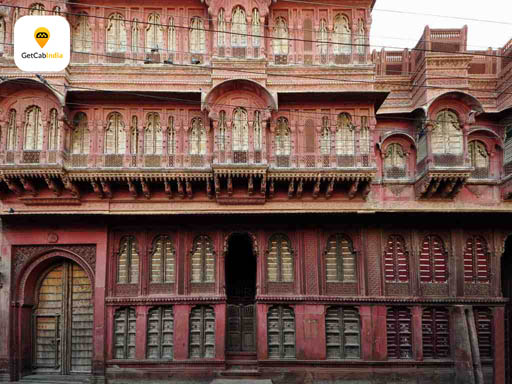 Also known as a salt city, Phalodi is a tourism hub located in Jodhpur district. It is an old caravan center which is still engaged in trading salts on camels.
This place is famous for forts, royal Havelis, bazaars, and ancient temples which make this place a tourist hotspot. The Phalodi Fort and Lal Niwas can be seen while visiting this amazing exhilaration by Get Cab India.
Distance from Jodhpur: 130 Kms.
Duration: 2 Hrs.
Best Time to Travel: Oct-Feb.
Duration: A day.
You can also travel to nearby cities and explore more about them. One such is "The Golden City". Just hire a cab from Get Cab India, car rental services, and travel to the Jaisalmer and experience an amazing exhilaration. Know which is the best place to live?
ALSO READ: Top 5 Best Adventure Activities in Jodhpur