Self Drive Car Rental in Jodhpur: Explore the City on Your Own Terms
Welcome to Get Cab India, your one-stop destination for hassle-free self-drive car rental services in Jodhpur. If you're looking to have the freedom to explore the city at your own pace, our reliable and convenient car rental options are just what you need.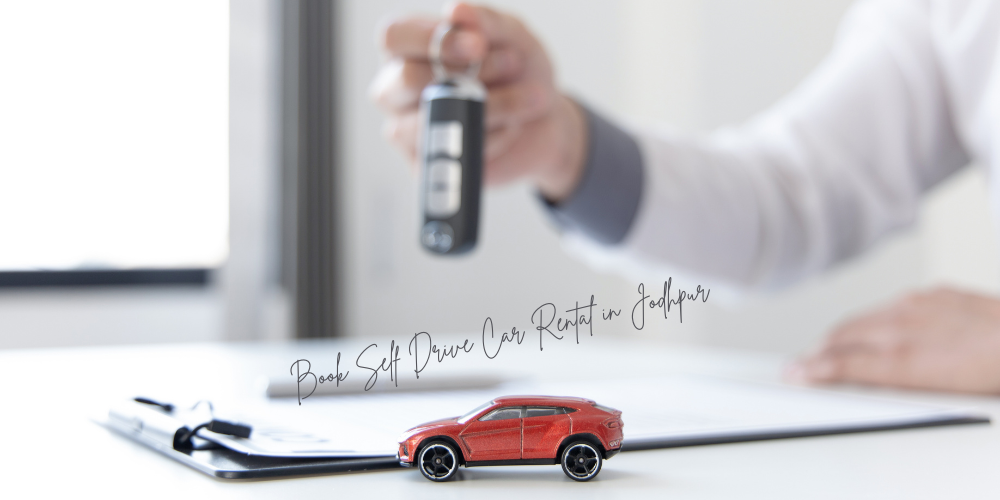 Why Choose Self Drive Car Rental?
With self-drive car rental, you have the flexibility to create your own itinerary and discover Jodhpur on your terms. Whether you're a solo traveler, a couple, or a group of friends or family, renting a car gives you the freedom to choose where you want to go, when you want to go, and how long you want to stay.
A Wide Range of Vehicles to Suit Your Needs: We offer a diverse fleet of well-maintained cars to cater to your specific preferences and requirements. From compact hatchbacks for easy maneuvering through the city streets to spacious sedans for comfortable long drives, and even rugged SUVs for off-road adventures, we have the perfect car for you. Our vehicles are regularly serviced and equipped with modern features to ensure a smooth and enjoyable driving experience.
Easy Booking Process: Renting a self-drive car with us is a simple and straightforward process. Just visit our website or give us a call, and our friendly customer service representatives will guide you through the booking process. We offer flexible rental durations, including hourly, daily, and weekly options, allowing you to choose the timeframe that suits your needs.
Transparent Pricing and No Hidden Costs: We believe in transparency and providing our customers with upfront pricing. Our rental rates are competitive and include comprehensive insurance coverage for your peace of mind. There are no hidden costs or surprise fees, so you can plan your budget confidently.
Benefits of Self-Drive Car Rental in Jodhpur
Flexibility and Freedom to Explore: When you opt for self-drive car rental in Jodhpur, you gain the freedom to explore the city at your own pace. You can plan your itinerary according to your preferences and make impromptu stops wherever you please. Whether you want to visit the iconic Mehrangarh Fort, stroll through the bustling markets of the Old City, or take a scenic drive to the nearby Bishnoi Village, having a car at your disposal allows you to customize your experience.
Cost-Effectiveness Compared to Other Modes of Transportation: Self-drive car rental in Jodhpur offers a cost-effective solution for travelers, especially for those who are traveling in groups or with their families. Compared to hiring a taxi or relying on public transportation, renting a car gives you the flexibility to split the cost among fellow travelers, making it a budget-friendly option. Additionally, you can save on the expenses of multiple taxi rides or tour packages, as you have the convenience of keeping the car with you throughout your stay.
Convenience and Comfort: Renting a car in Jodhpur provides convenience and comfort, especially when exploring the city's attractions. You don't have to worry about the hassle of navigating public transportation or negotiating with taxi drivers. You can travel with ease and enjoy the comfort of air-conditioning in the scorching Rajasthan heat. Moreover, self-drive car rental companies usually offer a variety of car models, allowing you to choose a vehicle that suits your preferences and requirements.
Privacy and Personal Space: Traveling in a private rental car offers a level of privacy and personal space that may be lacking in other modes of transportation. You can enjoy intimate conversations with your travel companions, play your favorite music, or simply relax and immerse yourself in the beauty of Jodhpur without any distractions.
Requirements and Documentation:
To rent a self-drive car in Jodhpur, you need to meet the following requirements:
Valid driver's license: You must possess a valid driver's license issued by a recognized authority.
Identification proof: Carry a government-issued ID card or passport for verification purposes.
Minimum age: The minimum age for renting a car is 18 years, and you must have a minimum of one year of driving experience.
Exploring Jodhpur: Must-Visit Destinations
Jodhpur, known as the "Blue City," is steeped in history, culture, and architectural wonders. Once you have your rental car, you can embark on a memorable journey and explore some of the city's top attractions, including:
Mehrangarh Fort: Dominating the city skyline, this majestic fort offers breathtaking views and houses a museum showcasing the rich heritage of Jodhpur.
Jaswant Thada: A beautiful marble cenotaph built in honor of Maharaja Jaswant Singh II, known for its intricate architecture and serene surroundings.
Umaid Bhawan Palace: Experience royal grandeur at this opulent palace, which now serves as a heritage hotel and museum.
Mandore Gardens: Discover the peaceful gardens dotted with historic cenotaphs, temples, and memorials, reflecting the rich past of the Marwar dynasty.
Clock Tower and Sardar Market: Immerse yourself in the vibrant atmosphere of the bustling market, where you can shop for handicrafts, textiles, spices, and more.
Local Cuisine and Food Joints
No visit to Jodhpur is complete without indulging in its delectable Rajasthani cuisine. The city is renowned for its flavorsome dishes and unique culinary traditions. Some popular local delicacies include:
Dal Bati Churma: A Rajasthani specialty consisting of lentil curry, baked wheat bread, and a sweet flour-based dessert.
Makhaniya Lassi: A refreshing yogurt-based drink topped with a layer of cream and flavored with saffron and cardamom.
Mirchi Vada: Deep-fried chili peppers stuffed with a spicy potato filling, served with chutneys.
Gatte Ki Sabzi: Gram flour dumplings cooked in a yogurt-based curry, best enjoyed with steamed rice or roti.
Jodhpur boasts numerous food joints and street stalls where you can savor these local delights. Some popular food hotspots include the iconic "Sardarji ki Kachori" and the bustling market area near Clock Tower.
Driving in Jodhpur
Before embarking on your self-drive adventure in Jodhpur, it's crucial to familiarize yourself with the local traffic rules and regulations. Here are some key points to keep in mind:
Always carry your valid driver's license, vehicle registration documents, and insurance papers.

Follow traffic signals and signs, and maintain lane discipline.

Observe the speed limits and drive cautiously, especially in congested areas.

Be aware of wandering livestock on rural roads.

Parking facilities are available near popular tourist attractions, but it's advisable to arrive early to secure a spot.
Remember to drive responsibly and respect the local culture and surroundings. By adhering to the traffic rules, you can ensure a safe and enjoyable driving experience in Jodhpur.
Safety and Emergency Assistance
While self-driving in Jodhpur, it's important to prioritize safety and be prepared for any unforeseen circumstances. Here are some safety tips and emergency contacts to keep in mind:
Familiarize yourself with the location of the nearest hospitals, police stations, and petrol pumps.

Follow speed limits and exercise caution, especially in congested areas.

Park in designated areas and avoid parking in no-parking zones.

Keep an eye out for pedestrians, animals, and two-wheelers on the roads.

Always wear seat belts and avoid using mobile phones while driving.

Carry a first aid kit, a charged mobile phone, and emergency contact numbers.

Drive defensively, especially on busy roads, and be cautious of two-wheelers and pedestrians.

In case of an accident or breakdown, contact the car rental company's emergency helpline for assistance.
By adhering to these safety guidelines, you can ensure a smooth and secure self-drive experience in Jodhpur.
Conclusion
Self-drive car rental in Jodhpur provides an excellent opportunity to explore the city and its surroundings at your own pace and convenience. With the flexibility to customize your itinerary, the cost-effectiveness compared to other modes of transportation, and the comfort and privacy it offers, renting a car can enhance your travel experience in Jodhpur. By choosing a reliable car rental company, familiarizing yourself with the booking process, and following the local traffic rules, you can embark on a memorable journey through the vibrant streets and captivating landscapes of Jodhpur.
Discover Jodhpur at Your Own Pace! Rent a Self-Drive Car Today!