Things Not to Miss in Jaisalmer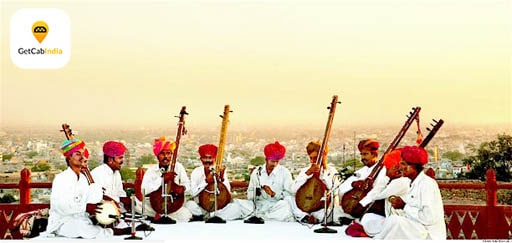 The rich culture of Jaisalmer is a residue of the bygone era, where the people still hold onto their traditions and customs. People of Jaisalmer are trustworthy and are significant to preserve the heritage of Jaisalmer with great passion. They are famous for their hospitability and politeness. Here is a list to learn more about them and understand their culture.
1. Desert Festival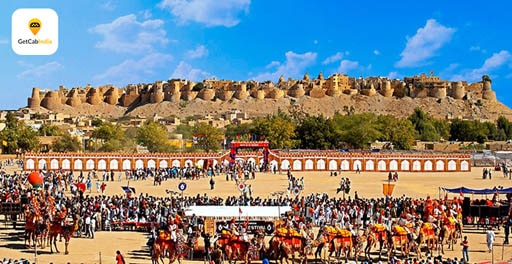 This is a festival which occurs in February every year. It is a three-day festival depicting the rich heritage and culture of Rajasthan. Watch folk singers and dancers performing on Rajasthani Songs. Many other activities occur here which include snake charmers, Kalabaaz(traditional acrobatics by the gymnasts), puppet shows, turban tying competitions and ballads, longest mustache competition, and Mr. Desert contest. Even camels aren't left behind in this festival- camel races, camel polo, camel decoration, and camel dance is a common sight here. You can experience the stay in the desert and indulge in these activities as well.
2. Gangaur Festival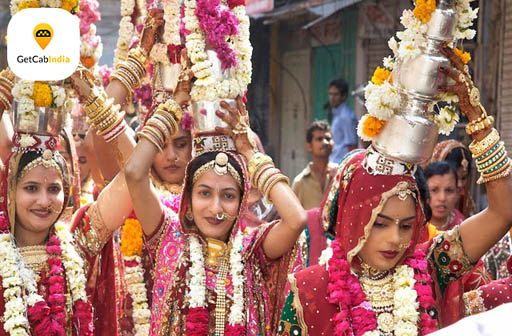 Gangaur has widely celebrated in this city as well as the entire state of Rajasthan. The Golden City celebrates the festival with a colossal fervor. You will observe women dressed in the most vibrant colors and singing traditional songs during this festival, which remains for about 18 days. Unmarried women worship Lord Shiva and Goddess Parvati, longing for a husband like Lord Shiva.
Idols are decorated during this festival and later immersed in water on the last day of the festival.
You can enjoy the rare folk music and dance of this cultural town out of which Kamaicha is a 400-year old stringed instrument. There are several folk-dance shows held in various venues in and around the city.
3. Folk Music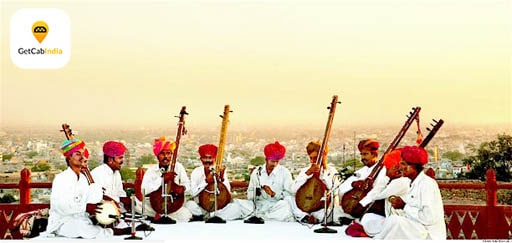 Folk Music of this region is very popular though it was initially limited to the various tribes. It is now an indispensable part of the culture and heritage. Having a diverse collection of musicians, the Folk songs are mostly sung in Rajasthani. Rajasthan is popularly known for its Rajasthani language. Among the vast array of languages spoken in the district Hindi is also a commonly understood language. People even can speak and write Urdu and English in most of the areas. It is known to be funny and sweet language. 'Kesariya Baalam, padharo maare desh' is one of the most epic songs of the region. Ghoomar, Kalbeliya, and Kathputli are popular dance forms to which the people dance during the festivals. To experience this culture of Jaisalmer book a car rental service from Get Cab India.
4. Cuisine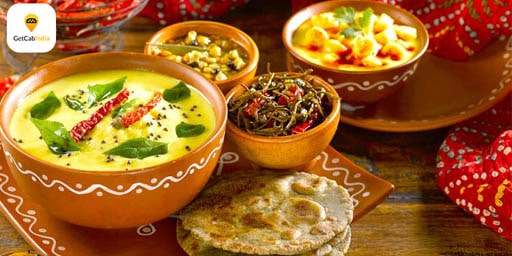 The state of Rajasthan is well-known for its rich regal culture and heritage. The arid nature of this region, scarcity of water and vegetation, the extreme climatic conditions, has evolved unique cooking styles and food habits of the natives that are noticeably different from other Indian cuisines. There are many things to try here. The most popular of all is the Rajasthani Cuisine. This is something you do not want to miss out on. Pyaaz ki Kachori, Mirchi Bada, Lauki Ke Kofte, Kicha ki Sabji and the famous Dal Bati Churma are the best to taste while you are in the city. The dal item is prepared of five different dals namely chana dal (split Bengal gram), toovar (arhar) dal, moong dal (split green gram), urad dal (split black lentils) and whole moong (whole green gram) and referred as panchmel dal or panch kutti dal. The most famous sweet Ghotua Laddoo will surely satisfy your sweet tooth. You can relish it throughout your experience here.
5. Architecture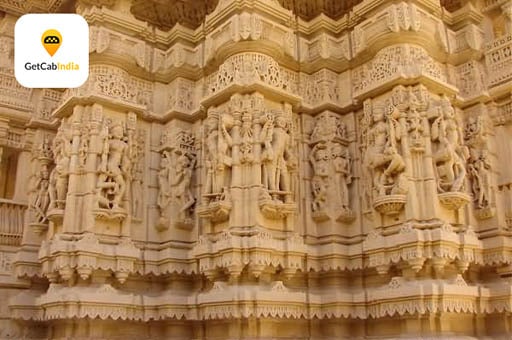 Referred to as the Golden City of Rajasthan, Jaisalmer finds its important from the fact that it is one of the most exotic destinations of Rajasthan. The desert city is also famous for its Havelis constituting a more significant tourist attraction. Serving as a palatial residence of the wealthy businessmen of this city, the Havelis of Jaisalmer, are the epitome of the fantastic architectural complex. Carved sandstone endowed with several beautiful patterns is the lovely structures of the Havelis. Some of the Havelis depicting the old-world traditional charm dates more than 300 years back, to which visiting is tourists' exceptional delight. To explore more cultures of Jaisalmer, visit here by booking a car rental service from Get Cab India.
Knowing the places and the things you have to place first on your list, it is time for you to pack your bags and Go! Hire a Cab from Get Cab India, the best Car rental services in Jaisalmer to get a kickstart of your joy ride.