Jaswant Thada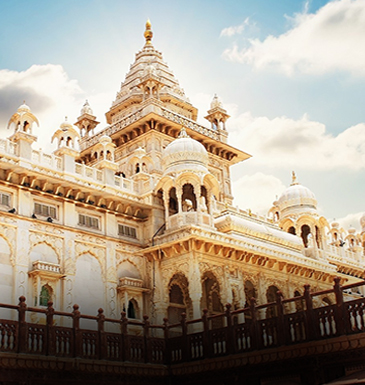 Jaswant Thada is a stunningly beautiful mausoleum located in Jodhpur, Rajasthan, India. It is a popular tourist attraction known for its intricate architecture, exquisite marble carvings, and peaceful surroundings.
The Jaswant Thada was built in memory of Maharaja Jaswant Singh II, who ruled Jodhpur from 1873 to 1895. The construction of this grand mausoleum was initiated by his son Maharaja Sardar Singh, and it was completed in 1899. The mausoleum is built entirely out of intricately carved white marble, which gives it a stunning appearance and a timeless appeal.
As one approaches the Jaswant Thada, the first thing that catches the eye is its striking façade, which is made up of intricate jali work and delicate carvings. The mausoleum is situated on the banks of a picturesque lake, which adds to its serene and tranquil ambiance. The entrance to the Jaswant Thada is through a large ornate gate, which leads to a beautiful garden filled with lush greenery and colorful flowers.
Inside the Jaswant Thada, visitors are greeted with a series of stunning marble panels that are carved with intricate designs and patterns. The walls of the mausoleum are adorned with exquisite marble jalis, which allow for the entry of natural light and create a beautiful play of light and shadows inside. The marble carvings depict scenes from the life of Maharaja Jaswant Singh II, as well as stories from Hindu mythology.
One of the most striking features of the Jaswant Thada is the stunning marble dome that crowns the structure. The dome is made up of hundreds of intricately carved marble pieces that have been fitted together seamlessly. The intricate details of the dome, including the ornate finial and the delicate carvings, make it a true work of art.
Another highlight of the Jaswant Thada is the royal cenotaphs, which are located inside the mausoleum. The cenotaphs are made of white marble and are intricately carved with delicate designs and patterns. Each cenotaph is adorned with a beautiful portrait of the Maharaja, which adds to the regal and majestic feel of the place.
Visitors to the Jaswant Thada can also explore the nearby gardens, which are filled with beautiful flowers and lush greenery. The gardens are a perfect place to relax and soak in the peaceful ambiance of the mausoleum. From the gardens, visitors can also enjoy stunning views of the surrounding countryside and the blue city of Jodhpur.
In conclusion, the Jaswant Thada is a must-visit destination for anyone visiting Jodhpur. It is a stunning example of Rajasthani architecture and is a testament to the skill and craftsmanship of the artisans of Rajasthan. The serene and tranquil ambiance of the mausoleum, coupled with its stunning beauty, makes it a perfect place to spend a peaceful afternoon.