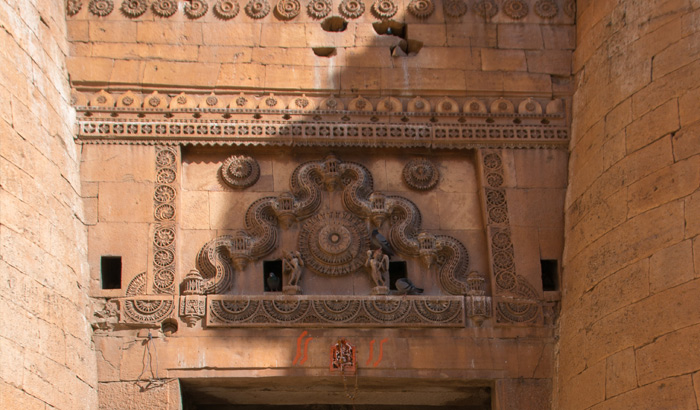 Surya Gate
Surya gate is one of the old-fashioned gate in Jaisalmer Fort which is also known as "Golden fort". This is the second entrance gate from city to Jaisalmer fort. which is located at top of the trikuta hill. Surya gate is also known as "brilliant gate" it is in yellow sandstone which is made up of stones, the sunrise on Surya gate is the best moment to watch and enjoy. It is opened 24 hrs you can go and explore it anytime this place is unavoidable you cannot skip this place as it is the entrance for Jaisalmer fort city. You can enjoy this entrance and its mesmerizing views in different angles it contains many signs of ancient architecture for history buffs, photographers and fort lovers this place will be awesome you can spend 1 2 hrs here easily. Best way to explore all gates is by walking. To cover the distance from the first gate to the fort you can go by walking also.
History of Surya Gate
The four gates are entry doors for Jaisalmer fort, to enter and explore in Jaisalmer palace you have to go from these four gates Akhai Gate, Surya Gate, Ganesh Gate, and Hawa Gate The gates come one after one which was built in 12th century this gates hold important significance to the 850+ years old fort. These gates were built to protect the city from Enemies the main entrance is Surya gate which is built by stone carvings, this gate is in curved shape ancient built this because the curved shape gates are stronger and more secular and look beautiful rather than straight walls. the Surya gate is made up of stone carvings which represent historical art of ancient times. Between the first gate and Surya gate, there are many interesting things to buy and little shops where they sell Rajasthani items small gifts, etc.
How to Visit Surya Gate
There are many options to reach here you can book a private cab or in Jaisalmer, there are many transport services available like Get Cab India they offer Surya Gate Taxi service in an affordable price from anywhere in Rajasthan.
From Jodhpur to Jaisalmer you may get several options  by local Car Rental in Jaisalmer ,train, bus,  auto-rickshaws, etc. to explore the city and fort in an easy way without any traveling hassle you can book a private cab, taxis, from Get Cab India transport service who provide Surya Gate Taxi according to your capacity and need.
Best Time to Visit
The entrance gate can be seen at any time it is opened 24 hrs but when you are coming to visit Jaisalmer fort and want to explore the golden fort there are timings, you have to come according to that fort timings daily from 9.00 am to 5.00 pm and best time to spend at Surya gate is 3 pm at this time this place will fill with tourist auto rickshaws on way to fort and lot many things. you are coming here as a tourist the best time would be November to march in these months the climate is very cool and little winter season it's the best time to explore Jaisalmer activities like camel riding, exploring forts, temples, deserts, etc. To visit this place Get Cab India can help you with Car Rental in Jaisalmer for Surya Gate Taxi to make your trip a wonderful experience.
There is an entry fee to explore the Surya gate for Indians it is 30 rs and for foreigners, it is 250 rs including an audio guide and a still camera If you are carrying a camera for photographs fee will 50 rs and for video camera 100 rs You can visit from 9 am to 5 pm
Places to visit nearby
Badal Mahal

It is the best place to visit here you will see some interesting the Bada mahal says itself that it has a large building and ancient architecture it is an area where you will see a large balcony that was built in the 12th century but still carries a beautiful art in it. This place is located at Gandhi Chowk Rd, Sadar Bazar, Jaisalmer, Rajasthan You can visit from 06:00 am – 05:00 pm The entry fee for Bada mahal is 50rs if you have time you can visit this beautiful place which takes 4 hrs nearly.

Amar Sagar Jain Temple

The Amar saga Jain Temple is dedicated to Rikhabdevji and Shambhavdev Ji – The famous Jain Tirthankars (Hermits). This beautiful temple is carved in yellow sandstone like a "Dilwara style" The This temple is located at Jaisalmer Fort, Off the Jaisalmer-Sam Road, Jaisalmer It is opened from 08:00 am – 12:00 pm it has an entry fee of 10rs best time will be 8:30 to 10:00 it will take 2hrs to visit.

Jaisalmer Fort

This Jaisalmer fort It maintains its royal ambiance and architecture. The Whole palace is carved out in Sandstones, here you can see the bedroom, the silver coronation throne, the royal bed, local stamps and banknotes, sculptures and weapons kept in the museum.  It is located at Fort Rd, Amar Sagar Pol, Jaisalmer, Rajasthan 345001, India It is opened from 09:00 am – 06:00 pm the entry fee for Jaisalmer fort is 250rs you can visit this place 9:30 to 4:00 pm which is the best time to visit around 2hrs can be easily spent here.

War Museum, Jaisalmer

The Jaisalmer War Museum covers the history and journey of the Indian Army and its contribution in the 1965 Indo-Pak War and the 1971 Longewala battle. The museum pays homage to those who lost their lives defending the country and has a memorial made from the murals of these soldiers It is located at Jaisalmer Jodhpur Highway, Thaiyat, Rajasthan 345001, India There is no entry fee you can go and visit at any time from 10:00 to 3:00 pm.

Gadisar Lake

This Lake is another iconic attraction in Jaisalmer.  The lake, constructed into the hot arid desert is one of the most refreshing sights you will get to see. A boat ride in the famous GadiSar lake is a must-do experience for any Jaisalmer tourist. You can see and enjoy the view for free but if you want to enjoy the boat riding it will cost roughly 500 INR per session. It is located at Postal Colony, Jaisalmer, Rajasthan 345001, India It has a general timing: 07:00 am – 07:00 pm.
So, if you are planning to explore Surya gate and Jaisalmer fort you can pack your bags and make your way to It. this is the best place to spend some valuable time and enjoy once in lifetime experience. There are many Car Rental in Jaisalmer for Surya Gate Taxi to make tour more awesome and easy book private cabs from Get Cab India service which offers best service for tourist with luxury and comforts in all aspects.