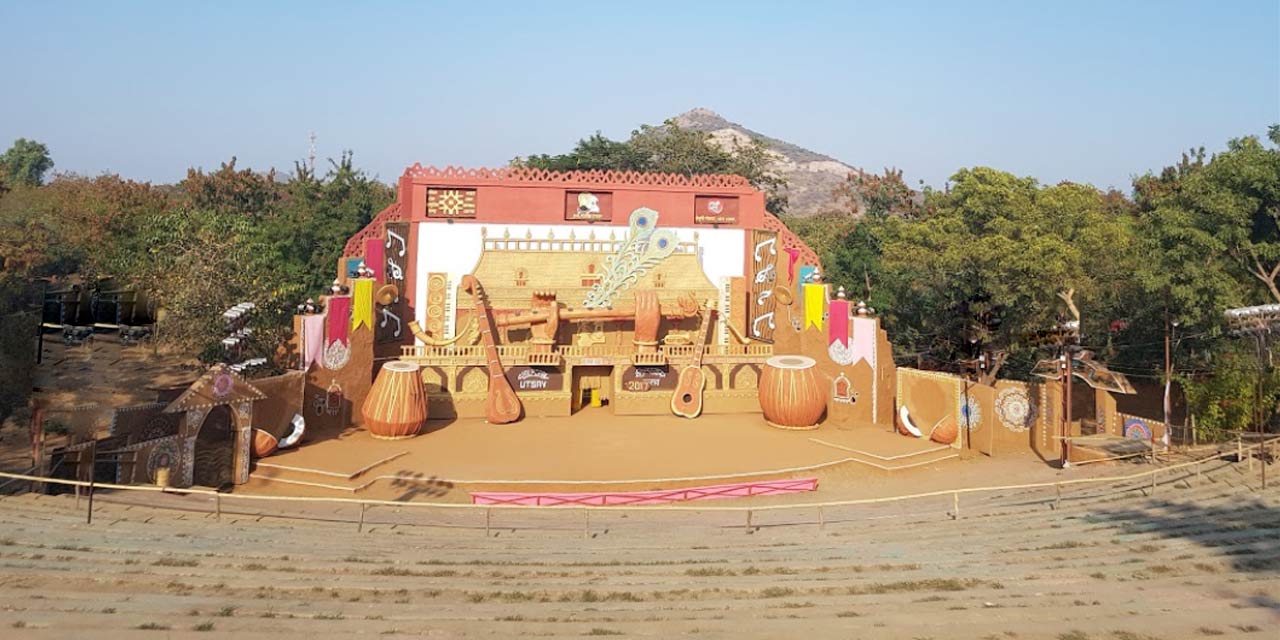 Shilp Gram
Shilpgram is a crafts complex which is known for showcasing different forms and designs of rural art. This beautiful and unique place is located at a distance of around 3 km from the heart of the city of Udaipur and is situated in the west side of the city. This place is located in the adjoining area of Aravalli Hills which comprises of 70 acres of land. Shilpgram is a museum which has ethnicity attached to it and is prominent for displaying the different lifestyles of the tribal and folk people of the region. This place was established with the sole purpose of making people aware about the rural art and crafts which is prevalent in the surrounding region. It is the best place for both rural and urban artists because a platform is provided for them to explore their hidden talent by taking part in various camps and workshops which are organised at regular intervals.
History:
The premises of the complex comprise of an Open-Air Amphitheatre which has a seating capacity of around 8000 persons. All the major theatre festivals which are held in the city of Udaipur takes place at this amphitheatre. In addition to the festivals, various arts of traditional folk are performed at this place. All the states which are part of West Zone have their traditional huts built in the premises of the complex. All these huts present in Shilpgram are a symbol of primary occupations which display the principles and fundamentals of the way of life of different communities present in the region. It also represents various cultures which are representative of our country. There are several items which have been kept at these traditional huts which includes articles of household for are used on daily basis, like terracotta, textile, wooden and metal items, decorative objects and implements. With these items, the signage and explanatory details have been provided for so that the visitors can have a deep insight into these belongings and indulge into a realistic experience which portrays the unique and distinct lifestyle of different people.
The theme on the basis of which these huts have been built at Shilpgram is an interlocking occupational one. There exists a total of five huts from Rajasthan in this integrated pattern. Some of the representation in these huts include, the community of weavers from the Marwar region, potter heads belonging to the hilly areas of Mewar and and the tribal farmer communities of the Bhil and the Sehariyas. In addition to the huts representing the state of Rajasthan, there exists different huts from various states like Gujarat, there are a total of seven representative huts from this state and five representative huts from the states of Maharasthra and Goa respectively.
Highlights:
Location: Shilpgram, Udaipur, Rajasthan, India.
Timings: 11:00 AM to 7:00 PM
Entry Fee: Rs. 30 per person for Indians.
 Rs. 50 per person for Foreigners.
Shilpgram is famous for The Shilpgram Festival which takes place in the month of December between the dates of 21 December to 31 December. The festival is popularly known as Shilpgram Mela, which is an important part of celebrating the festivals in the region. It is considered to be a one-stop destination for different items like hand woven clothes, embroideries, mirror works and handicrafts. This Mela acts as the best platform for the urban potters, visual artists and designers. It also helps in promoting the cottage industry of Rajasthan. Various workshops and camps are organised to inculcate craft skills among the youth. The typical Rajasthani delicacy is displayed at various food stalls which are a part of this Mela and the organising of Cultural Programmes and Artistic Performances adds beauty to this delightful festival.
Shilpdarshan is another activity which regularly takes place in Shilpgram. Various traditional performing artists and craftsmen take part in this activity from different corners of villages of the member states. All these artists and craftsmen are invited on occasional basis with a view of showcasing their skill and craft. It provides ample opportunities to these artists which helps them in selling their works directly to the interested buyers. Keeping in mind the development and growth of craftsmen and performers, this wonderful programme had been initiated.
Best Time to Visit:
The best time to visit Shilpgram is during the month of December, it is during this time when the annual festival is organised at the place which is both entertaining and insightful at the same time. Therefore, visiting this beautiful ethnic place during the winters is the best decision.
How to Visit Shilpgram:
One can plan a visit to this place through any mode of transport, whether through a personal vehicle or hiring a cab. Hiring of Taxi Service in Udaipur provided by Get Cab India is the best option available.
Nearby Places to Explore:
Monsoon Palace

Sajjangarh Palace is former royal residence of Mewar Dynasty and is situated on a hill top on the outskirts of the city of Udaipur. Initially, the place was constructed as a nine-storeyed observatory to be used for astronomical purposes with a view of analysing the movement of monsoon clouds which could be easily looked from the palace because of its hill top location at strategic vantage point known as Bansdara Peak. This is the reason why the palace is also known as Monsoon Palace.

Sajjangarh Wildlife Sanctuary

 Sajjangarh Wildlife Sanctuary, which is a beautiful place and is home to several royal and rare wildlife creatures and birds. One can get a deep insight into the intricacies of style and design of the old palace by exploring its grandeur structural complex. After that, one can enjoy a safari ride in the wildlife sanctuary. One can also think of trekking towards the wildlife reserve for having an adventurous and thrilling experience.
If you feel like getting yourself involved in the ethnicity and true cultural experience of different states especially of Rajasthan. Then, Shilpgram is the perfect place for you. One can plan a trip to this insightful place by Hiring Cab in Udaipur from Get Cab India which are known for providing best deals in cab rides.