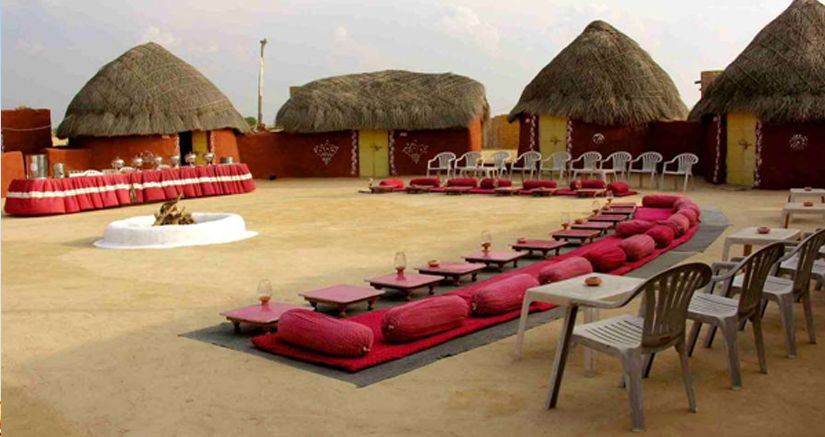 Sam Sand Dunes
Sam Sand Dunes is considered to be one of the best places to visit while planning a trip to the city of Jaisalmer in the state of Rajasthan. These sand dunes are located at a distance of 42 km from the main city of Jaisalmer and are a prominent place of tourist attraction among the travellers. Desert Safari at this place is the most happening activity at this place and whoever is planning to visit the "Golden City of Jaisalmer" should definitely explore the vastness of the Great Thar Desert while enjoying an adventurous on camel's back. This opportunity of riding the camel and exploring the Thar just cannot be missed. Amongst all the tourist places which are a part of Jaisalmer Tour the most highlighting part is visiting the Sam Sand Dunes.
The best time for enjoying the camel safari is considered to be between 4 to 6 pm, just before the time of setting sun or between 4 to 6 am, just before the time of rising sun. In order to experience the hospitality and kindness of the local people living there, these hours of exploring the desert safari are the best and the view from the camel is quite similar to that of any kind of occasion. One can enjoy seeing the camel owner and small children wearing traditional clothes and turban and not to miss the sparkling smiles on their faces. There are various parts of the desert which are yet to be discovered and explored due to its vastness but still exploring these known parts is one in a kind experience which can only be lived while exploring the mighty desert.
History
There history of this place dates back to the existence of a variety of sand dunes ranging from 20 to 40 meters in height since time being. The visiting of Sam Sand Dunes is in itself a delightful and enchanting experience for the tourists. The Indian Armed Forces have been given the responsibility of maintaining the roads which lead to this beautiful sand dunes thus making it a comfortable and enjoyable ride for the visitors. According to a survey, Sam Sand Dunes were considered to be the most visited place in the state of Rajasthan and is amongst the top 10 tourist attractions in Rajasthan. Sam Sand Dunes are believed to be a rare desert area located in the city of Jaisalmer. These sand dunes are situated at the border area of Jaisalmer Desert National Park. One can avail the option of exploring this vast desert of a safari through the mode of transport of jeep or can experience it while enjoying the ride by sitting on camel's back.
Several other facilities are provided at Sam Sand Dunes such as the choice of camping in desert area where a person is given an opportunity of living in Swiss tents and staying a night in the cottages made of mud and other camps such as luxury desert camps, adventure safari camps which are situated at nearby distance from the dunes. In addition to this unique staying facility, one gets to experience the authenticity of Rajasthani Culture such as enjoying their folklore and the special music and dance performance by the special performers from Rajasthan while enjoying a delicious vegetarian or non-vegetarian meal of the Rajasthani delicacy. While enjoying these beautiful performances one should not forget to carry their cameras along and capture these beautiful moments.
How to reach Sam Sand Dunes
The Sam Sand Dunes are situated at a distance of around 40-42 km from the city of Jaisalmer. Therefore, to reach these delighting Sam Sand Dunes, hiring of a taxi service is the most preferable and the best option. Sam Sand Dunes Taxi service provided by Get Cab India provides you with the best taxi service in the city at a reasonable price and not to miss the comfortable ride which one experiences during their journey.
Activities at Sam Sand Dunes
Sam Sand Dunes is a place where there exists a number of different kinds of sand dunes varying in heights. Various activities like dune bashing, experiencing the camel races and listening and enjoying the classical Rajasthani musical and dance performances respectively. These sand dunes are home to Desert Festival which is an annual festival celebrated in the months of February and March. While planning a trip to the Golden City of Jaisalmer in these months, visiting Sam Sand Dunes is a must because this Desert Festival is no less than any celebration full of fun and adventure. Various performers from all over the state of Rajasthan take a part in this festival and showcase a variety of talents. The desert safari on a camel ride during the festival days is once in a lifetime experience and must be definitely explored while visiting the Sam Sand Dunes.
Best Time to Visit
The weather during winters is pleasing in the deserts, tourists should visit these beautiful Sam Sand Dunes during the months of November to February because the summers are extremely and severely hot in a city like Jaisalmer which is covered with deserts like Thar Desert. Visiting the dunes in the months of February and March is most prominent due to the fact that Desert Festival is celebrated during these months and the view of the golden sand dunes just cannot be missed during these months.
NEARBY ATTRACTIONS TO Sam Sand Dunes
Desert National Park

Desert National Park (DNP) is a prominent national park which borders the Sam Sand Dunes and is considered to be one of the largest national park in the whole country. This park comprises of rare wildlife species and migratory birds, the presence of which makes this place a prominent tourist attraction for tourists.

Khaba Fort

Khaba Fort is located at a distance of around 15 km from Sam Sand Dunes. This ancient fort is believed to be the native place of Paliwal Brahmins. One can have an enthralling and adventurous experience by visiting this beautiful fort and not to miss the horror stories attached to this place.

Kuldhara Village

Kuldhara village is located at a distance of around 50 km from Sam Dunes. Due to its past history and interesting stories attached to this place, it is a prominent place which is visited by tourists while on their way to Sam Sand Dunes. This place is known for its intricate surroundings and is considered to be a haunting location.
Feel like experiencing the vastness of the mighty Thar Desert by visiting these beautiful sand dunes, then opting for a Sam Sand Dunes Taxi from Get Cab India is one of the safest and affordable option.It is believed to be one of those taxi providing services company which are famous for providing best in class services. At times when one feels like exploring the beauty of vast deserts by travelling to beautiful places in the state of Rajasthan, one can easily depend upon Get Cab India for providing the best Car Rental in Jaisalmer.