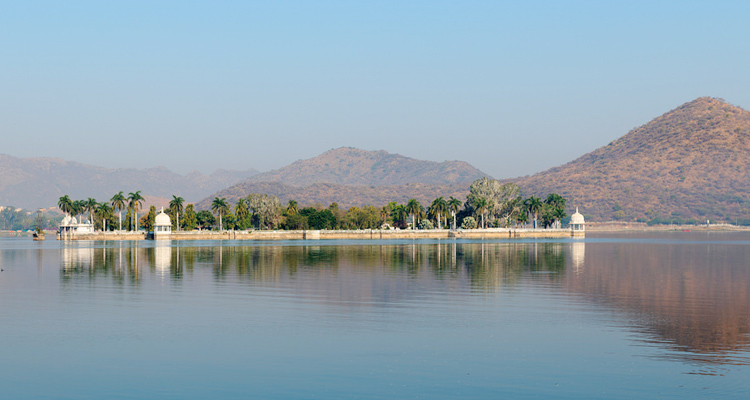 Nehru Garden
Udaipur situated in Rajasthan is known for its heritage. Udaipur also is known as 'city of lakes' has tones of beautiful lakes such as Lake Pichola, Swaroop Sagar lake, lake Badi, doodh talai lake, dheber lake, udaisagar lake, and Fateh Sagar Lake.
Loran Eiseley said if there is magic on the planet, it contained water and the true example is the Fateh Sagar Lake. Fateh Sagar lake offers feels of three world- the hills, the water, and the flora. Taking a further interior look, Fateh Sagar lake has an embellishment called Nehru garden which is the most prominent and loved attraction. Nehru garden holds its uniqueness and showcases diverse plants, trees & birdlife. Build in the memory of our first prime minister, pandit Jawahar Laal Nehru was inaugurated on 14th November 1967. It is an ovular island situated in the centre of Fateh Sagar lake and is spread across a region of 4.5 acres.
Tourists can sit here, relax and adore the beauty of nature. The garden is equipped with pyramidal-shaped mountains complemented with colourful lights. It has a huge variety of flowers and a large lily pond. Tourists must take a romantic boat-ride across the Fateh Sagar lake from Fateh Sagar road opposite to Moti Magri. The Nehru Park soothes you with its lush greenery and beautiful fountains and is a treat for the senses. One can have an aesthetic brunch in the garden as a boat-shaped food court is a retreat with finger-licking food and fresh air gushing from the lake. Nehru garden is an ideal location for photoshoots, as it overlooks Moti Magri, Rani Road, and Fateh Sagar Lake. There are a few statues for welcoming tourists.
HOW TO REACH THE DESTINATION
Now, after this luscious description on Nehru garden and how visually appealing it is, let's move on to how to find your way to reach Nehru garden.
The only way to reach Nehru garden is by boat. The boat riding cost is minimal starting from:
Rs30 per person for a regular boat ride
Rs100-200 per person for a motorboat ride
Rs200-400 per person for a speed boat ride
However, to reach Nehru garden, one has to first reach to Fateh Sagar lake which can be done by following ways:
By air: Fateh Sagar lake is located at a distance of 21km from the Dabok Airport in Udaipur which is connected to five cities namely- Delhi, Mumbai, Jaipur, Jodhpur, and Aurangabad. From the airport, Fateh Sagar lake is a ride of 40 minutes which one can easily travel via taxi. There are ample taxi services in Udaipur best taxi service in Udaipur is provided by get cab India service.
By train: The lake is about 3 km away from the railway station. One can find a direct train to Udaipur from Delhi, Jaipur, Chittaur, Ajmer, Ahmedabad, and Jodhpur. One can hire cars in Udaipur or take cabs in Udaipur.
By road: if you're someone who loves to travel and explore then I would highly suggest you take a road trip to Udaipur. It's thrilling and exciting at the same time. The city is connected to national highway 8 (NH 8) and there are well-behaved roads which connect Udaipur to Delhi and Mumbai.
Taking a bus is a good option too. The buses offer a safe and sound journey. There are four government companies which offer bus rides to Udaipur are from Rajasthan, Uttar Pradesh, Gujarat, and Madhya Pradesh.
BEST TIME TO VISIT NEHRU GARDEN
Although, Nehru garden open from morning 9 to evening 5 yearlong. But the best time to visit the garden is during October –November as the climate is neither too hot nor too cold. Even within the limited time slot, I would suggest the evening time as the weather is easy-breezy and enjoyable.
BEST NEARBY PLACES TO VISIT
Being one of the most treasured locations of India, Udaipur serves ample locations for tourists to visit. One can also opt for Udaipur city tour packages. Out of many locations, here are some which you can find near Nehru garden or Fateh Sagar lake:
Asia's best solar site named as Udaipur Solar Observatory located at the Fateh Sagar lake amidst a large mass of water, air turbulence which occurs due to ground heating by sun's rays is decreased. It was built by Dr. Arvind Bhatnagar in 1975. This place is a pure delight for people interested in anatomy. It was inspired by Big Lake Observatory in Southern California.
Under the sun is a must-visit aquarium especially for children. It is the most significant public aquarium and India's biggest fish aquarium gallery. It is furnished with over 3000 fishes, over 15 species and 150 fish tanks. Rare Fishes like Angel Fish, Red Piranha, Tiger Barb, Cat Fish, Silver Arwana, Flower Horn, Alligator Gar, Great White Shark, Rope Fish, Pink Zebra, Lung Fish and a lot more can be viewed in the aquarium gallery.
Moti Magri is situated on the eastern coastal part on Fateh Sagar lake. it also serves as the homage of Haldighatti battle that took place in 1575 against the emperor Akbar. A place called pearl hill which is a green spot. Alongside the memorial of Maharana Pratap, there is a Japanese rock garden which is quite an attraction for tourists. It has an amazing light and sound show to showcase to the audience. Timings are: summer-8:15pm and winter-7:00pm. Entry fee is Rs35 per person (both adult and child)
Maharana Pratap Memorial is built on the top of pearl hill. The height is comfortable to reach. Built-in the memory of great Rajputana King, Maharana Pratap, the statue showcases the life of Rana Pratap and his horse Chetak which is considered the fastest horse of that time. It is also picturized in many Bollywood films. If you're a photographer, you will love this place. Entry fees is Rs20 per adult and Rs10 per child. Timing for the memorial visit is from morning 9 to evening 6.