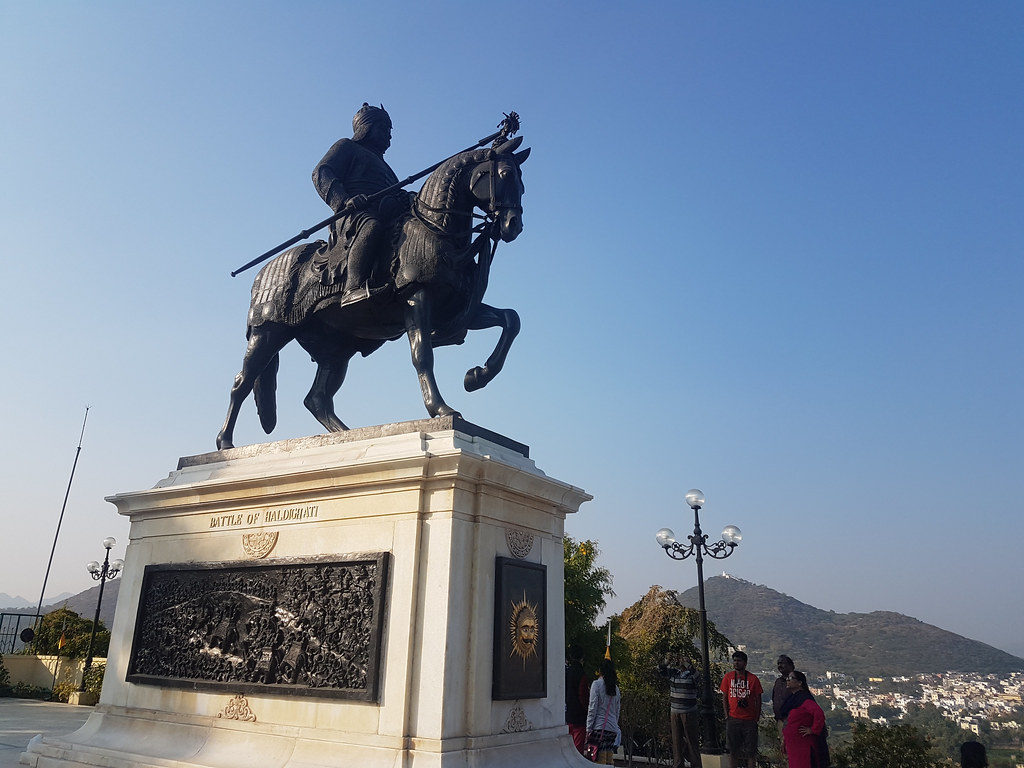 Maharana Pratap Smarak
Maharana Pratap Smarak is a memorial which is a historic site that is dedicated to the gallant Maharana Pratap. The memorial overlooks the Fateh Sagar lake as it situated at the top of moti margi which is also known as the pearl hill. In Hindi, the memorial is known as "smarak" and a smarak is always made in the memory of loved ones. The initiative to build the Maharana Pratap memorial was taken by Maharana Bhagwat Singh Mewar with the help of public trust. The memorial comprises of a life sizes bronze statue balanced on his royal and favorite horse, chetak. It is said that chetak was a beautiful and a faithful horse, he was extremely protective to his master and stood by him till his last breath. Chetak was killed in the Haldighati war, people visit the memorial to pay homage to the Rajput hero and his loyal mount Chetak.
One can travel by the help of taxi's to see this place as GET CAB INDIA offers the best taxi service in Udaipur.
HISTORY OF MAHARANA PRATAP SMARAK
The Maharana Pratap Memorial was built in the memory of Pratap Singh, popularly known as Maharana Pratap Singh who was the 13th king of Mewar. It is a big statue of him balanced on his favorite loyal horse Chetak. Maharana Pratap, in contrast, is revered as a courageous and brave warrior who refused to submit to the Mughal invasion and tirelessly defended his land and people until the very end. While several of Pratap's brother's Shakti Singh, Jamal Singh, and Sagar Singh served the Mughal emperor Akbar, Pratap himself chose to resist the Mughal pressures to force him into submission. Even though the Mughal army greatly outnumbered the Rajput one, maharana Pratap fought till the very end. He dies a hero and his birth anniversary is celebrated as a full-fledged festival every year on the third day of the Jyeshta Shukla phase.
HOW TO VISIT
One can easily visit this place as it is not that far away from Udaipur. People travel via roadways, using buses or cabs. The most advisable conveyance is cab as it is the most comfortable way to travel here. Buses have their fixed timings and traveling through buses can be exhausting. GET CAB INDIA offers its best services in Udaipur. Taxi services in Udaipur are most preferred by the tourists as it is affordable with total comfort and pretty good services.
GET CAB INDIA offers you the most comfortable cabs including XUV, SUV, sedan, vans, minivans, or even royal cars according to your liking. Once you are booked with GET CAB INDIA you will experience their best services that they have to offer, the driver will come to your place to pick you up on the time which you will decide and will drop you exactly at the location where you want to reach.
BEST TIME TO VISIT
The best time to visit this place is in three main seasons, during summers in mid-march – June; monsoons in July-September, and winters from October-march respectively. The summer season here is extremely hot and the temperature ranges between 38.3 and 28.8-degree celsius. So it is very difficult to even step out in the scorching heat of the sun.
Also, during the winter season and monsoon season GET CAB INDIA offers various discounts to comfort the tourists with the pocket-friendly conveyance. One can enjoy wandering around here with the best services offer here by GET CAB INDIA. Taxi service in Udaipur are well known for their comfort and cleanliness, the drivers are well behaved and punctual. You will choose traveling through cabs the next time as well if you once book your cab from GET CAB INDIA.
PLACES TO EXPLORE NEARBY
JAGDISH TEMPLE

it is a large Hindu temple, in the middle of Udaipur. Its been in continuous worship since 1651. it is one of the biggest tourist attractions. The temple was originally called the temple of Jagannath Rai but is now called Jagdish Ji. It is a major monument of Udaipur.

Fateh Sagar lake

Fateh Sagar lake is one of the prettiest lakes of Udaipur. The view at the lake is astonishing and breathtaking. A walk at the lake is one of the peaceful things you'll do during the time of the evening. One can be at pure peace of mind while at the lake.

Udaipur Solar Observatory

this observatory is on the island of Fateh Sagar Lake. The sky conditions at Udaipur are quite favorable for solar observations. Since the observatory is situated a large mass of water, air turbulence which occurs due to ground heating by sun's rays has been decreased.

Sukhadia circle

it is a popular recreational center in Udaipur. It is a large roundabout in the city's northern suburb of panchvati.it provides tourists with a lot of entertainment options such as fast food points, camel ride, horse ride, boat rides, and kids play zone area. The circle also has a beautiful fountain in between and people enjoy visiting the place for a break and have a lot of fun.
If you come to this beautiful city it is a must to explore the beautiful and unforgettable places around here and GET CAB INDIA has the best to initiate their efforts in your plans. The taxi service in Udaipur is so good and at its best. They provide you will all the services and put you at complete comfort while you enjoy your trip and that too at pocket-friendly prices. GET CAB INDIA has some amazing services that are worth a try and one should hire a cab to experience the mind-blowing services they have to offer their customers. One can have fun on their trip to the maximum level if traveling by the taxi service here.