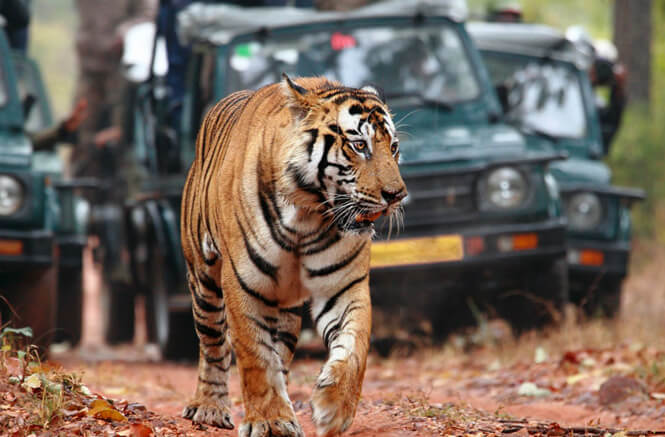 Jodhpur to Ranthambore tour
It is time to travel on the weekend or enjoy the summer vacation with family. If you are looking to go from Jodhpur to Ranthambore, it would be a great idea. By the way, there are multiple resources to go from Jodhpur to Ranthambore by train or bus, but, instead of to go by train and bus, hiring a Get Cab India is the best option. To resolve this issue Get Cab taxi or cab is always comfy. It is better to hire a secure cab like getting Cab India instead of to search for the other transport. The total distance from Jodhpur to Ranthambore is around 503km as we as if we discuss aerial distance it is just 356km.  
About Ranthambore-
Ranthambore is coming under the top national park list in North India. This amazing park is located in Madhopur, a district in Rajasthan. As Jodhpur is very famous for its creativity and lakes, the more people who come to visit Jodhpur also come to Ranthambore. As well as, Ranthambore is a major tourist attraction place with wild animals and wildlife photography and who are always eager to click the natural pictures.  The park is named Ranthambore because it itself contains a Ranthambore fort within the park. 
The Ranthambore Park is cover with Chambal and Banas River with tall trees and long forest. It is doubtless that your tour to Ranthambore could be a great holiday or best weekend ever of Rajasthan. It is a fine experience to watch walking lions, numerous casts of animals, and bright greenery.  Mostly, this park is famous for its tigers that are spotted in the day time. So, if you were interested to explore something new and different, nothing could be better than Ranthambore national park. 
History of Ranthambore –
The establishment of Ranthambore national park had been started from 1955 to save the wildlife by the Government of India. After the development of this park, in 1973, this park was incorporated for Tiger protect project by Government of India. It had been 7 years in the incorporation process than in 1980, the great Ranthambore forest was mentioned as a national park in Rajasthan.  As well as, the Ranthambore tiger reservation was extended to Sawai Mansingh and Keladevi Sanctuary. 
There are 40 species of mammals, 320 species of birds, 40 species of reptiles, 50 species of butterflies, 300 species of plants that had been helpful to make a memorable history of the national park. That is the reason; the Ranthambore forest is mentioned as a national park in North India's park list. 
The specialty of this National Park-
Rajasthan is known all-inclusive for its rich and vibrant culture. Handicraft business plays a major part and has given the locals a platform to display case their talent. 
One can buy handicrafts audacity of intricate designs, such as overstated fabrics, turbans, silver jewelry, bed covers, mirror work, puppets, etc. in the local shops. Block printing, painting, pottery, etc. are some of the painting forms popular in Ranthambore. 

Folk ballet plays a significant part in the existence of the locals, who love to rejoice joyous occasions. Ghoomar and Kalbelia are the restricted Rajasthani dance forms. Their cooking consists of typical Rajasthani dishes, such as Gatte Ki Sabzi, Dal Baati Churma, Bajre Ki Roti, and Dal Bade. 

Major festivals famous here comprise Guru Purnima, Ganesh Chaturthi, and Shirdi Vijayadashmi. Ganesh Chaturthi is a ten-day fair celebrated in August or September, to mark the delivery of Hindu God Ganesh. 

The primary and previous day of Ganesh Chaturthi is much precious. During these ten days, spirited colours of festivity spread in this area. Devotees are imploring to Lord Ganesh in fervour and merriment. Other revels like Holy, Diwali (October) also include the moiety of Ranthambore Culture. 
You can enjoy the culture of Ranthambore in a hotel in Ranthambore and Ranthambore resort which also gives nice Ranthambore space. 
How to reach Jodhpur to Ranthambore-
There is more lack of flights or trains or buses majorly between Jodhpur to Ranthambhore. The suitable and fastest way to arrive at from Jodhpur to Ranthambhore is to Get Cab India from Jodhpur to Ranthambhore.
What are the major attractions in Ranthambore-
Padam Talao


Nothing thrashes a gorgeousness of a lake in the dry deciduous afforest and thus one can't ignore Padam Talao while visiting surrounded by the Ranthambore forest. It is the main lake in the vicinity and home to a large number of the occupant and migratory birds. The Jogi Mahal, another indication to the Royal splendour inside the forest, situated beside the lake adding an ancient sight to the lake.

Malik Talao


One of the well-known lakes within the forest, the Malik Talao offers you a charming natural vision along with some excellent sighting of marsh Crocodiles. A large number of handsome birds are found around this small lake.

Raj Bagh Ruins


Located in flanked by the two famous lakes – Padam Lake plus Raj Bagh Lake, the ruins are of the pre-historic age and offer you a view that enhances the loveliness of the landscape.

Raj Bagh Talao
Known as the best rest to spot a tiger, the Raj Bagh Talao is among the gorgeous lakes of the forest. This lake is named after the Raj Bagh whose ruins are situated beside the lake.
Ranthambore Fort
Located in the locality of Ranthambore National Park, the Ranthambore Fort is the leading tourist destination and offers you a panoramic sight of the forest from the fort. A testimony of strength and grandeur, the Ranthambore fort has an extended, vibrant history to go halves with you.
Kachida Valley
It is developed with the astonishing beauty of nature and a calm ambiance around, the Kachida Valley is a must visit place within the woods for the nature lovers. Also, it is a high-quality place to spot wild animals and expenditure some time in a quite normal ambiance.
The cabs are available according to people limit such as Get Cab India offers you a taxi for 1-4, 4-6, and 10-16 persons. Every cab charges according to the person or members that how many members in the car. As it is mentioned above Ranthambore does not have any station for a train, so it is best to hire Ranthambore Taxi Services by  Get Cab India & make your journey a memorable one.
[wpseo_address show_state="1″ show_country="1″ show_phone="1″ show_phone_2="0″ show_fax="0″ show_email="1″ show_logo="1″]