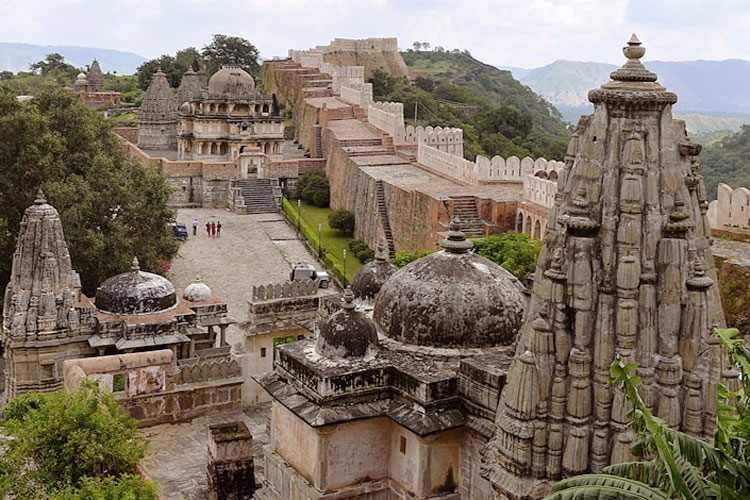 Jodhpur to Nathdwara tour
If you are in Jodhpur, then take a trip to Nathdwara which is around 200 km from Jodhpur city. It will take 3 hours and 46 minutes from Jodhpur to Nathdwara. 
Jodhpur is the capital of the Kingdom of Marwar. It is a famous tourist destination. It is known as a blue city and sun-city among people of Rajasthan. Get Cab India provides the intercity and local cab services in Jodhpur.  
All about Nathdwara
Nathdwara is a town of Rajasthan which is situated in the Aravalli hills. It is located on the Banas River in the Rajsamand district. This town is known for the temple of Krishna that houses the Shrinathji. It is the central religious places for Hindus of PushtiMargVaishnavs. 
Nathdwara is an essential Vaishnavite shrine related to the Pushtimarg or the Vallabh sampradaya or the Suddhaadvaita founded by VallabhAcharya. 
How to Reach Nathdwara from Jodhpur?
As we know that reaching to Nathdwara from Jodhpur can be from train or bus but we at Get Cab India will offer you with the reliable Jodhpur taxi booking. We have a range of cars with us which will make your move a comfortable journey. 
Places to explore in Nathdwara
Shrinathji temple is the essential place to visit in Nathdwara where thousands of devotees come every year. This temple is the home of Lord Krishna. Devotees can feel the presence of deity as they enter the temple. The darshan queues are long. The positive and spiritual vibes of this temple keep the devotees going. Care must be taken of the Shrinathji temple timing if you are going with children. 

 

Haldighati

It is the famous battleground where maharaja Partap took on the mighty Mughal army of Akbar. It is one of the essential places to visit because it has historical significance. It is a mountain pass near aravalis, where you can feel the presence of maharana. So, must visit this place and there is a facility of car rental in Jodhpur for roaming.

It is one of the dedicated Museums. It is the inspirational, brave, and daring rulers of Mewar, which is the fitting tribute to the warrior. They dedicated their lives to protect his land and people. In the Museum, there are impressive statutes which depict the battle of Haldighati, lifelike artwork and informative film about MaharanaPartap. The light and sound show is insightful and a treat to eyes. There is a Jodhpur taxi service for traveling all around.

It is the other Krishna shrine where millions of devotees come. It is 18 km away from the Nathdwara. There are positive vibes and aura and a beautiful statue of the deity. There is a spiritual retreat for spending some tranquil moments in divine presence. The darshan timing is 7 AM to 11 AM and 4 PM to 7 PM. You can visit there by cab hire in Jodhpur with Get Cab India.

Charbuja Temple

It is the famous Vishnu temple, which is approximately 200 km away from Nathdwara. King Gang Dev builds it in 1444 AD. It is an ancient temple that displays excellent mirror work and marble carvings. At the entrance of this temple, there is a tower of stone elephants. It exudes grandeur and divinity.

 

Molela Terracota village

It is a worthy place to visit in Nathdwara. There are rich handicrafts and artistry of Rajasthani craftsmen. There is the MolelaTerracota art museum which is managed by acclaimed artist Dinesh Chandra Kumar. He also shows workshops, seminars, and training sessions for interested people.

 

Shri Ekling Ji Temple

 There is half an hour drive to this temple from Nathdwara. There is the main shrine of Lord Shiva along with the Sun God, Goddess Durga, and others. Photography is not allowed inside the temple. It is the best place to meditate, relax, and feel the presence of deity.

 

Nandsamad Dam

It is the water place which is also called the Tantol dam. You can spend some relaxed moments there. During the monsoon, the water is overflowing. There is a beautiful serene view to capture. It is the primary source of water supply to Nathdwara and another nearby area. This beautiful dam is the perfect place to view the sunrise and sunset with the Aravalli hills. So, it is the best place to visit. Never forget to visit there. 

 

Ranakpur Jain Temple

It is one of the best places to visit near Nathdwara. It is located 97 km away from Nathdwara. You can go there by cab hire in Jodhpur. It is a beautiful temple built in the 15th century by the Jain businessman Dharna Shah after a divine vision. This temple has 144 carved pillars; each pillar is different from another. Tourists can visit this temple only between 12 Pm to 5 Pm. 

 

Kumbhalgarh Fort

It is the crowning glory of Rajasthan's fort. This tower fort is very impressive. It is a must visit place of Nathdwara. It is built in the 15th century by maharanKumbha. It is an invincible symbol of Rajput supremacy. It is now a UNESCO world heritage site. It is considered as India's very own high wall. The fort timing is 9 AM to 6 PM. There is an entry fee of 15 rupees for Indian citizens and 200 rupees for foreigners. There are magical lights and sound show every evening at 6:45 PM.
You can visit all these places by getting the Jodhpur taxi service with Get Cab India.  We offer you with the reasonable services. 
[wpseo_address show_state="1″ show_country="1″ show_phone="1″ show_phone_2="0″ show_fax="0″ show_email="1″ show_url="1″ show_logo="1″]