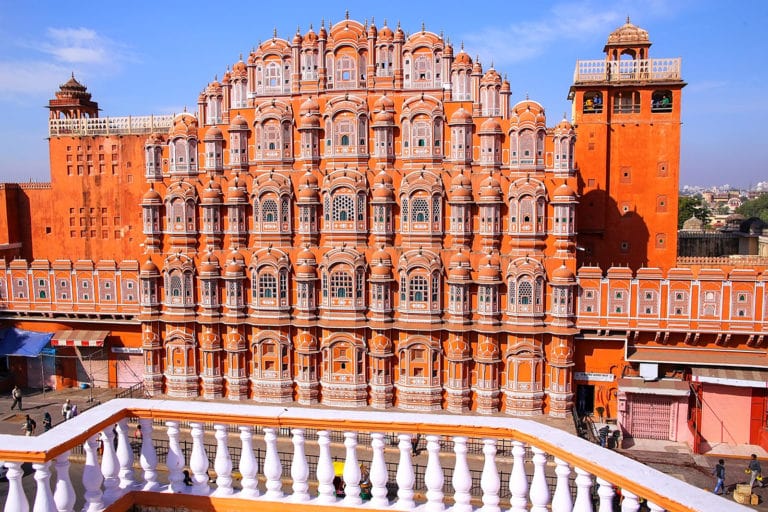 Jodhpur to Jaipur Taxi
Jaipur is the largest city of Rajasthan. It is the most popular tourist destination in Rajasthan. It is also known as a pink city due to the colour theme of buildings. It is 332.8 km away from Jodhpur. If you want to travel from Jodhpur to Jaipur, then Get Cab India provides you with Jodhpur to Jaipur Taxi Services.
Jaipur makes a part of the west golden triangle tourist circuit along with Delhi and Agra. At Jaipur, there is two UNESCO world heritage sites-the Jantar Mantra and the Amer Fort. It is known for its fascinating moments and colourful markets for gorgeous handloom and wonderfully laid-out gardens. It is easy to fall in love with the land of Jaipur. It also provides a gateway to other destination places in Rajasthan such as Jaisalmer, Udaipur, Kota, and Mount Abu.
Jodhpur to Jaipur Taxi Rates
Jodhpur to Jaipur One Way Cab Charges
Swift Dzire Sedan:- 6300 Rs (All-Inclusive)
Toyota Innova SUV:- 8000 Rs ( All-Inclusive)
Toyota Crysta SUV:- 9100 Rs ( All-Inclusive)
If looking for Round trip then Outstation Charges Per Km would be charged:-
Toyota Crysta:-  15/Km
Toyota Innova:-  12/Km
Toyota Etios Sedan:-  9/Km
Swift Dzire:- 9/Km
(Parking, Toll Tax & Driver Allowance 300 Per Day Extra)
History of Jaipur
Jaipur was founded in 1727 by the Rajput ruler Jai Singh II, the ruler of Amer. He devised to shift his capital from Amer to serve the growing population and scarcity of water. He considers many books on architecture and architects while deciding the layout of Jaipur. Jaipur was chosen based on the principles of Vastu Shastra and Shilpashastra.
The construction of Jaipur started in 1726 and took four years to complete the major roads, offices, and palaces. This city was divided into four blocks, two of which contained the state buildings and palaces with the remaining seven allotted to the public.
Established in 1727, Jaipur is outstanding amongst the socially productive inheritance urban areas in India. This city was named after Maharaja Jai Singh II who was the first organizer of this city. He was a Kachhwaha Rajput. Jaipur has three colleges including a Sanskrit college and a girl's college. They were opened during the rule of Maharaja Ram Singh II.
When should you visit Jaipur?
The best time to visit Jaipur is from October to March. In October, there are cool breezes with moderate sunlight to go for sight-seeing. It is ideal for visitors to go shopping and other tourist activities. 
In January, there is a significant festival of Jaipur literature fest which attracts more tourists from all over the world. The weather is also pleasant during this time. So, if planning to travel in the blue city then you must also travel to plan to pink city and explore the history of Rajasthan. Book your Jodhpur to Jaipur taxi now and make your trip a memorable one.
How should you visit Jaipur?
Jaipur is one of the major cities in the world. So, it is well connected to various cities with different means of transportation that includes air, rail, and road. Jaipur international airport is situated around 7-10 km from the central city, and you can easily reach by taxi or bus. Over millions of passengers use it.
The Indian railways also offer the best service to the passengers. The roads and highways are well constructed for the bus service. The roads are smooth with less chance of getting a dump in between the travel. The roads are connected with major cities through the network of national highway 8, 11 & 12. But what is better than a comfortable drive in an affordable Jodhpur taxi? Nothing is better than going in a car to another destination. So, get the Jodhpur to Jaipur Taxi with Get Cab India.
Places to visit at Jaipur
Jaipur is the city of tourist destination in Rajasthan. There are many places to visit in Jaipur which are as follows:-
Hawamahal


Hawa Mahal is one of the most beautiful places in Jaipur which is considered a landmark of Jaipur. It was built by Sawai Pratap Singh in 1799. It was built as a high screen for the women of the royal household. It is made from red and pink sandstone and stands right at the corner of the City Palace. Hawamahal has been looked like the crown of Krishna. Jhunjhunu'skhetrimahal served as the inspiration for the structure of HawaMahal after Partap Singh. Due to its strategic position, it provides a beautiful view of Jantar Mantra and City Palace. It is the main attraction of the city which attracts more tourists from different areas of the world.
Timings: 9 am to 5 pm
Location: it is located at BadiChoupad in Jaipur.
Price: there is 50 INR for Indians and 200 INR for foreigners.

Jantar Mantar


Jai Singh II constructs it. Its remaining parts in the cities of Ujjain, Delhi and Varanasi. It is made of stone and brass which were built using instrument design principles from ancient texts. Jantar Mantar has instruments that operate in each of three central classical celestial coordinate systems: the ecliptic system, the horizon- zenith system and the primary system. As of 2010, Jantar mantra has been included in the list of UNESCO world heritage sites.
Timings: 9 am to 5 pm
Location: it is located at Gangori Bazaar, J.D.A. market, the pink city, Jaipur, Rajasthan.
Price: the entry fee is 50 rupees for Indians, 15 per person for students, and 200 per person for a foreigner.

 

Albert Hall Museum:


It is one of the oldest museums in Rajasthan. It is situated among the sprawling ram Niwas gardens. It is just not s house a collection of rare paintings. It also showcases some exquisite pieces of jewelry, chiselled brass-ware, natural stones, ivory goods, and crystal works. Sir Swinton Jacob designs it. The foundation of the Museum was laid by Albert Edward, the prince of wales during his visit to India in 1876.
Timings: 9 am to 5 pm
Location: It is situated at the museum road, Ram Niwas Garden, kailashpuri, Adarsh Nagar, Jaipur.
Price: The entry fee of the Albert Hall museum is 40 INR for Indian visitors and 300 for foreigners.

   

Rambagh Palace:

Rambagh Palace is one of the beautiful palaces in India. It is turned into an excellent hotel, and it is a costly hotel. This palace is built like a garden house in 1835 for KesarBadaran, the wet nurse of Ram Singh II. This garden was upgraded, and the house was turned into a royal hunting lodge. Sir Swinton Jacob gave this idea. This palace has 78 rooms and four sites, a restaurant, a coffee shop, a bar as well as conference rooms, swimming pools. It is not open for public seeing. To view from inside, you will either require to book a stay here or get a table in the restaurant. It is a five-star hotel, so it is quite expensive.

Timings: all-time open
Location: Bhawani Singh Road, Jaipur, Rajasthan.

   

Jal Mahal:

Jal Mahal is situated in the mid of the Man Sagar Lake. Man Sagar Lake is an artificial lake that was formed when a dam was constructed over the river Dharbawati in the early 1600s. It is constructed in red sandstone. It is a five-story building that blends Rajput and Mughal styles of architecture. At present, Jal Mahal is converted into a luxury hotel. The Taj group manages it. It has 94 rooms and six suites.

Timings: 6 am to 6 pm
Location: It is situated at Amer road, Jal Mahal
Price: The entry fees are 10INR for Indians and 50INR for foreigners.

 

Amber Fort:

Amber Fort shows the combination of Hindu and Mughal architecture. The construction of the amber fort started in 1592. Amber name gets from the Amba, the goddess of the Meena clan who ruled the fort in 967 AD.

Location:  It is located in Devisinghpura, Amer, Jaipur.
Timings: 8 am to 5:30 pm and 6:30 to 9:15 pm
Price: The entrance fee of Amber Fort is 200INR.

NahargarhFort

Nahargarh Fort is one of the major forts in the city. Earlier, it is known as Sudarshan Garh. Sawai Jai Singh constructed it in 1734. The walls of the fort are connected to Jaigarh. There is madhavendrabhawan which is served as a zenana for the royal women. It is one of the most beautiful buildings in the fort. It has 12 identical suites each as different as the other.
Location: It is situated in Krishna nagar, brahampuri, Jaipur.
Timings: 10 am to 6 pm
Price: The entrance fee is 50INR for Indians and 200INR for foreign tourists.

   

Jaigarh Fort:

Jaigarh Fort is one of the three imposing forts of the city. It is located 400 m above amber. It was constructed in 1726 by Jai Singh. There is a subterranean tunnel that connects amber to Jaigarh and the two forts. The main attraction of Jaigarh fort is the Jaivana. It was the world's most massive cannon on wheels. It was produced in the foundry of Jaigarh which was famous for producing canons for the Mughal Empire. Jaigarh has a three kilometres area. There has a well-maintained garden in the fort and embankments in the corner. There is a watchtower in the central complex of the fort. The tower provides an excellent view of the surroundings. It has two ancient temples: Ram Harihar Temple and KalBhairav temple.
Location: It is situated on the eagle's hill of the Aravalli mountain range.
Timings: 9 am to 5 pm
Price: The entrance fee is 35 for Indians and 85 for foreign tourists.

   

Bazaars of Jaipur:

The local markets of Jaipur are the best place to visit. You can experience the vibes of the pink city which showcase the tradition of the royal city. There is Johri Bazar, which was built by the founder of Jaipur. Johri Bazar is the oldest as well as the largest market in Jaipur, which is well-known for gems and stones, timeless jewelry and sarees.

Location: 192, johari bazar, badichoupad, bapu bazar, Jaipur.
Timings: 10 am to 8 pm
Price: There is no entrance fee in the market.

 

Chokhi Dhani:

Chokhi Dhani is the only five-star rated ethnic village resort in India. It is the best place to visit in Jaipur. It replicates the traditional Rajasthani village. Restaurants in Chokhi Dhani provide traditional Rajasthan food, which will increase your appetite. Swimming pool, health club, and spas in chokhi dhani will make you feel relaxed.
Location: it is 12 miles tonk road, goner mod, flyover, Sitapura, Jaipur.
Timings: 5:30 pm to 11 pm
Price: the entrance fee is 700INR for adults and 400INR for children.

 

Sisodia Garden Cinema:


It is the favourite place in Jaipur where thousands of tourists come to visit. They come to enjoy the stunning beauty of a picturesque garden and architectural brilliance. Maharaja Sawai Jai Singh II built it in 1728. The garden got their name from the queen for whom they were made and dedicated. Inside the royal garden, there are temples of Lord Shiva and Hanuman. This garden is located on the top terrace of the garden. The walls are painted very well and show the stories of Lord Krishna and Radha.
Location: NH11, LalDungri, Jaipur.
Timings: 8 am to 6 pm
Price: the entrance fee is 10INR for Indians and 30INR for foreigners.
You can easily explore all these places in Jaipur with our Car rental in Jaipur, which will eventually make your tour an exciting and memorable journey. Get in touch with Get Cab India.