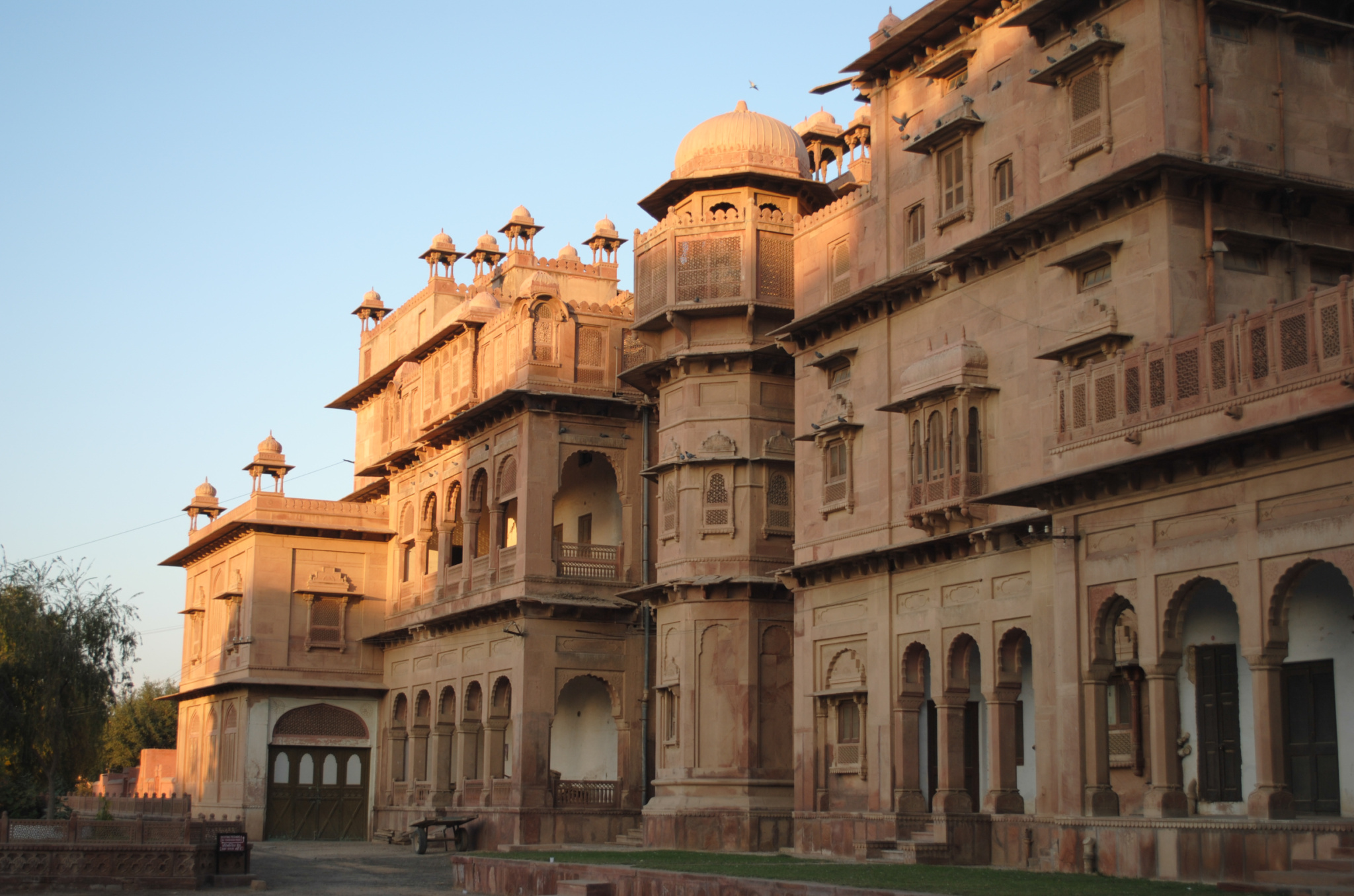 Jodhpur to Bikaner Taxi
Planning for Jodhpur to Bikaner & Looking for Jodhpur to Bikaner Taxi then Get Cab India is here to help you:-
Jodhpur to Bikaner One Way Cab Charges
Swift Dzire Sedan:- 4500 Rs (All-Inclusive)
Toyota Innova SUV:- 6000 Rs ( All-Inclusive)
Toyota Crysta SUV:- 6500 Rs ( All-Inclusive)
If looking for Round trip then Outstation Charges Per Km would be charged:-
Toyota Crysta:-  15/Km
Toyota Innova:-  12/Km
Toyota Etios Sedan:-  9/Km
Swift Dzire:- 9/Km

(Parking, Toll Tax & Driver Allowance 300 Per Day Extra)
Bikaner is located to the northwest area of Rajasthan; that is 251km and approximately 5 hours from Jodhpur. If you are going to visit Bikaner from Jodhpur, you can go for getting cab India (Jodhpur Taxi Booking company) that will deliver you with the best Car Rental in Jodhpur. Previously the capital of Bikaner, Jodhpur was created by Rao Bika in 1488 and from its small genesis it has urbanized into the fourth largest city in Rajasthan. The Ganges Canal ended in 1928, and the Indira Gandhi Canal, completed in 1987, assisted its development.
The city has fun its foundation day of Akshaya Tritiya with kites and eating particular Rajasthani groceries that include Bajre Ka Khichda as well as Imli ka Paani (Tamarind Water) among other snacks. The festivity lasts for two days, known as Chhoti Akha Teejand Badi Akha Teej. Citizens can be perceived as flying kites during these two days right from the early morning at 5-6am till late sundown.
So if you are planning to visit Bikaner then Get cab India is here with affordable rates.
History of Bikaner 
In the15th century, the area that is now Bikaner was a sterile wilderness called Jangladesh. Rao Bika recognized the city of Bikaner in 1488. He was known as the first son of Maharaja Rao Jodha of the Rathore clan, the maker ofJodhapur and conquered the mainly arid state in the north of Rajasthan. As the first son of Jodha wanted to have his own kingdom, that is why he had decided to build his own kingdom that is known as a state of Bikaner in the area of Bangladesh. Though it was in the Thar Desert, Bikaner was considered an oasis on the deal route that is linking central Asia andGujarat. Bika's name was friendly to the city as he built and to the state of Bikaner. Bika has built a fort in 1478, which has now ruined, and a couple of years later a new fort was built about 1.5 km from the city center, known as the Junagarh Fort. 
Mughals had held a high rank as an army universal at the court of Emperor Akbar and his son the Emperor Jahangir. Rai Singh's triumphant military develop, which won half of Mewar Kingdom for the Empire as a reward from the Mughal emperors. He was given the jagirs of Gujarat and Burhanpur as well as with the revenue earned from these jagirs, he built the Chintamani Durg (Junagarh fort) on a plain. He was a specialist in arts and structural design, and the knowledge he acquired during his visits abroad is amply reflected in the numerous monuments he built at the Junagarh fort.
Maharaja Karan Singh, who ruled from 1631 to 1639, added more floors and streamers to this Mahal. Anup Singh Ji, who lined from 1669 to 1698 renovated the Karan Mahal with public audience hall (Anup Mahal). Maharaja Gaj Singh, who ruled from 1746 to 1787 restored the Chandra Mahal (the Moon Palace). Maharaja Surat Singh ruled from 1787 to 1828 under a treaty of paramount signed in 1818, as well as Bikaner came under the suzerainty of the British, after which the Maharajas of Bikaner invested deeply in refurbishing Junagarh fort.
Dungar Singh who reigned from 1872 to 1887, built the Badal Mahal in arid Bikaner. Maharaja Ganga Singh who ruled from 1887 to 1943, was the best-known of the Rajasthan princes and was a favourite of the British. His donation to the building movement in Junagarh involved separate halls for community and confidential audiences in the Ganga Mahal and a durbar hall for formal functions. The hall where he supposed his Golden Jubilee (in 1938) as Bikaner's ruler is now a museum.
When you should visit Bikaner?
You can explore the racial culture and history of Bikaner. But the enjoyable weather during October – March makes winter term the best time to visit Bikaner. There is the Camel Festival held in January every year that draws the tourists during this time all the more. So if you are here in Jodhpur then you should visit to Bikaner with Get cab India from Jodhpur to Bikaner Taxi services.
How to visit Bikaner from Jodhpur?
If you are in search of some taxis and do not want to travel in buses or trains, then Get Cab India is your perfect companion. We offer you with comfortable and luxury cars based on your budget. You can get Jodhpur to Bikaner Taxi with Get Cab India. 
Major places to visit in Bikaner-
Junagarh Fort 


Junagarh Fort was raised in the year 1593 by Raja Rai Singh. The fort society consists of temples and palaces. The precisely done galleries, lawns, and windows hold the eyes of the visitors. The Zenana quarters, in fastidious, lure the awareness of tourists as they display impeccable designs of large creative skills. The Karan Mahal, Chandra Mahal, Anup Mahal, and Phool Mahal are some most important attractions here. It is assumed that crocodiles were lifted in the water canal surrounding the imposing fort. The architecture is a fine mixture of Mughal, Gujarati and Rajput style. 



Location:

it is located at Junagarh Fort Road in Bikaner.



Timings:

Open daily from 10 AM to 4:30 PM.



Price:

 The entry ticket is just about priced around 30 INR.

Karnimata Temple 


Karni Mata Temple is probably a standout amongst the most famous spots to visit in Bikaner. This refuge is known for its sizable populace of rats that are the long-term occupants here. 




This sanctuary is devoted to Karni Mata who was the living form of Goddess Durga. Legend has it that when Karni Mata's child passed on, she requested for Yama to restore her child's life, however, Yama did not. Karni Mata is the embodiment of Goddess restored the life of her child and stated publicly that from now onwards her family won't tackle demise yet be resurrected as rats. There are around 20,000 rats that live in the refuge premises and undoubtedly pull in the thought of numerous voyagers.


Location:

 It is situated at a distance of roughly 30 km from Bikaner Junction. You can use public transport to achieve the temple and commute to other parts of the city.


Timings: Open daily from 4 AM to 10 PM.
Price

: There is no charge for entry.

Gajner Palace
Gajner Palace is in the middle of the popular tourist attractions of Bikaner, situated on the bank of a lake. The castle was built by the previous ruler of the Bikaner province, Maharaja Ganga Singh Ji. Gajner Palace was pursuing and vacation lodge during old times.
It is constructed in red sandstone with a classic representation of craftsmanship.
Also, it is located in the middle of a bulky forest, visitors can sight wandering birds like Antelopes, majestic Sand Goose, and Black Bucks along with Chinkaras, Nilgais, Blue Bull, and Deer can be sighted.
Distance from Jodhpur to Gajner Palace is not so far so Get cab India is providing Jodhpur to Bikaner Taxi with affordable prices.
Timing: Open daily from 10 AM to 6 PM.
Price: There is no charge for tourists.
Lalgarh Palace


The magnificent Lalgarh palace was made by Maharaja Ganga Singh in the new 20th century. The palace has now been distorted into a hotel and this is an excellent leave to spend your holiday. The overgenerous Rajputana design blended with the elegant inside décor draws visitors here.

The palace also slots in a museum that is located inside the Ganga Niwas. Here one can witness the small paintings that are linked to the Bikaner school of painting. There is also a record that has a large collection of plaques of silver, copper, and gold. The artifacts belonging to Harappan civilization and Kushan and Gupta Age are also potted here.


Location: Located in Gajner Wildlife Sanctuary, the Mughal-style public house overlooks Gajner Lake and is 2.5 km from Gajner train station.
Timing:  Open from 10 am to 6 pm.


Price: No charge



Jain Temple Bhandasar
This Jain Temple Bahndasar is beautified with yellow stone carvings and vibrant paintings. The interior of the temple looks stunning with the paintings on the walls and pillars. The walls are designed with floral arabesques and the depictions of the 24 Jain teachers. People say that 40000 KG of ghee has been used in place of water for the mortar. The three-storied temple keeps the miniatures of the sentinels of gods on the first floor. At the top floor, the visitors get a panoramic observation of the city that stretches to the west.
Mostly, the temple is out-and-out to the fifth Tirthankar, Sumtinath and was commissioned by a Jain merchant called Bhandara Oswal. As the temple was established during the 16th century, it has ample of historical attitudes and attributions described in the structure.
If you are planning for a spiritual tour in Jodhpur then you should also visit The Jain Temple of Bhandasar with Jodhpur to Bikaner Taxi services by Get cab India.
Location: Bikaner, Rajasthan, India
Timing: The temple will be opened from 05:00 AM to 01:00 PM and from 05:30 PM to 11:30 PM.
Price: no charge
National research center on Camel
This is a place in Bikaner, Rajasthan, which wants to be visited at least once in a month. National Research Centre on buff is more of a breeding nursery, which has about 230 camels of 3 distinct breeds. The on-site camel exploits outlet offers samples to endeavour as well as lassies.
The round trip takes you all the way through the entire ability and teaches you the techniques which are put into operation at the facility and the tour lasts for a half-hour. Small museum and camel travel make this place particularly particular for visitors.
Get cab India will provide you Jodhpur to Bikaner Taxi services to make your trip hassle-free with reasonable rates.
Location: The center is located about 8kms from Bikaner and can be arrived at by taxi.
Timings: Open for visitor flanked by 2.30 PM to 5 PM.
Price: Approximate worth starts from 150 INR.
Royal cenotaphs, Devi Kund sugar
It would be the best places to visit in Bikaner, Devi Kund Sagar has a prominent position. It is located 8 KM in the eastern city. It is popular since the members of the ruling family of Bikaner subsequent to Jet Singh, the great-grandson of Rao Bikaji have been cremated here.
Here you can see a reservoir which has royal cenotaphs on either side; cenotaphs of rulers of Bikaner dynasty from Rao Kalyan Singhji to Maharaja Karni Singh. Chhatris of 22 Cities of the royal relations prior to Maharaja Gaj Singh.
The architectural talents shown on these cenotaphs are the real factors that draw more visitors here. Surat Singh's monument is built completely in white marbles exhibiting a stunning beauty. The entire place is beautifying by impressive paintings.
Location: Ridmalsar, Rajasthan, India
Timing:  No timing is registered, it is open all days.
Price: No price for entry
Shri Laxminath Temple
It is the oldest temple of Bikaner and beautifully graces the holy sanctum of Lord Vishnu and Goddess Laxmi. Many people are familiar with this temple for the festivals and impressive celebrations that happen here on the festivals like Janmashtami, Ramnavami, NirjalaEkadashi, Diwali and Geeta Jayanti.
In addition, the stunning idols of this temple are embellished with weak and intricate artwork in silver. Due to this smart celebration, this temple is not to overlook a spot in Bikaner.
Location: Vaidya Mangaram Colony in Bikaner
Timing: It is open from 5:00 AM – 1:00 PM and 5:00 PM – 11:00 PM, Open on all days
Price: no price for the entry to the temple
Rampuria Haveli
The well-off merchants of Bikaner build Rampuriahavelis over an epoch of a few hundred years. Standing brilliantly, these Havelis of Bikaner are not just a visual joy. They are a perfect example of the mere sagacity of aesthetics that our forefathers had brilliant upon us.
These havelis in Bikaner get us to an era of our ancestors and when you observer the exuberance of their loveliness and majesty, you sense going back to the few decades, which are past now.
Jodhpur to Bikaner Taxi service by Get cab India will make your trip memorable
Location: Rampuria Haveli, Joshiwara, Bikaner, Rajasthan
Timing: It is open during all the days of the year
Price: No entry fees
Desert Camping


Bikaner in Rajasthan is a quintessence of many adventure activities since the handsome old city is placed amidst the vast Thar Desert keeping its head soaring. The extreme climatic conditions create the place more attractive. 




The wasteland camping here is a favourite activity done by the visitors often. There are plenty of tourism options approximately the city like Junagarh Fort, Laxmi Niwas Palace, etc. Camel safari and cart safari are fairly popular in this desert that let you meander from side to side the golden sands. 




There are a lot of base camp options as well with appropriate tents that have good quality amenities. Along with holiday camp, you will be gifted to for jeep safari as well. 


Location: The city is placed 330 KM from northwest of Jaipur. You can indulge in sightseeing and other exploration activities at Alwar, Jodhpur, and Jaipur, etc which are near to the town of Bikaner.
Timing: open all days
Price: No charge for entry
Camel Safari
Camel safari in Bikaner has a group of admirers since this safari takes you during the beautiful golden sand dunes of Thar Desert. The region has extreme climates in winter and in summer. Bikaner is a very old city with multiple temples and structure exhibiting the cultural transition Rajasthan imperial families lived during the antique period. Junagarh fort is a major hold nearby.
Without camel safari, your tour will not be wonderful since those kind animals take you to the different parts of the desolate tract at a good pace and you will feel large while you travel on the backs of them. During the morning or sunset usually safaris will be happening because, at these times, the sands will be less hot. There are dissimilar packages for safaris at your own expediency.
Location: Bikaner, Rajasthan
Timing: open all the day
Price: no fee for sightseeing
Camel Safari International Camel Festival
Bikaner camel fair is something which attracts plenty of people toward the appealing sands of Thar Desert. This festival behaviour by the Department of Tourism of Rajasthan is a dedication to the gentle wasteland animals, the camel.
Also, it is a yearly festival in which the colourful glory of Rajasthan can be seen fully. You will be getting to see the folk performance by the local artists. The festival starts with a carnival of delightfully decorated camels; the scenic beauty of the camels standing in an association against the red backdrop of Junagarh fort is quite good-looking.
Camel dealers and craftsmen from around Rajasthan gather here the length of with a lot of stunning contests for the camels such as races, beauty pageants; best type competition, etc.
Umpteen numbers of provisions stalls, handicrafts shops, skirt-swirling dances, etc are other honoured attractions of the festival.
Location: Bikaner, Rajasthan
Timing: open all the day
Price: no fee for view, they take charge for safari
A luxurious stay at Laxmi Nivas, Bikaner
Laxmi Niwas is a newly constructed hotel and has a similar building as the older Laxmi Vilas Palace. It takes utmost care to bestow you the old world grandeur as well as provided that all facilities. The steady thanks of guests and the rising demands to expand the hotel Laxmi Vilas Palace made them make this new wing.
This place is on the outskirts of the metropolis with sprawling lawns in front and lush fields behind. Its calm and peaceful surroundings add to the regal experience. The biggest attraction of Bharatpur, 'Keoladeo National Park' is concerning 2 km from the hotel. Besides, if all the comforts at the hotel build you lazy to go out you can still spot about a hundred types of birds here in the hotel grounds itself.
Jaipur has lots to proffer the tourist, from wildlife, culture, art to faith. So, come and stay at Laxmi Niwas for an unforgettable experience.
Meal Types: Vegetarian as well as Non-Vegetarian-Breakfast
Accommodation Types: Single/Double Occupancy
Activities: Sightseeing with Spa
Dinner on the dune with camel safari in Bikaner
If you are looking for some astonishing camel safari experience, then this tour is an ideal fit for you. Create your tour from Himtasar village near Bikaner. Spoil in a 2- 3-hour camel ride and explore the good-looking dunes and environs. Enjoy a lip watering dinner in the sand dunes while witnessing the astonishing views. Head back to home and end your travel around 6 hours with lots of reminiscences.
Location: Bikaner, Rajasthan
Timing: open 7 days
Price: based on your dinner menu
You should choose Get Cab India for availing the Jodhpur to Bikaner Taxi services. The services we offer are budget-friendly. We won't disappoint you at any step of your journey.