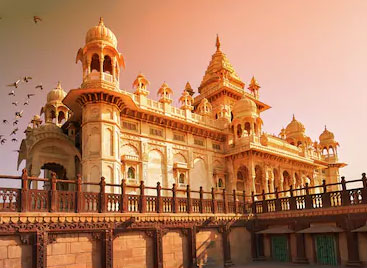 Jaswant Thada
Jaswant Thada, a cenotaph is located in Jodhpur, Rajasthan. Maharaja Sardar Singh of Jodhpur got built this beautiful place in the memory of his father, Maharaja Jaswant Singh in 1899. Jaswant Thada serves as a cremation ground for the royal families of Marwar. Jaswant Thada is an impressive white tomb that is built out of marble sheets. These sheets are quite thin and so finely polished that they shine and emit a glow when the sun spreads its shine on it. Jaswant Thada is famously known as the Taj Mahal of Mewar. The tomb is made in a Rajasthani fashion which makes Jaswant Thada a pleasant sight as it depicts the Indian art of architecture. It is hidden amidst the lush greens and is on the lakeside which tourists should never miss this place. If you wish to view this epitome of beauty in Jodhpur then you book a Jaswant Thada tour by Get Cab India & make your experience a memorable one.
Highlights of Jaswant Thada, Jodhpur
Address: Lawaran, Jodhpur, Rajasthan, 342001, India
Timings: 9 am to 5 pm
Entry Fees: Indian Visitors (adult/child)- Rs.15, Foreign Visitors(adult/child)- Rs.30
Camera Fees: Still Camera- Rs.25, Video camera- Rs.50
History
Maharaja Sardar Singh got built this memorial for his father, Maharaja Jaswant Singh in the year 1899. This memorial is a perfect example of Rajputana architecture which symbolizes the finest Craftsmanship which was buried in the past times. The marble emits shine and glows when it was subjected to the sun rays. The main memorial is built in a way that it seems like a temple which has beautiful domes and fine sculptures. The memorial features a beautiful peacock which has a significance that it flew into a funeral pyre.
Get Cab India- The best Cab services in Jodhpur
You will have to travel to Jodhpur first. You need to move through the Rocky Mountains to reach Jaswant Thada. In the route, you will see panoramas and will the mystical aura which will delight you. Jaswant Thada is the famous attraction in Jodhpur. If you are in Jodhpur somewhere and are planning to go to Jaswant Thada, then you can book Jaswant Thada Tour by Get Cab India & Get amazing discounts on Local Sightseeing Packages.
Things you will see in Jaswant Thada
There stands a lifelike marble statue of Maharaja Jaswant Singh who is seated on a horse. The statue welcomes you at the entrance to the cenotaph tomb. The flight of white marble steps will bring you to the memorial, which is embellished with the artistic sculptures, domes, pillars, and the excellent work of marble. On the walls of the memorial, there are several portraits of Jodhpur rulers, which dates back from the 13th century. The ornamentation and the dancing figures are sculpted on the pillars of the memorial which elaborates the beauty of the monument. These figures and ornamentation are dedicated to the queens who sacrificed their lives on the Maharaja Jaswant Singh's pyre.
Famous attractions near Jaswant Thada
Chokelao Bagh
Jodhpur Camel Safari
Sardar Government Museum
While you are in Jodhpur, you would definitely want to explore the beautiful city Jodhpur. Get Cab India is there to serve you with the finest Car Rental in Jodhpur. You will sit back and relax in comfortable cars when you will be doing the Jodhpur Taxi Booking. Excited to See Jaswant Thada & Other Local Sightseeing Places in Jodhpur then Book Now Jaswant Thada tour by Get Cab India & make your trip a memorable one.
[wpseo_address show_state="1″ show_country="1″ show_phone="1″ show_phone_2="0″ show_fax="0″ show_email="1″ show_logo="1″]