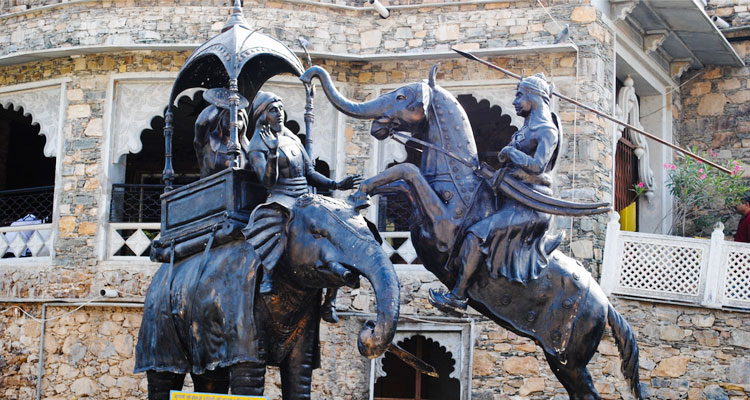 Haldighati
Haldighati is one of the most famous places in Udaipur. It has a lot of places to visit that hold historical importance of the city. it is located between two villages Khamnore and Bagicha in the Aravalli mountain range situated in Rajasthan. It is almost 40 kilometers from Udaipur. If you want to visit the city you can hire Get cab India which is the best taxi service in Udaipur. We help you travel every inch of the city with our affordable taxi services. if you are thus interested in travelling to Haldighati then our service is the best for you to avail. You can contact us anytime or pre book us and we will help you to travel.
History of Haldighati
Though a mountain pass, the place has a great significance added to it because of the history that it has. The famous battle of Haldighati that was fought between the Mughal army and the king of Mewar in 1576. The army of Mewar was led by king Man Singh. Chetak, the horse of Maharana Pratap Singh had a significant role to play. He lost his life while fighting the battle. In his honor, Maharana Pratap Singh built a small monument for him. The city still holds this statue as a pride mark.
The city is also known for its rose product and the art of mud.
How to reach Haldighati?
Haldighati is near to Udaipur and has a lot of alternates by which you can travel here. There are a few ways by which you can reach Haldighati. Let us have a look at them:
By air:you can reach Haldighati by air. The airport is located about 50 kilometers from the city in Udaipur. It is the nearest airport. From there, you can take a cab facility or a bus service to reach the city. this is one way of travelling to the city.
By rail:the other way of reaching to Haldighati is by rail. You can take a train from any part of the country till Udaipur and then from there you can hire a cab or bus to reach the city of Haldighati.
By road:another way of reaching Haldighati is by road. You can take a bus from any city directly up to the town of Haldighati. You can also take a cab service to the city as it is well connected by all the roads.If you are willing to hire a cab service from Udaipur to Haldighati, then Get Cab India is the best service provided in this case. There are a lot of companies that provide cabs in Udaipur but ours is one of the best in the entire city. you can hire a cab anytime and we will be there to give you a quick visit to the complete city.
Best time to travel to Haldighati
Since the town is in Rajasthan, it gets very hot during summers and thus it is not advised to go here in this season. The best time to visit this place is in the months of October to March. Even the monsoons are a perfect time to visit Haldighati and travel it since the temperatures are quite pleasant and favorable at this time. winters and monsoon thus become the perfect season to travel to Haldighati. These seasons are neither so harsh nor so unpleasant. Thus, you can always pack your bags and travel to the city at these times.
Places to visit nearby Haldighati
While in Haldighati there are a few places that you can visit. Here is a list of a few places that you can probably visit in Haldighati.
Maharana Pratap museum

this is one of the most popular museums of the city displaying the valor and life history of Maharana Pratap. A documentary is shown that takes us back to the time of the ruler. There are also a lot of beautiful paintings and sculptures. They also show a complete battle history of the place. In short, the museum is a must visit.

Shrinathji temple

Shrinathji temple is a Hindu temple dedicated to Lord Krishna. It is situated in Nathdwara which is a place near Haldighati. It is one of the most significant pilgrimage areas of the people who believe in the deity of Lord Vishnu. It is a very beautiful temple and is constructed in a very majestic way. This temple was built in around 1672 by the Goswami priests. It is also known as Srinath ki Haweli. The statue of lord Krishna has one arm raised.

Maharana Pratap memorial

this memorial is dedicated to Maharana Pratap, just as the name suggests. It is constructed at the top of Moti Margi. It is made in the loving memory of the ruler. The memorial is actually a huge bronze statue of Maharana who is sitting astride on his favorite horse Chetak. It is one of the most beautiful eye-catching place of the entire city.

Neekanth Mahadev temple

Neelkanth Mahadev is a temple of Hindus dedicated to Lord Shiva. It is a beautifully constructed temple. The festival of Maha Shivratri is celebrated with great enthusiasm and dedication at this temple. It is approximately 4.5 kilometers from Haldighati. The place is a must visit if you are a worshipper of Lord Shiva.