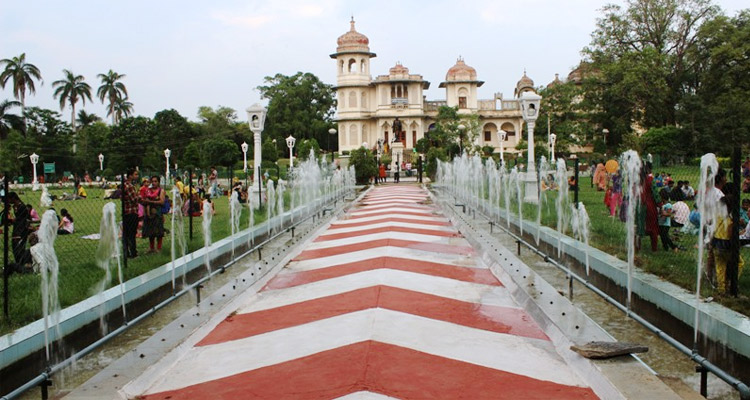 Gulab Bagh and Zoo
Rajasthan is one of the best places of India which has such diverse culture and heritage, and Udaipur is one such city which is not only famous for its forts and lakes but also has diverse biota to offer to its tourists. Among several gardens like Nehru garden, Rajiv Gandhi garden, Rose garden, Lake City garden, Pandit Deendayal Upadhyay park, etc. I am going to be describing Gulab bagh.
Gulab Bagh is spread across an area of 100 acres, which makes it the most extensive garden in Udaipur. It has a variety of roses, and that's the reason it is named Gulab bagh. Maharaja Sajjan Singh built Gulab bagh in 1881, and hence it is also known as Sajjan Niwas garden. The garden consisted of a Lotus Pond, and many prominent trees that included many species of mangoes, guava, grapes, lemon, bor, mulberry, Rayan, pomegranate, bananas, sapota, tamarind, bullock's heart (Ramphal), lichi, Arjun trees, wood apple, Laronda, camper, citron, Jamun, pummelo, meetha neem, kargi lime, ficus species, anola, jack fruit, dhanverjia, Grandi flora, Jasmin, Dawood etc. Gulab Bagh is situated in the focal point of Udaipur. The main road that surrounds the garden is named after the garden as Gulabh bagh road.
Gulab bagh zoo is the fourth largest zoo in the country and is home to various rare species of animals including animals like Black Leopards, Rhinos, Ostriches, Zebras, hoolock gibbons, etc. Maharana Sajjan Singh placed the foundation stone of the Victoria museum (now called Saraswati Bhawan Library) in the garden on 2 November 1890.
HOW TO REACH THE DESTINATION
Entry costs in Gulab bagh and zoo are minimal. Around 3000, visitors visit Gulab bagh daily. Its location is such that it is easily accessible by local buses and rickshaws.
Rs25 per person – entry in the garden
Rs5 per person – entry in the zoo
Rs15 per person – for a camera (only in the zoo)
By air: One can board in a flight from Delhi, Mumbai, Jaipur, Jodhpur, and Aurangabad which are connected to Maharana Pratap airport located at a distance of 22.5km from Gulab bagh. From the airport, one can take taxi services in Udaipur or cabs in Udaipur to reach the location.
By train: One can find direct train to Udaipur from Delhi, Jaipur, Chittaur, Ajmer, Ahmedabad, and Jodhpur and connecting passengers from other locations. Gulab Bagh is very close to the Udaipur City railway station. After reaching the station, one can book local rickshaws or taxi services in Udaipur or cabs in Udaipur.
By road: Looking at the diverse scenic beauty that Udaipur has to offer, I highly recommend to go around on a road trip. One can hire cars in Udaipur. The city is connected to national highway 8 (NH 8), and there are well-behaved roads which connect Udaipur to Delhi and Mumbai.
Taking a bus is a good option too. The buses offer a safe and sound journey. There are four government companies that provide bus rides to Udaipur are from Rajasthan, Uttar Pradesh, Gujarat, and Madhya Pradesh.
BEST TIME TO VISIT THE ZOO
Although, Gulab bagh is open for 24 hours yearlong the Gulab bagh zoo is free from morning 8 to evening 6. However, the best time to visit the garden is from October –November as the climate is neither too hot nor too cold. Even within the limited time slot, I would suggest the evening time as the weather is easy-breezy and enjoyable. Situated quite near Pichola Lake on Lake Palace Road, the weather is generally relaxed.
BEST PLACES TO VISIT INSIDE THE GARDEN
Saraswati Library

Gulab bagh contained this library which initially was Victoria Hall Museum. This was the first museum established in Rajasthan constructed by Maharana Fateh in 1887. In 1968, this museum was shifted to the city palace, and the building was converted into the library.

Navlakha mahal

This place is situated in the center of the garden. This is a religious place for Arya Samaj.

Toy Train

There is also a small toy train as a part of amusement which renders across the zoo for kids as well as adults.
BEST NEARBY PLACES TO VISIT
City Palace

It is situated near the garden and was built around 400 years ago by several rulers of the Mewar dynasty. Its construction began in 1553, started by Maharana Udai Singh II of the Sisodia Rajput family. It was built atop a hill, in a fusion of the Rajasthani and Mughal architectural styles. It opens at 9:30 in the morning to 5:30 in the evening.

Pichola Lake

It was created in 1342 AD by Banjaras and later, Maharana Udai Singh, impressed by the charm of this lake. It is the largest artificial freshwater lake in Rajasthan. It consists of four islands, namely: Jag Niwas, Jag Mandir, Arsi Vilas, and Mohan Mandir. It is connected with Swaroop Sagar Lake and Fateh Sagar Lake.

Vintage and Classic Car Museum

The owner of this museum is Arvind Singh Mewar. This museum has the rarest of rare cars available. It is inaugurated by Lord Montagu of Beaulieu on 15 February 2000. It is situated opposite to the Gulab bagh and zoo gate.

Saheliyon ki Bari

Garden of a Queen accompanied by forty-eight maids was built in 1710 by Rana Sangram Singh. Due to the group of forty-eight, the garden is named so. It presents a green retreat to the tourists. This pattered garden is a famous relaxing spot for high-society ladies.

Jagdish temple

It is a double-story Hindu temple situated in the middle of Udaipur since 1651. It is decorated with ornamental carvings. This has initially been Jagarnath temple.

Ambrai ghat

Ambrai ghat or manjhi ghat is situated near Lake Pichola opposite to Jagdish Chowk area. It is also famous for the picturesque view of City Palace.

Ganguar ghat

It is situated near Lake Pichola and is the endpoint of many religions. It is known for Bagore-ki-Haveli, a popular tourist destination of the city. It is a famous location for many festival celebrations.