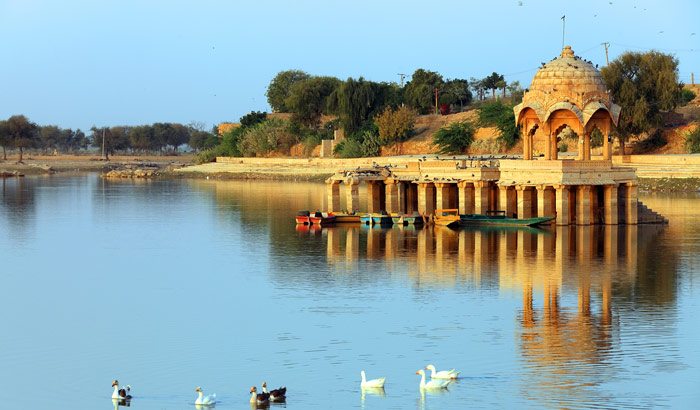 Gadisar Lake
Gadisar lake is one of the most valuable assets that this land city and has been a landmark in the astonishing city of Jaisalmer. This lake has been carrying the vast culture and pride of this land in Rajasthan. The first Maharaja of this city- Raja Rawal Jaiswal constructed this beautiful lake to serve as a water conservation reservoir that would solve the water-related problem that those people were having. One of the best things to do here is that you can see the beautiful and marvelous Jaisalmer first from this serene location.
This lake is most important to this city as it has many temple shrines and that's surrounding this lake. You can also see beautiful migratory birds during the winter as the Bharatpur bird sanctuary is very near to it, and so this place becomes the best location for bird lovers and wildlife photographers. This lake has a beautiful essence of the whole Jaisalmer in it so missing this is kind of injustice to this beautiful and magnificent place in Rajasthan. So finally, if you want to take a break from your daily busy scheduled life then this is a must-go place to have a peaceful and beautiful time. Get Cab India can help you with providing a taxi in Jaisalmer.
HISTORY OF GADISAR LAKE
This beautiful lake was built by the first ruler of Jaisalmer, Raja Rawal Jaiswal around 1400 AD and it was renovated and rebuilt in the upcoming years by raja Garisisar Singh. It is situated towards the south of Jaisalmer city, and the entrance of the lake is through Tilon-ki-pol, which is a magnificent and beautifully carved yellow sandstone archway. This Tilon-ki-pol processes religious importance as it has an idol of Hindu deity Lord Vishnu, installed in the year 1908. The bank of this lake is surrounded by beautifully carved shrine temples, ghats, and chhatris (cenotaphs). Cenotaphs are the graveyards of Queens and kings who ruled there.
Therefore it's a represents a sign of pride. One of the exciting and significant facts about this lake is that it was the only source of water back in those days for people of Jaisalmer. You can see the royal Jaisalmer fort from this place so it becomes the most popular point for photographers to click photos of the royal Jaisalmer fort in the early morning and also there are migratory birds as the Bharatpur sanctuary is very near to it and hence this also becomes an important reason for bird watchers and photographers to visit this place.
In the early morning, the fort looks golden color as the first sun rays fall on it, and it is a must-see. Gadisar Lake is the pride of Jaisalmer, and it is located 2 km away from the Jaisalmer railway station. This place is famous for its history, boat rides, seeking experience, serene location, and pleasant peace environment. So, after reading about this you must be feeling to visit this so Get Cab India is providing a taxi in Jaisalmer to fulfill your desire to visit Jaisalmer, Rajasthan.
HOW TO VISIT GADISAR LAKE?
As the lake is just 2 km away from the Jaisalmer railway station, it is much easily accessible and if you are at the Jaisalmer fort then it is a walkable distance to reach the Gadisar lake but if you are not close or at the fort then you can hire Taxi in Jaisalmer from Get cab India, as it is the best transport service in Jodhpur for tourists which offers cabs at affordable price anywhere in Rajasthan that will drop you at the lake at a reasonable price.
THINGS TO EXPLORE IN GADISAR LAKE
Enjoy a boat ride and experience the beautiful feeling of having a lake in the desert.
You can walk around the place to see some beautifully carved temples and cenotaphs.
As the royal Jaisalmer Fort is very near to this lake, it becomes a must to visit.
Gadisar lake has a Desert cultural center and Museum very near to it that has some of the best artifacts related to this place and is a must-visit.
There is also Tilon-ki-pol gateway which holds religious importance as it has the idol of Hindu deity Lord Vishnu in it. It is one of the major attractions of the city for the devotees.
perfect sceneries for photographers and bird watchers.
Make sure to walk the lake to get amazing views from all sides.
The best time to visit this place is during March and October. The lake looks stunning during the winter season, and the loud noise of the desert can be avoided.
To explore things in Jaisalmer you can book a taxi in Jaisalmer with Get Cab India
NEARBY ATTRACTION
NATHMAL KI HAVELI

It as one of the most beautiful stonework and you can feel the royalty of this place. If you like Havelis then its a must-visit place for you.

TAZIA TOWER

This is one of the best most exquisite artwork, and the building looks lovely from outside. There are many shops near this place so you can go shopping.

SUNSET POINT

One side you get to see the majestic Jaisalmer Fort and on the other hand the setting sun, both are picture-perfect and mesmerizing. Additionally, you will get to listen to some local singers singing beautiful folk songs.

BADAL MAHAL

It is located in Kumbhalgarh, a fort of the warriors and Badal Mahal is the main charm of this place. The best place to visit here is monsoon time as the mahal converts to a romantic place.

MATAR'S DEEP DESERT SAFARI'S

Best place to enjoy a desert ride in the evening. You can take ride camels or jeep safaris. It becomes a must visit to have some quality fun.

THE THAR HERITAGE MUSEUM

This Museum is a gem, Mr. Laxmi will wall you for 20-30 minutes explaining the collection of artifacts, photos, and fossils from the Thar desert. The entrance fee is just Rs 100 person and it worth your money. In a frequently evolving city, little cultural corners like this are keeping the spirit of the place well and alive.

GOVERNMENT MUSEUM

Government Museum of Jaisalmer houses a rich collection of marine and wood fossils along with Sculptures from kiradu and lodurva townships of the 12th century. A short trip to Jaipur must also include this Museum to stay amused on the Ecstasy and legacy that they are continuing.
There are many services available for a taxi in Jaisalmer city for tourists to roam around this beautiful place but we have got you with the best Car Rentals in Jaisalmer anywhere in Rajasthan from get cab India service.