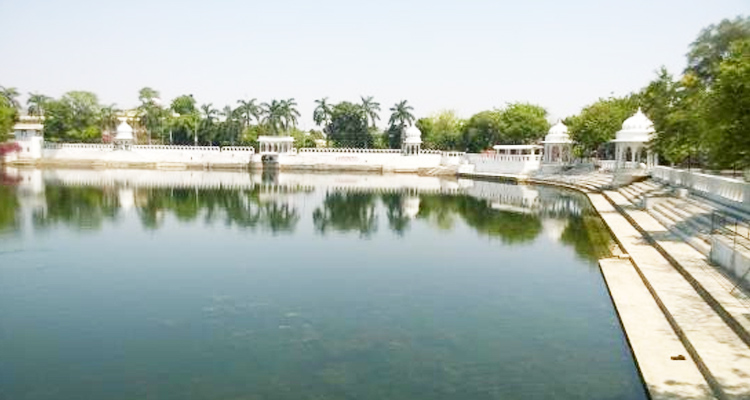 Doodh Talai Musical Garden
This Garden is also known as Pandit Deendayal Upadhyay Park. It is a magnificent rock garden in Duddhtalaii. Urban Development Trust, Udaipur manages it, Visitors here love the sunset and scenic view of Lake Pichola. This musical Garden is a perfect example of modern architecture.
From Dudh Talai Musical Garden, one can see the picturesque view of Jag Mandir, Lake Pichola, City Palace, and Udaipur city. Its primary attraction is its musical fountain which is first of its kind in Rajasthan. It increases the garden beauty manifold. From this hilly Garden, the sunset point that lies far beyond the Aravalli Mountains is visible.
This Garden is lovely and well-maintained. Doodh Talai Musical garden is a rock and fountain garden which is a great place to enjoy the sunset and one can see the vast expanse of the city. Also, there is an Areal tramway (cable car) connecting a garden of Doodh Talai and the Karni Mata Temple. The views are so romantic and mesmerizing that tourists do not remain untouched. This musical fountain is one of the main attractions in Dudhtalai as it is the first musical fountain in Rajasthan. The scenes from Sunset point placed at the Aravalli hills are also spectacular. Most of the tourists come here to capture the beautiful views of the sunset in their hearts and cameras. Adds charisma to this beautiful Garden.
HISTORY OF DOODH TALAI MUSICAL GARDEN
The Manikya Lal Verma Garden (also known as Doodh Talai garden), has views of Lake Pichola and Doodh Talai Lake. It was constructed in the year 1995 by Nagar Parishad (Municipal Council) Udaipur. There are steps built to reach the Garden, as well as a separate road for vehicles. This hillock also has the Karni Mata Temple on the top Inside the temple there is a white stone idol of the goddess Karni Mata. Originally a beautiful rock garden, Doodh Talai gives a beautiful panoramic view of the city and palaces of Udaipur. From this site, the sight of sunset in Pichhola lake is fantastic. Earlier Doodh Talai was used as a bathing ground. Another attraction of Doodh Talai is the musical fountain manufactured by Yagnik Mechanical Engineering Works.
How To Reach Dudh Talai Musical Garden, Udaipur
By Road: Dudh Talai Musical Garden located on the shore of Lake Pichola of Udaipur city. One can easily reach here with rickshaw, local taxi, local bus or cab. Car hire in Udaipur is straightforward with getting cab India service they offer cabs at an affordable price with on-time delivery all over Udaipur.
By Rail: Dudh Talai Musical Garden, Udaipur is well connected through nearest Udaipur Railway station to major cities railway stations like Delhi, Agra, Mumbai, Chennai, Bikaner, Jodhpur, Jaipur, Ahmedabad.
By Air: Dudh Talai Musical Garden can be reached through nearest Udaipur Airport which is well connected with regular domestic flights to Delhi, Kolkata, Mumbai, Ahmedabad, Jodhpur, and Jaipur. Among all traveling through private cabs gives comfort zone you can get cabs in Udaipur at very cost as well.
BEST TIME TO VISIT DUDH TALAI MUSICAL GARDEN
Planning a trip to visit the Udaipur, then you don't have to be time-specific. The weather in the city is always pleasant for tourist. However, if you want to experience the captivating charm than plan your vacation in Monsoons. The beauty of the city is at its peak in the Monsoons. So, if you are visiting in winters, then you can enjoy the warm sunlight of this place and if planning in summers, then experience the cool breeze of the lake in the evening time. Dudh Talai Musical Garden Timings are morning 09:00 am to night 10:00  and the musical fountain show timings are from 7pm in summer season and from 6pm in winter season fee for entry is rs10  and photography is allowed.
BEST NEARBY PLACES TO VISIT
Manikya Lal Verma Garden

The Manikya Lal Verma Park (also known as Doodh Talai Garden), offers a glorious view of Lake Pichola and Doodh Talai. It was constructed in the year 1995 by Nagar Parishad (Municipal Council) Udaipur and was named after Manikya Lal Verma (Former Chief Minister of Rajasthan). There are stairs constructed to reach to the Garden with the separate road for vehicles. Also, on the top of it, Karni Mata Temple is located with the white stone idol of the goddess inside the zone.

Pandit Deen Dayal Upadhyay Park

Pt. Deen Dayal Upadhyaya Garden is another small park located on the adjacent point to Manikya Lal Verma Garden. It was developed by UIT (Urban Improvement Trust) Udaipur. The best part here is Rajasthan's first "Musical Fountain" manufactured by "Yagnik Mechanical Engineering Works." Also, this park offers a sunset point, from where one can witness the sunset in the lap of Lake Pichola reflecting great light.

The Ropeway (Mansapurna Karni Mata Ropeway)

There is a ropeway from the top of Deen Dayal Upadhyaya Park, which follows the journey of tourists to the Karni Mata temple. The cabin car was developed by business person Kailash Khandelwal in collaboration with UIT. This ride is at the height of around 500 meters and runs over a fixed-grip mono cable. It is the first ropeway of Rajasthan that offers a 4-minute ride that is adventurous and joyful to check out the aerial view. The trip gives a panoramic view of the city including Lake Pichola, captivating City Palace, Sajjangarh Fort, and other locations, from its cabin. In addition to the cost, the ticket is quite affordable around Rs.80/- per adult.

Lake Pichola

Lake Pichola is another attraction that can be witnessed by the crowd of tourists and holding the four islands within it (Jag Niwas, Mohan Mandir, Jag Mandir, and Arsi Villas) that represent the royal architecture of Mewar. One can enjoy the scenic view of all the locations by taking a sunset boat ride, which costs around Rs.200/- per person. Also, one can take camel and horse ride on the Lakeside (Paal) of Pichola during any time of the day to enhance the travel experience.