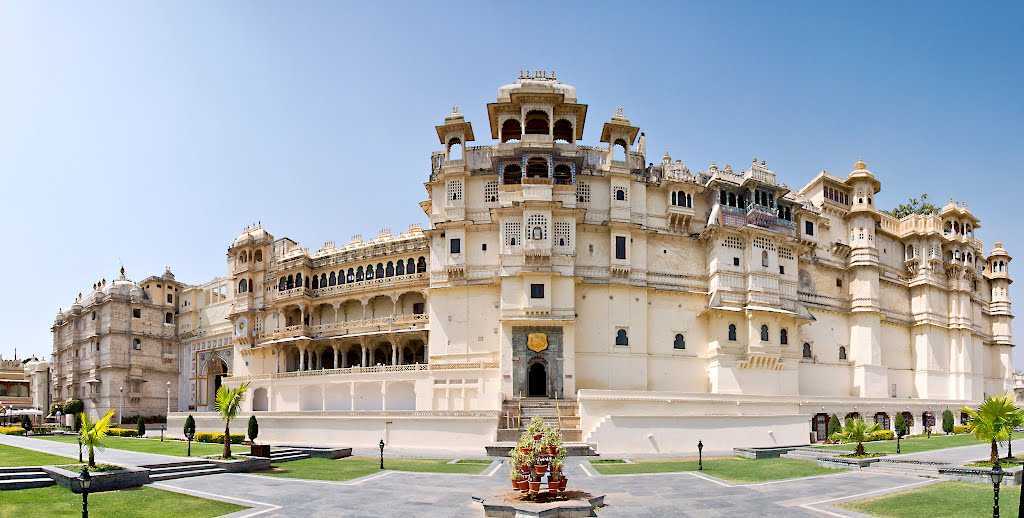 City Palace
City Palace known as Crystal Palace Udaipur is a beautiful palace which was built around 400 years ago by the benefactions of different rulers of the Mewar Dynasty. The construction of this palace was started in 1553 by Maharana Udai Singh II. Maharana Udai Singh belonged to Sisodia Rajput Family. This palace is built on the Lake Pichola bank and has a lot of castles built in its complex.
This palace got built in an exuberant style with being the largest in the city Udaipur. Built on a hill, this palace has the fusion of Mughal and Rajasthani architectural styles. This renders the panoramic view of the city with the fantastic view of different monuments like Jag Mandir, Jagdish Temple, Lake Palace, etc.
History
The Mewar kingdom got flourished in Nagda. Guhil, who was the first Maharana of Mewar, got established the palace in 568AD. This capital was then moved to Chittor in the 8th century where the Chaudhary and Sisodias ruled for more than 700 years. Maharana Uday Singh became heir to the kingdom of Mewar at Chittor in 1537. This time they were afraid of losing it because of the wars with Mughals. Udai Singh chose Lake Pichola bank for building his new kingdom as the forests and lakes well protected it on the sides.
He got built Royal courtyard or the Rai Angan there earlier. This was the beginning of making the Crystal Palace. After the death of Udai Singh in the year 1572, Maharana Pratap, his son handled everything. But later, he was defeated by Akbar and Udaipur was then under the Mughal rule. But when Akbar died, Udaipur went under Maharana Pratap's son. Later, the Maharanas retained the ownership of various palaces in Udaipur and then converted different parts of the palace into hotels.
Highlights
Address: City Palace, Old City, Udaipur, Rajasthan, 313001
Timings: 9:30 am to 5:30 pm
Entry fee: Rs.30 per adult and Rs. 15 per child
Best Time to Visit
Though tourists visit this place throughout the year but traveling Udaipur somewhere around August to March is perfect. The weather is not so hot from August to October and not so cold from October to January. The weather is quite pleasant, and you will enjoy it a lot.
How to visit City Palace Udaipur?
Udaipur is a city that is connected well through buses, trains, and even flights. You can easily reach the crystal palace through any mode of transport. Get Cab India provides you with the Cabs in Udaipur which will pick you from the railway station or airport based o your transport. You will get the right Taxi service in Udaipur with us.
Places to explore around City Palace, Udaipur
Shiv Niwas Palace
This palace is situated to the south side of City Palace, Udaipur. It is a former residence of the Maharanas of Udaipur. This palace has guesthouses and hotels in it where there are 19 deluxe rooms, 8terrace suites, six royal suites, three imperial suites. These rooms have unique furniture, decoration, and much more, which is awe-struck in all ways. There are three levels in the palace which are arranged in an arc form. The building is made in the old Rajput architectural patterns. This palace is elegantly restored in the way of a boutique heritage hotel.  This palace offers you with a large private terrace where you can relax and watch the city with peace. You should not miss it.
Lake Palace
Lake Palace is a summer palace of the dynasty of Mewar which is now turner into a hotel. It is located on the island of famous Niwas, Jag Niwas, Udaipur. Lake palace is inlaid along with white and black marbles. The walls of this palace is ornamented and decorated with different colored stones. The dome of this palace is magnificent.
Gangaur Ghat
Gangaur Ghat is located near the Lake Pichola in Udaipur, Rajasthan. Situated near Jagdish Chowk, it is famously known as Bagore- ki- haveli. This place is visited by many tourists every year. Gangaur is a festival which is quite famous in Rajasthan. Traditional processions of Gangaur starts from City palace, which is headed by chariots, bullock carts, and the performances of various folk artists. The idols of Gan and Gauri are immersed in the Lake Pichola after the processions. So, it is quite traditional and regional. If you are one of those who have much interest in regional beliefs, then do not miss it.

If you are planning to explore Udaipur, then you might be in search of the cab hire in Udaipur. It is not easy to find a perfect cab companion but yes, Get Cab India has got you covered in all ways. Be it a pickup from the airport or railway station; we will reach you in minutes. Hire the Cabs in Udaipur with Get Cab India to get the fullest out of your tour. We promise you a comfortable tour of our luxurious luxury cars.