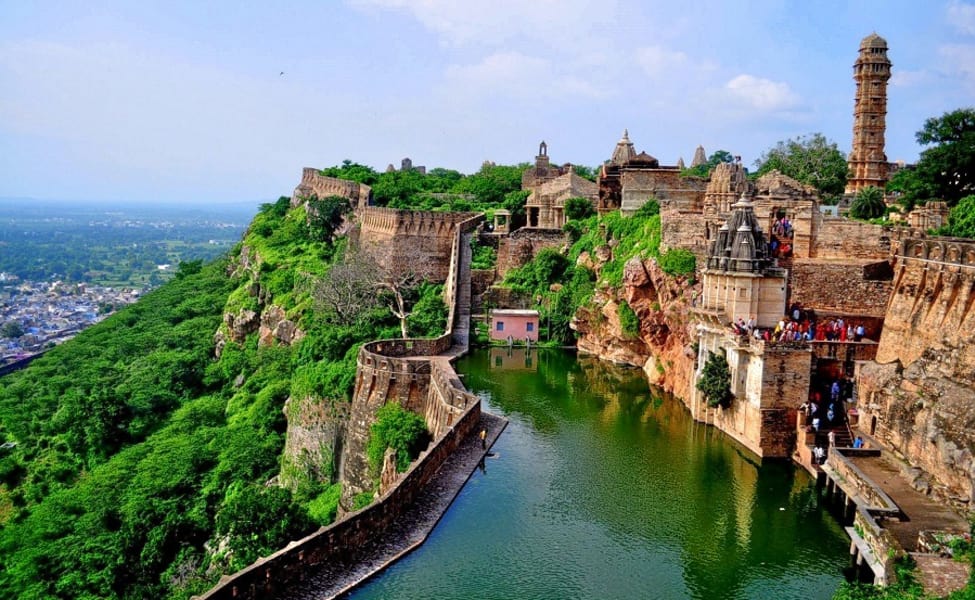 Chittorgarh
Chittorgarh is a city and municipality in Rajasthan, the place is famous for its honey-colored 7th century Chittorgarh fort. Chittorgarh is home to the chittor fort which is the largest in India and Asia. The fort is built from red stone and white marble which gives it a very astonishing look. Chittor has been the land of worship for Meera, it is also known as Panna dai. A fort is a place of must-visit and one can easily visit the fort by traveling with GET CAB INDIA in their comfortable and clean cabs. The taxi service in Udaipur provides complete comfort of conveyance to one who loves to explore and wander around.
HISTORY OF CHITTORGARH
The chittor fort was built by chitranga who was the king of the local mori. The guhila ruler Bappa Rawal is said to have captured the fort in either 728 CE or 734 CE however some historians doubt the historicity of this legend, arguing that guhilas did not control the chittor before the reign of the later ruler allata. The Chittorgarh fort is approximately 691.9 acres and the fort has been declared as a UNESCO world heritage site. It is regarded as the symbol of Rajput chivalry, resistance, and bravery. It is known for its seven gates namely – padan gate, Ganesh gate, hanuman gate, Bhairon gate, jodla gate, Lakshman gate and the main gate which is names after lord ram. The fort houses many palaces like the Rana Kumbha Palace, the Fateh Prakash Palace, the tower of victory and Rani Padmini's palace. All these structures are very significant to the Rajput architectural features. The fort consists of various temples within it and a huge complex is dedicated to Jain temples which are a major attraction to the tourists. There are two prominent towers within the premises of the fort which are Vijay stambha (tower of victory) and Kirti stambha ( tower of fame).
Vijay stambha was built to celebrate the victory over Muhammad shah 1 khilji and Kriti stambha was built to honor Badrinath, the first Jain tirthankar.
HOW TO VISIT
As Chittorgarh fort is located at a distance of 112 km from Udaipur, on an elevated slope near the Ghanbari river in Rajasthan so the most convenient way of reaching the fort is either by catching a bus or hiring a taxi. People usually hire taxis to visit because they are the most comfortable and time-saving way of traveling. As buses have their fixed timings one should prefer hiring a taxi from GET CAB INDIA. It is the best option to hire a taxi because once you book a cab from taxi services in Udaipur you can set your pick up timing and the location from where you want to get picked up. The drivers from GET CAB INDIA are well known for their punctuality and well behavior. The cab will drop you at the exact location where you have to reach. One should definitely experience the amazing services offered by the taxi services in Udaipur.
BEST TIME TO VISIT
Winter is usually the best time to visit the Chittorgarh fort as summers in Udaipur are extremely hot. Winter is the time when the weather stays pleasant and mildly chilling. Monsoon too is a good time to visit this city though. The summer months from June to July should be avoided as it is very difficult to explore this beautiful city in such scorching heat of the sun. Also, GET CAB INDIA offers various discounts to their customers in winter as well as monsoon seasons. If you are pre-booked then you'll get to experience and enjoy the best and affordable services offered by the taxi services in Udaipur. GET CAB INDIA is well known for its clean and comfortable cabs and has to offer many cabs according to your own choice such as- XUV, SUV, sedan, vans, minivans and even the royal cars on special demand. Once you'll experience their services you'll prefer hiring a taxi from GET CAB INDIA even the next time to come to visit Udaipur.
PLACES TO EXPLORE AROUND
There are some extremely beautiful places that one can visit around Chittorgarh
Kalika Mata temple
it is an 8th-century Hindu temple located within the chittor fort in the Chittorgarh municipality of Rajasthan state India. The upper part of the structures is more recent. It predates maharana Pratap and has thousands of tourists every day being one of the major tourist attractions.
Meera temple
this famous temple located in Chittorgarh is dedicated to Meera Bai who was an ardent devotee of Lord Krishna, it is a very popular temple in Rajasthan. The temple has a religious as well as historical significance in Rajasthan.
Padmini palace
this palace was built in the 19th century in Chittorgarh. It is the place where Alauddin khilji was allowed to watch the reflection of rani Padmini. Padmini Palace is the glory of Chittorgarh and also a major tourist attraction.
if one wants to visit all these beautiful and amazing places in Udaipur and wants to enjoy all the breathtaking views then GET CAB INDIA is hiring taxis at very affordable prices and one will for sure enjoy their services as it is the best taxi service in Udaipur. GET CAB INDIA will provide you their ultimate services while you plan to enjoy your trip to the fullest.