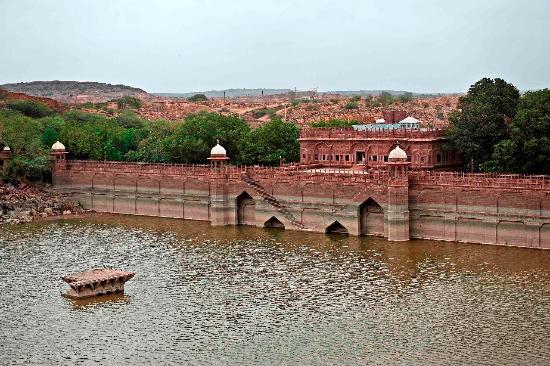 Balsamand Lake Palace
Balsamand Lake is a lake on Jodhpur-Mandore Road, 5 km from Jodhpur. This lake is a popular picnic place built by Gurjara-Pratihara rulers in 1159 AD. This was aimed to provide water to Mandore as a reservoir that supplies drinking water to the city. The lake is 1 km long, 50 m wide and 15 m deep. To see the complete history of this palace you can book a Balsamand Lake Palace tour by Get Cab India and make your journey a memorable one.
The Balsamand Lake Palace was later constructed on its seashore as a summer palace. Enclosed by lush green gardens, the lake houses trees such as mango, papaya, grenade, guava, and plum. Creatures and birds like the jackal and the pawn call this location home as well.
At the start of the palace, the lake's mountains have a dome structure that renders the lake's beautiful views surrounded by hills and mountains. A human-made cascading waterfall brings water down to the farms from the reservoir which amazes you in every moment of it.
History of Balsamand Lake
In the entire desert area, the Balsamand is the most exciting and beautiful lake with a clean distance around the city. The Gurjara Pratihara clan ruled this region in the 13th century. The Balsamand was build to fulfill the requirements of water for ordinary people; the ruler constructed this Man_made Lake. The clan and rulers were amazed by seeing the beauty of this formed lake.there they decided to make this lake as their capital and thus made the Balsamand Lake Palace by the lake.
In Jodhpur every tourist has to view this lovely place without a watch to this incredible palace jodhpur trip would be unfinished to them.
Highlights of Balsamand Lake, Jodhpur
Address: Mandore Road, Near BSF STC, Jodhpur, Rajasthan- 324006
Timings: 6:00 AM to 8:00 PM (Daily)
Entry fees: Free entry(They don't charge any entry fee)
Best Time to visit: October to February months would be good, especially in evening Time.
How to Visit Balsamand Lake?
Book your tickets to Jodhpur, Rajasthan. You can easily reach this lovely destination by local bus or rickshaws or you can plan a Jodhpur taxi from Jodhpur airport to Balsamand Lake without any problems. You can even book Balsamand Lake Palace tour by Get Cab India and make your trip a memorable one.
Attractions Near Balsamand Lake
Jaswant Thada Jodhpur
Jaswant Thada is an exemplary any tourist would never want to miss this place while in Jodhpur the cenotaphs and domes fashioned in elaborate and traditional Rajasthani style make Jaswant Thada a beautiful view to watch. You need 40 50 minutes to visit this as there is no need to stay there. Also, it has a good collection of vintage cars.
Umaid Bhawan Palace Museum
The Umaid Bhawan Palace is located next to Jodhpur's royal blue town. It's an architectural masterpiece, a real building, and it's nearly 75 years old. For museum lovers, this place will be heaven. You must have to have an experience of this palace which will treat you like a king/queen o that area.
Rao Jodha Park:
Rao Jodha Park is the rock garden where so many activities to explore go for a walk there are hills and mountains all over the area. In the evening you get to see so many birds surround with rocks and hills it shows a wildlife scene.
Mandore Garden:
This is a historical park Mandore garden holds the vibrant green with many trees, beautified hills, and there are small fishponds. To spend some relaxing hours in the evening, you can visit this beautiful garden.
Ganesh Handicrafts:
When you were visiting Jodhpur visit Ganesh handicrafts shop, it is one of the oldest and most famous shops in Jodhpur here you will find various traditional Rajasthani suits and home decor, dupattas, etc.
Things to do near Balsamand Lake
Experience Horse Riding near Lakeside
If you have time visit 100 pillar Maha Mandir which is 3 km away from the lake
To enjoy the best food taste, visit nearby garden restaurants
Do stay nearby the Balsamand Lake palace for experiencing the world-class amenities
You can shop for man-made handicrafts and visit marketplaces
There are a lot of things to visit and explore Jodhpur. There are many places which amaze and gives you beautiful moments of life. To provide a decorative edge to your tour, book a Car rental in Jodhpur with Get Cab India.
[wpseo_address show_state="1″ show_country="1″ show_phone="1″ show_phone_2="0″ show_fax="0″ show_email="1″ show_logo="1″]