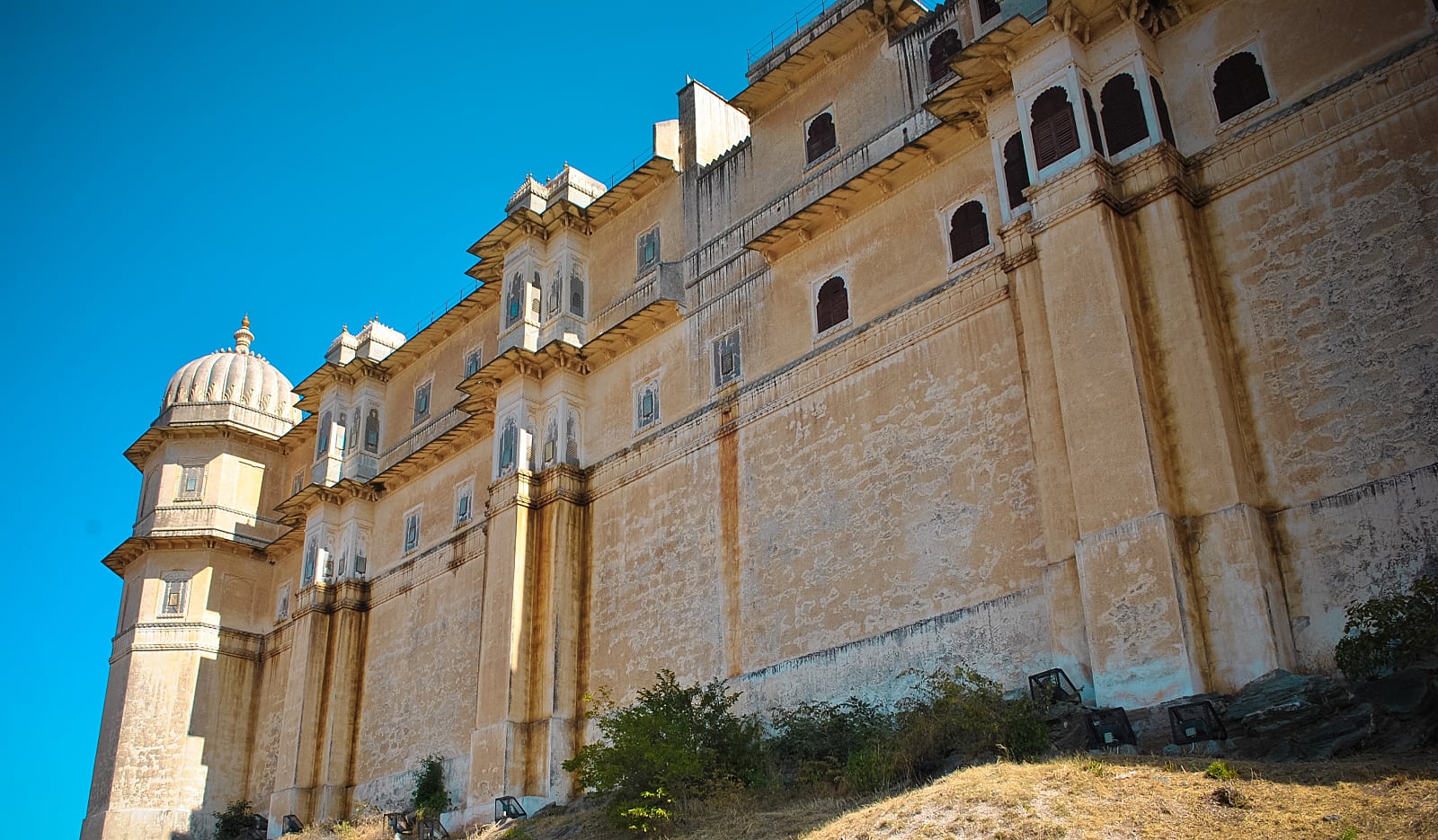 Badal Mahal
Udaipur is best known for its forts. One can find ample amount of deep and finely crafted details with mirror works, warli art, etc which adds to the beauty and aesthetics of mahals situated in Udaipur.
Udaipur being the center of attraction for tourists there are number forts namely city palace, Sajjan Garh fort, jag mandir, bujra fort, Kumbhalgarh fort, Fateh Prakash Palace, Shiv Niwas Palace and many more, I am going to be describing Badal Mahal in Kumbhalgarh fort.
Kumbhalgarh fort itself has numerous forts and temples. Approximately 300 Jain temples and around 60 Hindu temples are established in this fort. The Ganesha temple, the Charbhuja Temple, the Vedi Temple complex, the Neelkanth Mahadev temple, and the Parsavnath temple are few of those that are most easily reached.
Badal mahal which is also known as 'palace of clouds' is situated at the highest point of Kumbhalgarh fort and is built by Fateh Singh. It is a two-story palace which is divided into two mahals called the Mardana Mahal or the King's Palace and the Zanana Mahal or the Queen's Palace are interconnected by a narrow path. It comprises of male and female wings. Uniqueness is not only in the design and architecture of the palace but also is in the colors which are pastels, representing the 19th century period. Palace rooms are colored with green, turquoise and white. At the entrance, there is a huge cannon house. This is a perfect location for clicks. Behind them, hung huge pictures of cannonballs being made and transported. A staircase in front will leave you at the birthplace of Maharana Pratap.
On a sunny, peaceful and bright day, this palace offers the best view of surrounding Aravalli hills and the fort complex itself. But it's the much better scenario in monsoons as the fort is enveloped with heavy clouds which have to offer its beauty and aesthetics. Again a perfect spot for photography.
HOW TO REACH YOUR DESTINATION
Now, after a mouthful description, let's move on to the ways by which you can reach to Badal Mahal:
By air:  Badal Mahal is located in the Rajsamand District in the Kumbhalgarh. One can reach Badal Mahal through the nearest Udaipur airport named as Dabok airport which is well connected to domestic flights to Delhi, Kolkata, Mumbai, Ahmedabad, Jodhpur, and Jaipur. One can take taxi services in Udaipur or cabs in Udaipur to reach their destination from the airport.
By train: Badal Mahal located in Kumbhalgarh is well connected to nearest Falna and Rani Railway station to major cities railway stations like Delhi, Agra, Mumbai, Chennai, Bikaner, Jodhpur, Jaipur, Ahmedabad. One can take taxi services in Udaipur, cabs in Udaipur and local rickshaws to reach the location.
By road:  Badal Mahal which is located in the Rajsamand District in the Kumbhalgarh is a 100km ride from Udaipur. One can take a road trip if they wish to or can travel in taxi services in Udaipur or cabs in Udaipur and can also hire car in Udaipur.
Taking a bus is a good option too. The buses offer a safe and sound journey. There are four government companies which offer bus rides to Udaipur are from Rajasthan, Uttar Pradesh, Gujarat, and Madhya Pradesh. But among all the cabs services in Udaipur by get cab India service offers best and in affordable prices to all tourists.
BEST TIME TO VISIT THE LOCATION
Although, Badal Mahal opens from morning 10 to 10 at night yearlong. But the best time to visit the garden is during October –November as the climate is neither too hot nor too cold. Even within the limited time slot, I would suggest the evening time as the weather is easy-breezy and enjoyable. One can also manage their way to visit during monsoons as this palace is located at higher altitude and clouds act as an umbrella for the palace. The palace surfers through a temperature of Summer 25°C to 45°C Winter 0°C to 10°C
BEST NEARBY PLACES TO VISIT
Kumbhalgarh fort: It is located on the banks of river Banas and is the second most significant fort in Rajasthan. It was built by Rana Kumbha and it took him around 15 years to build the fort. It is surrounded by 13 mountain peaks. The fort stretches up to 36km. There are numerous gates to enter this fort, some of them are Hulla Pol, Ram Pol, Paghra Pol, Nimboo Pol, Bhairava Pol, and Top-khana Pol.
Kumbhalgarh wildlife sanctuary: It is surrounded by Kumbhalgarh fort and spans to a region of 586 sq. km. Parts of Udaipur, Rajsamand and Pali districts are covered by this sanctuary. This sanctuary is a homage for many wildlife species like chausinga or four-horned antelope, panther, wild boar, wolf, sloth bear, jackal, sambar, chinkara, leopards, hyena, jungle cat, nilgai, and hare. It is the only sanctuary in Rajasthan which has wolves in it.
Ranakpur Jain temples: From Badal Mahal, it is located at a distance of 50km which easily be traveled via local rikshaws or taxi services in Udaipur or cabs in Udaipur. Tourists need to avail the route through Saira and Vanpura to reach this temple. Besides being a meditation center, it also serves as a museum as it has lots of statues to see. Construction of this temple started in 1438.
Neelkanth Mahadeo Temple: As the name suggests, this temple is dedicated to Lord Shiva and houses a six feet high stone Shivlinga. It is located the plains near Badal Mahal. Rana Kumbha offered prayers in this temple to Lord Shiva regularly. But he met a tragic end as was beheaded by his son while offering prayers to the Lord.
Vedi Temple: It is located near the hanuman gate of Kumbhalgarh fort. Rana Kumbha built this three storeys Jain temple to commemorate the sacrifice of the pilgrim, after which the Hanuman Pol was built. It is considered to be the only surviving remnant of all the sacrificial places of India. Later, the structure was renovated by Maharana Fateh Singh.